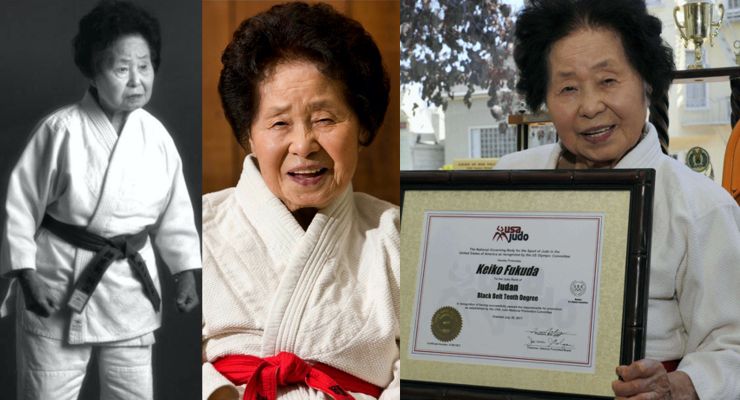 The beautiful and gracious Sensei Keiko Fukuda, at 98 years old, was finally promoted to 10th Degree Black Belt by the U.S. Judo Federation. Until her death at age 99, Fukuda was the only living student of judo's founder Jigoro Kano who began teaching in his first dojo in 1882. She was the first woman to be promoted to judo's highest level of 10th Degree.
Sensei Fukuda, who left her homeland in Japan and never married, dedicated her entire life to the teaching of  judo. This honor came way to late, but the promotion was finally given.
"All my life," Fukuda said, "this has been my dream."
There has always been discrimination against women in the martial arts, but this is beginning to change.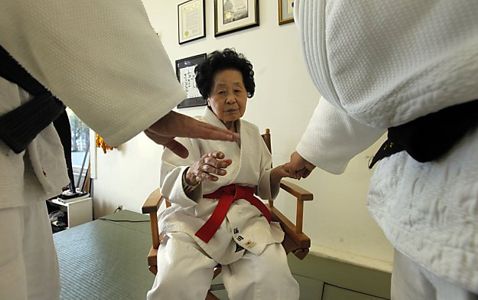 Sensei Fukuda continued to teach at her dojo in Noe Valley, San Francisco and it was on October 2011, at her 13th Annual Fukuda International Kata Championship at City College of San Francisco, that she celebrated her promotion.
Sensei Keiko Fukuda was born on April 12, 1913 and she passed away a few months shy of her 100th Birthday, on February 9, 2013.
Mrs. Judo: Be Strong, Be Gentle, Be Beautiful (2012)
About the Documentary Film
Keiko Fukuda's destiny was set two generations before her birth, during the final days of the samurai era. In 1934, at 21 years of age, Keiko Fukuda embarked on a long journey with judo as her vehicle. This path meant giving up marriage, family, and her Japanese citizenship. She has endured war, discrimination, and crossed oceans, to become the only woman to attain 10th degree Black Belt. She was the last living student of judo's founder, Kano. When this film was made she was 98, and she was still taught judo three times a week, and through her gentle soul still exuded wisdom and inspiration to all. "Be Strong, Be Gentle, Be Beautiful," is an hour-long documentary film about Keiko Fukudas inspirational journey. The film was released in Japan on September 4, 2015.