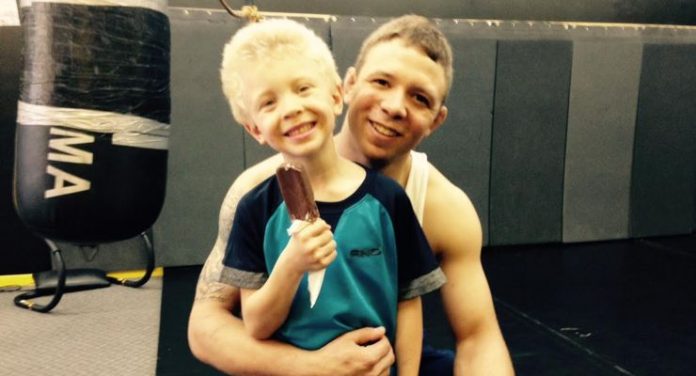 Inspiration comes from different places, but one thing that always seems to inspire and captivate is a great sports underdog. I have on several occasions walked into the Tigers Den MMA gym in Centerville, Iowa and witnessed something unique taking place. A dedicated group of combat sports professionals teaching with great care a group of young kids. The gym is small and lately more crowded as eager and enthusiastic youngsters attend their favorite class of the week. One of the instructors who spends time investing in these kids lives and development is 25 year old Sinjen Ruby. Sinjen is a promising professional mixed martial artist looking to make his mark in the sport. It's a journey Sinjen has been preparing for his whole life. From the time he could walk he was learning Muai Thai and other forms of martial arts from his father Chris Jenkins a former boxer and professional kick boxer.
Meeting Chris and Sinjen both you can feel the passion they have for combat sports, martial arts, and MMA. This is a family affair. Singen's father has greatly impacted his development and has been coaching fighters for decades. Sinjen took his first MMA fight at age 18. He already has 20 MMA bouts under his belt winning 13 of those. Despite the strong family martial arts background one of the challenges facing Sinjen is coming from a small gym. He trains out of Tigers Den MMA, the gym he and his dad operate in Centerville, Iowa (population, 5,000). Not many guys with elite ability train out of small gyms in small towns like Centerville. While he chases his dream, Sinjen still has the challenges of working full time, being a father, and coaching at Tigers Den. Those challenges only strengthen his resolve and do nothing to dampen his enthusiasm in working with adults and kids alike who come into the gym.
Despite the challenges Sinjen and his Tigers Den team are investing in people in the community and making a positive impact. With limited outlets for youth in the area the gyms classes greatly benefit those who attend. The kids are learning, having fun, and gaining confidence. They are now part of a team and belong to something, which is a big deal for many of the students. The gym provides opportunities for local youth and adults alike that otherwise wouldn't exist in the area. Sinjen isn't just fighting for himself. He is also fighting to create opportunities for local youth as well in an area where socioeconomic struggles dominate the landscape.
Sinjen is just one of many underdogs in the small but growing family that is Tigers Den. For kids in the area to see Sinjen fight on a televised broadcast opens their eyes to what's possible even out of a small gym, and this encourages them to dream BIG. Sinjen's talent and skill is apparent to anyone who has watched him fight recently. He is currently preparing diligently for his next fight on June 25th (King of the Cage). Maybe the time is right for this small town gem to be discovered by more mainstream MMA fans. We know the Tigers Den youth will be watching intently as will the entire Tigers Den family. You can watch his next fight on MAV TV (DirectTV 214) coming from Sloan, IA!
Tigers Den MMA on Facebook
Contact Tigers Den MMA Iowa at 641-895-4119
Centerville, Iowa 52544

Article by Reece Tedford-Freelance sports journalist.
Underdog Sports Blog
Twitter: @IowaUnderdog