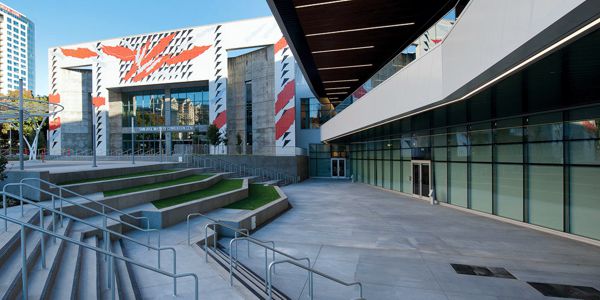 The cavernous spaces of San Jose's convention center have been filled over the years with a variety of sounds — applause, conversation, noisy crowds. This past week, it was the sound of kicks and punches: taekwondo.
Thousands of athletes, coaches, volunteers and spectators filled the convention center from Tuesday until Sunday for the 2011 Junior Olympic Championships and the U.S. National Championships in taekwondo, a Korean self-defense martial art.
Ernie Ramirez, who runs Extreme Martial Arts, a taekwondo studio in San Jose, was at the competition all week to coach and support 38 of his students who competed.
One of Ramirez's students is his 18-year-old son, Matthew, who stepped into the ring Saturday afternoon to face his final opponent of the day. The two boys strapped on light helmets, stepped to the center of the ring, bowed to each other and began sparring — bouncing back and forth on toes and occasionally striking out with kicks.
During three one-minute rounds, the opponents score points mainly by kicks to the body and head. Points are deducted for grabbing or being forced out of the ring.
Matthew Ramirez's match, still at 0-0 after three rounds, went into sudden-death overtime for an extra minute, and Ramirez emerged as the winner and moved on to compete again Sunday.
He was one of more than 3,000 athletes who competed in San Jose this past week, some who vied for national championship titles and spots on the Junior National Team. At its peak volume on Friday, the convention center had 20 rings set up at once, with hundreds of people cheering for the competitors.
"This event is like Christmas for taekwondo," Ramirez said. "It's a big event, lots of fun — and reminds us that taekwondo is more than just your studio."
In this country, taekwondo is most popular in large, populous states such as California, New York and Texas — but also in less-populated states such as Alaska, said USA Taekwondo's events director Mark Kaufmann.
The athletes compete using international rules because the sport is, along with judo, a martial art as well as an Olympic sport.
"We teach for physical fitness, mind-body connection and core values, but the athletes also have a chance to follow Olympic dreams," Kaufmann said.
The competitors use electronic sensors on vests and on sock-like foot coverings that automatically register when a kick is made to the body, although referees can still override or review any action in the ring.
The change to electronic sensors — similar to those used in fencing and introduced about four years ago — has helped level the playing field and improve objectivity in judging, Kaufmann said.
Ernie Ramirez has three other children who do taekwondo and were at the tournament, ranging from 19-year-old Kaysie to 15-year-old Austin to 4-year-old Niko, who sports a tiny mohawk. He eagerly demonstrated his kicking prowess, pausing to wipe his nose in between kicks to practice pads.
Ernie Ramirez grew up in East Los Angeles and practiced taekwondo from ages 8 to 20. After working in the biotech industry for years, he left his job and eventually started the martial arts studio and an after-school program so he could spend more time with his children and provide the same opportunity for other moms and dads. The studio offers kids a place to work on homework and train, which Ramirez says really helps single parents.
"The biggest thing for me is knowing where your kids are," he said.
For Kaysie Ramirez, taekwondo training was just a part of growing up, even though in her younger years she preferred dancing.
"It used to be my punishment," she said. "But one day I thought to myself that I really liked it. I'm a tomboy — I like to fight."
And the family aspect extends to teaching athletes good values alongside martial arts skills.
"We don't learn just how to fight," said San Jose resident Shelby Caggiano, 17, a black belt. "We learn the whole meaning of taekwondo."
Shelby competed on Friday and had been volunteering with others from Ramirez's studio all week. Her best advice for facing down an opponent in the ring? Wait for someone to stop bouncing — or wait until their arms are down so you can get in a kick to the head. And above all, get lots of practice.
Words to live by.
By Ellen Huet
ehuet@mercurynews.com
Contact Ellen Huet at 408-920-5852