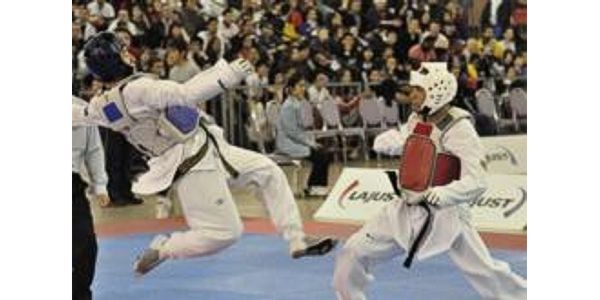 Mesa, AZ, December 07, 2011 – Two adjunct faculty at Mesa Community College (MCC) will be traveling to Colorado Springs, CO for the last phase of the 2012 Olympic Trials, January 12-13, 2012. Johnny Nguyen, a well-known USA Taekwondo athlete, is just one step away from earning an official team position on Team USA Taekwondo for the 2012 Summer Olympic Games in London. He will be accompanied by his brother, coach, and trainer, Anthony Nguyen.
The US Olympic team will consist of up to four people per country; two male and two female.The US qualified all four weight divisions, therefore the US will be bringing four athletes to the London 2012 Olympic Games and Johnny Nguyen intends to be one of the four.
Both Johnny and Anthony are adjunct instructors in the Exercise Science Department at MCC. Johnny teaches beginning Taekwondo and Anthony teaches intermediate Taekwondo. Both are also fulltime 4th Dan Black Belt Instructors at the US Taekwondo College in Chandler, AZ.Outside of the gym, Johnny teaches guitar lessons to kids at his studio and recently earned a bachelors degree in Kinesiology at Arizona State Univeristy.
The highest world ranked athlete in the United States in the Finweight division, Johnny is also the first Taekwondo athlete to represent Arizona at an Olympic Trials. Famous for his high flying kicks, Johnny has had a successful career. He began Taekwondo at the age of five and won his first gold medal at the 1995 Junior Olympics. Since then, he has won numerous state, national and international events and has been a representative on the National Team for Sparring and Poomsae.
As the trials draw near, Anthony and Johnny spend numerous hours training. Anthony explains, "We train in the morning at the gym, do cross training at the track and evening training at the US Taekwondo College."
Johnny states, "Taekwondo is life and life comes within it."
Johnny is committed to achieving his dream of representing Arizona and the United States by becoming a member of the 2012 Olympic Taekwondo Team and competing in London in 2012. Community members can support Johnny on his journey by purchasing t-shirts which can be found on his website at johnnywin.com.
About Mesa Community College
Mesa Community College provides outstanding transfer and career and technical programs, workforce development, and life-long learning opportunities to residents of the East Valley area of Phoenix, Arizona. MCC excels in teaching, learning and empowering its more than 40,000 students to succeed in a local and global community. Mesa Community College is one of 10 regionally accredited Maricopa Community Colleges.