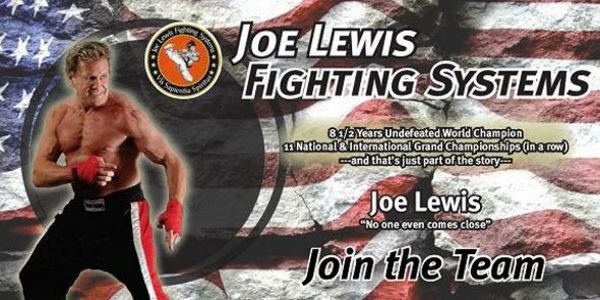 Joe Lewis is doing well after completing seven weeks of treatment for a brain tumor.
World Karate and Kickboxing champion Joe Lewis has completed seven weeks of radiation and chemotherapy for a brain tumor and has exceeded all expectations of his doctors with his remarkable condition. He will have two to three months before he gets his next check-up.
The really good news is that Joe is back on the seminar circuit. Although his time slots are limited, he can be booked for seminars. He is expected to be in Europe in November and California in December, so if you want to have him in, book now.
The annual Joe Lewis Fighting System conference earlier this month was a total success. The event was so amazing that many long time martial arts personalities called it the best martial arts event they have ever attended.
AND FINALLY: There are few words to describe the outpouring of love for Joe Lewis during his current situation. From his closest friends to complete strangers, people from all around the world have risen to show Joe how much he has meant to us. If Joe has not gotten back to you with a personal Thank you, it is simply that he has been overwhelmed. All those who have reached out to him should know that everyone of you made a difference in Joe's life and helped him tremendously. He is humbled.
If you would like to send Joe a card, please use the address below:
Joe Lewis
c/o The Nackord Karate System
P O Box 1506
Southeastern, PA 19399
Or visit one of the websites below:
www.Friendsofjoelewis.com