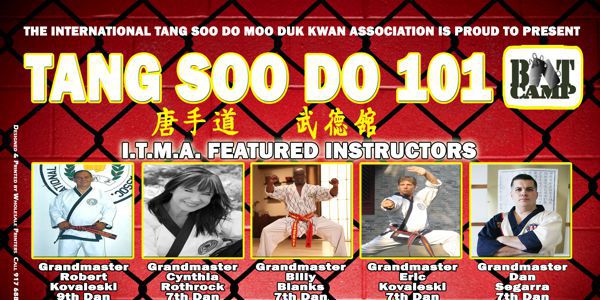 The International Tang Soo Do Moo Duk Kwan Association proudly announces 2014 Tang Soo Do 101 Boot Camp. On January 18-19, 2014 Location: ITMA Headquarters, Dickson City, Pa. Attention Masters, Instructors, Black Belts and School Owners, Don't miss out on this opportunity to learn the entire Tang Soo Do curriculum during this 2 day intensive boot camp from some of the most talented Grandmasters in the United States Today!
Tang Soo Do 101 Boot Camp featured Instructors: Grandmaster Robert Kovaleski 9th Dan, Grandmaster Cynthia Rothrock 7th Dan, International Film Star and 5 time world karate Champion, Grandmaster Billy Blanks 8th Dan Tae Kwon Do/ 7th Dan Tang Soo Do , International Film Star and 7 time World Karate Champion, Grandmaster Eric Kovaleski 7th Dan, Grandmaster Daniel Segarra 7th Dan.
For more information on this Tang Soo Do 101 Boot Camp or to become affiliated with the ITMA contact Grandmaster Eric Kovaleski at 570-307-KICK. Cost for the Boot Camp is $300. Schools with more than 10 participants will receive discounted prices.