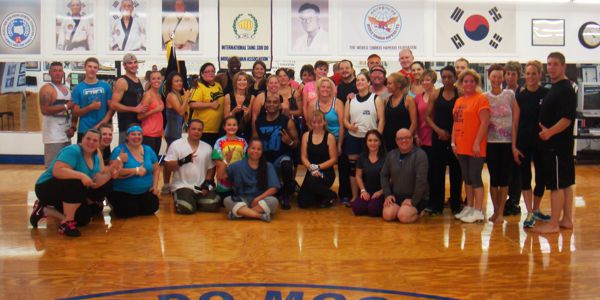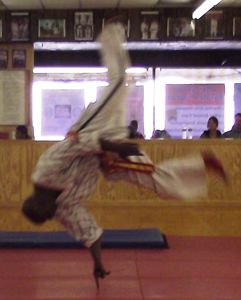 Recently Tae Bo® Creator and martial arts movie star Grandmaster Billy Blanks visited Dickson City's Master Kovaleski's Karate USA and taught two days of martial arts seminars to local martial arts students. On Saturday Grandmaster Blanks taught a 2 ½ hour intense seminar sharing his knowledge of Tang Soo Do and Tae Kwon Do. Pennsylvania State Representative Frank Farina was present to honor both Grandmasters Billy Blanks and Eric Kovaleski with a citation for all of their accomplishments in the world of martial arts and fitness.
Grandmaster Robert Kovaleski and son Eric Kovaleski, Founder and President to the International Tang Soo Do Moo Duk Kwan Association presented Grandmaster Blanks with his 7th Degree Black Belt promotion in Tang Soo Do. State Representative Farina was also awarded his 1st Degree Black Belt.
Grandmaster Blanks also accepted the director position for the Association as well as a board Director for the "Legends of the Martial Arts" Hall of Fame Awards which Grandmaster Eric Kovaleski is currently the president and movie sensation Grandmaster Cynthia Rothrock is the Vice President.
On Sunday, Blanks taught the 1st ever East Coast Tae Bo® seminar at Master Kovaleski's Karate to a sold out crowd. Following the seminar Grandmaster Blanks hosted a Tae Bo® certification Camp which lasted from 2-11pm. Kovaleski states, "It was truly an honor and privilege to host and learn from such a humble martial arts legend like Master Blanks, he is truly amazing and inspiring!"
For those who missed out on the chance to meet Billy Blanks, he will be back in Dickson City January 17 to teach a "Rocking in the New Year" Tae Bo® Class as well as instructing a martial arts seminar alongside of Move Sensation Grandmaster Cynthia Rothrock on January 18-19, 2014 during a 2 day intensive Tang Soo Do Boot Camp. For more information on either event please contact Master Kovaleski's Karate at 570-307-KICK.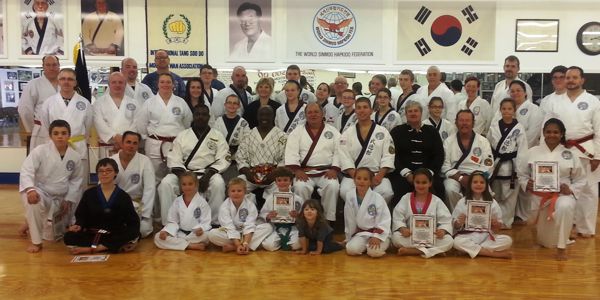 ITMA Rank Promotion and Director Announcement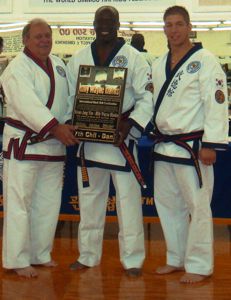 The International Tang Soo Do Moo Duk Kwan Association is proud to announce the International Certification and promotion of martial arts movie star, fitness guru and creator of Tae Bo® Grandmaster Billy Blanks. On October 26, 2013 Grandmaster Robert Kovaleski 9th Dan and Founder of the ITMA and Grandmaster Eric Kovaleski 7th Dan ITMA President both presented Grandmaster Billy Blanks with his 7th Degree Black Belt promotion in the art of Tang Soo Do Moo Duk Kwan. Grandmaster Blanks started his Tang Soo Do Studies in 1962. Grandmaster Blanks also currently holds the ranks of 8th Dan in Tae Kwon Do.
The ITMA is also proud to announce Grandmaster Billy Blanks as a new Director for the Association as well as the "Legends of the Martial Arts" Hall of Fame, alongside with President Master Eric Kovaleski and Vice President Grandmaster Cynthia Rothrock, martial arts movie sensation. Grandmasters Kovaleski, Rothrock and all Masters, Dans and members are proud and extremely honored to have Grandmaster Blanks as part of our family, Tang Soo!