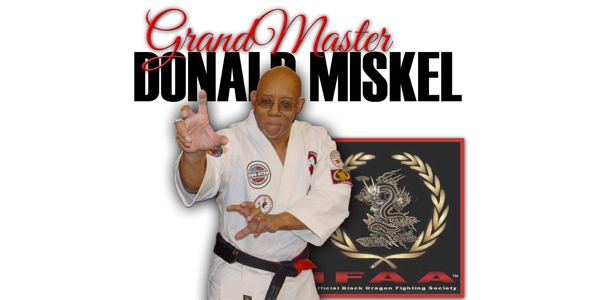 I have had the good fortune to be involved in the martial arts for fifty five years. In that time I have seen the arts grow. I have seen popularity ebb and flow. I've witnessed its trends, fads and transitions. In effect I've watched the martial arts evolve and come of age in America.
As most of us know the martial arts as they are practiced in The U.S. had their origin in the Far East. There is a mystique that goes with anything oriental in the world of the martial arts. Many people believe that if you didn't study in Japan, Okinawa, China or some such country you can't be a really competent martial artist. Those of us who have immersed ourselves in the arts know this to be less than true. The Americas have produced some of the most competent martial artists in the world today.
I had the privilege recently to attend two wonderful events back to back. In Lexington, Kentucky I attended the Black Dragon reunion seminar event. It was well attended and the skill level and knowledge of the teachers and participants was impressive. For those who still wonder about the Black Dragon Fighting Society, we too have grown and come of age. The second event I attended was The Gathering hosted by Professor Gary Lee and The Museum of Sports Karate. It is that event that I want to speak about now.
Many in the martial art community will know of Professor Lee and his involvement and contributions to the martial arts. He was raised from early childhood by a martial art master. He was literally raised in the dojo. Born and raised into his mid teens in Hawaii, he came to the mainland at the tender age of fourteen to explore the martial art scene here and to seek his fortune. He managed to accomplish both with a rare flare.
The Gathering grew out of the accumulation of eighteen celebrity roasts over a thirteen year period. Those occasions brought a number of martial arts competitors and masters together in one place minus the usual politics that make such occasions so dicey. The success of those events spawned the idea of something larger and grander that would honor those who have contributed to the martial art world in the U.S. and worldwide.
Because of the unenviable results of such endeavors in the past many wondered at the outcome but Since Professor Lee knows practically every serious player in the martial arts here in the States no-one voiced their doubts. In the end his character and acceptance of all martial artists, styles, systems and practitioners, of whatever level, set the precedence for what took place. The end result surpassed even his wildest dreams.
Speaking of history being made Professor Lee attempted something that few have tried before and none before have succeeded in doing. He put forth an effort to bring what has been viewed as one of the more controversial factions in the martial art world into the gathering with the more traditional sport based elements. There were four members of the Black Dragon Fighting Society including Professor Lee and myself. We found that the differences weren't as insurmountable as they have long been portrayed to be. Whether combat based or sport oriented we found that there wasn't the rift between us as previously thought.
The caliber of the participants was impressive. Considering the luminaries and leadership represented most left their egos at home. If there was a hint of political a political agenda present I saw no sign of it. Instead brotherhood and acceptance seemed the rule of the day.
I'm not one to name drop but many pioneers were present. People like Jim Harrison, Raymond McCullum, Pat Burleson, Linda Denley, Jerry Piddington and any of a number of other greats in the martial arts were present or directly sanctioned the event. I hate to mention the names of the many greats present because it would take an entire page to include all of them. I was humbled by the level of knowledge, wisdom and ability that these individuals represented. I was also impressed how unassuming they all were. A better bunch of people you'll never meet in or out of the martial art community. One would never know in talking with them that many of them are famous in the world of the martial arts.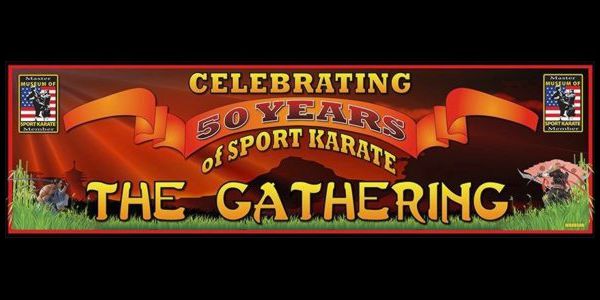 The sword master, Shihan Dana Abbott and cane master Mark Shuey were present and taught seminars. Other representatives of bushido, Japanese karate, tae kwon do, Tex kwon do, Okinawan karate and kempo, American karate and weapons were represented in various seminars. Those who taught them read like who's who in the martial arts in the United States. A list of those who taught seminars at the gathering are World Champion Troy Dorsey, Grand Master Scott Hogarth, Grand Master Joshua St. Ives, Grand Master James Cook, Grand Master, Ron Lindsey, Grand Master Dan Frazier, Grand Master Duane R. Ethington and International master instructor Danny Lane. And as I fore stated Masters Mark Shuey and Dana Abbott graced us with their extensive knowledge. Time doesn't allow me to comment on each of the separate seminars but the level of knowledge represented was impressive and that that was passed on to the participants was more than worth the price of the entire event.
Another first and a major one at that was the live streaming of the Black belt test on the evening of the first full day of the event. Most of the candidates were being tested for advanced dan rank including one candidate, the amazing Super Dan Anderson who tested for his kudan or ninth degree black belt. Along with these advanced practitioner was one virgin who tested for shodan or first degree black belt. The tests were grueling. No-one was given anything. Everyone of the including Master Anderson had to earn it. Anyone who feels that the tests were for show needed only to have been there or watch the live stream. It was one of the toughest tests I've ever witnessed in my fifty five year involvement in the martial arts. Ten candidates tested and I didn't envy a one of them. Dan Anderson fought rank, age or experience. Raymond McCallum, one of the greatest fighters all time during his test. Broken noses and digits, split lips, loose teeth and a host of bruises and lutusions were served up Texas style. No preferential treatment was given to him or any of the other competitors regardless age, rank or experience. Every promotion was earned with blood, and tears. Something else that had never been done in the past was implemented during the rank tests. Grapplers, MMA fighters and traditional karate and kung fu stylists were tested together and had to fight one another. Over forty masters, champions and martial art pioneers sat at four tiers of tables overseeing the testing. I was privileged to be among that number.
Master Dan Anderson's ninth dan was sanctioned and approved by The American Karate Black belt Association, one of the nation's oldest and most prestigious governing board. The AKBBA was founded by Allen Steen in 1964. A rank promotion sanctioned through this prestigious organization is recognized worldwide. Master Steen personally approved the promotion and was represented by Keith D. Yates. Also Linda Denley, Ishmael Robles and Steve Shelby, board members of the AKBBA represented the organization. Master Anderson's promotion and rank were the only one sanctioned by the AKBBA that night.
The candidate that tested for his shodan had to fight with each of the other candidates and toward the end of his ordeal was knocked unconscious. After being examined by a doctor and a brief rest he was allowed to continue his test and was successful in earning his black belt. I was impressed with all of the candidates but I had to admire his determination and his tenacity above all of them. He, along with all of the other candidates was a warrior amongst warriors.
Another interesting fact was the testing of Professor Lee's son, Garrett. Garrett tested for his sandan or third degree. He fought several of the other candidates, most of whom outranked him for the honor. Among those he fought was one of the legends and pioneers of United States karate, Dan Anderson. Considering that Dan has been involved in the arts long enough to test for kudan one would have to surmise that he has some age under his belt. Even so he is still a fighting terror. Interesting enough Garrett tested for his shodan at the then unheard of age of seven in the same ballroom in the same hotel. Sitting on that board of review so many years ago was no other than Dan Anderson whose name graces his shodan certificate. Imagine fighting that same person these many years later as a candidate for sandan. Quite a coincidence and a fantastic honor. Garrett gave a good account of himself but please take into consideration that he was fighting Super Dan Anderson. I would add that he was successful in his quest.
There were many demonstrations that boggled the mind and things accomplished that bordered on the impossible. A ten foot stack of bricks was pulverized with a hand strike. Four baseball bats were reduced to kindling with a shin kick. Likewise a stack of I hesitate to guess how many boards was likewise broken by a similar kicks. I hurt just watching these amazing feats. The performances of Derrick Pendegrass, David Johnson, Dana Abbott and others were awe inspiring. One in particular gave every male in the building pause. Dr. Patrick Price took two full power kicks to the groin delivered by Top Ten Texas fighter Sal Naveraz, apparently with no ill effects. I understand the concept of ki and chi kung training but the secret behind such a feat goes beyond anything that I understand. Let it be said that I won't be trying to duplicate that feat any time soon.
There were kata, self defense demos, kobudo and weapon forms and anything else that one could imagine. There was something to appease the most discriminating taste. The entire event was one amazing presentation after another.
A wonderful tribute was given recognizing our fallen comrade in arms and martial art legend, Joe Lewis. I am a pretty stoic individual but I was almost moved to tears by the presentation. Master Jeff Smiths moving speech, Master James Cook's rendition of "Tears in Heaven and Rudy Smedley and Guy James melodious rendition almost proved my undoing. The entire tribute was touching and wonderfully done. Toward the end those who had fought Joe Lewis were asked to come forward. Jeff Smith, Art Heller, Raymond McCallum, Jim Butin, Jerry Piddington, John Natividad and J. Pat Burleson came to the front. I don't believe that there was a dry eye in the bunch but please don't quote me on that. It could have been a trick of the light. The names of the martial art greats lost over the last several years were read in silent respect. We are losing a whole generation of some of the greatest competitors and contributors that the martial arts have seen. Their names will be revered by the martial art community and they will never be forgotten.
Keith Yates serves as managing editor of the revived Official Karate Magazine and as such he presided over the presentation of the publication's 2012 'Golden Shuto' awards to several individuals. Cane Master Mark Shuey and Shihan Dana Abbott were honored for their skill and knowledge of the cane and sword respectively. The fighter category was awarded to Bruce Brustschy and Mike Genova. The international award went to George Bishop and Phillip Bradley. The ambassador award was given to Mike Dillard and Danny Lane. The Pioneer award was presented to George Minslow.
The Karate Masters Hall of Fame is one of the oldest hall of fames for karate masters and pioneers. It was established on the East Coast by Grand Master Andrew Linick in 1972. Fewer than a hundred individuals have been inducted into this prestigious fraternity. Keith Yates is the Vice Chairman of the KMHOF. He presented inductions to Dan Anderson and Jeff Smith at The Gathering banquet on October the thirteenth. Joe Lewis had been inducted into the KMHOF only two weeks before he passed. Master Yates presented Master Lewis's certificate to Master Jeff Smith to take to his family.
The top ten center referees of all times were recognized also. Those honored were Masters Bill Ryusaki, Bill "Balls" Clark, Joshua St. Ives, Don Willis, Jerry Piddington, Jim Harrison, Roy D. Kurban, James Stevens, Andrew Linick, and Duke Tirschel.
New members History generals were inducted into the Museum. Those honored were Dr. Shorty Mills, Johnny Lee, "Monster Man" Everett Eddy, Howard Herman, James Woodson, Linda Pugielse, John Natividad, Steve Selby, Ron Turchi and yours truly, Donald Miskel. Being honored with such an illustrious group of dignitaries is one of the greatest honors of my life.
Natural Fighter awards were presented to some of the greatest fighters of our time. They included the natural fighter Jim Harris award presented to Tim Kirby, The J Pat Burleson Award to Jim Butin and Jim Harrison, The Raymond McCallum award to Garret Robert Lee, the Jeff Smith Award to Sean Smith, the Ernie Radar Smith award to Scott Messina, The Keith Vitali award to Mike Genova, Marty Knight, and Michael Goldman, the Jerry Piddington award to Danny McCall and the Ed Parker award to Jamie Cashion III. Each of them are great competitors past and present and each was worthy of the recognition given.
The Museum of Sports Karate's Dragon Image award was presented to one hundred fighters and contributors to the arts. The design was handmade and the certificates were considered some of the best that many of those present had ever seen. The twin dragons facing one another was an artistic depiction of the concept of the yin and yang, a symbol often associated with Taoism and various eastern martial arts.
A tribute was also done for Prof. Gary Lee. A presentation was made by one of the martial artists that had served as a missionary in Africa. He taught karate to one of the orphanages there and all of the students signed the presentation to Prof. Lee. This was especially touching to Gary and all present because Gary was orphaned at a young age. That very circumstance served to be the catalyst that ushered Prof. Gary Lee into the martial arts as a small child in Hawaii.
Lastly I would like to mention my Black Dragon brothers who were also present. They included Grand Master Irving Soto, Master Michael Glynn, Prof. Gary Lee, all masters and champions in their own rights and lastly me, Dr. Donald Miskel. We as a group have been ostracized and criticized. We have been misunderstood and often misrepresented. Our roots were born in and of controversy but we have grown up and come of age. On that last not I would also like to mention that the headstone that was made several years ago by our members to grace the unmarked grave of our Grand Master and founder, John Keehan, the infamous 'Count Dante'is being donated to the Museum I had the privilege of making that announcement after offering the prayer at the opening of the Banquet that concluded the gathering. Because the permission of the family is necessary to place anything permanent on any grave in the cemetery and no family could be reached to give that permission the final resting place of John Keehan remains unmarked. I have had the stone in my possession these several years. I sought and was given the permission of the other Patriarchs of the organization to make this donation to the museum. A 'Black Dragon' room is being created in the museum and the headstone will be one of the first additions to that exhibit.
All of this was the culmination of a young boy's journey that started on the shores of Hawaii, continued to grow on the mainland of the United States and came to fruition on October the eleventh through the thirteenth. The Gathering was a magnanimous event and offered so many firsts that it would take several articles of longer length to cover everything. These were only high lights of an event that will surely go down in martial art history. I hope that it is only the first of such.
Train hard, my brethren and go with God.
Rev. Dr. Donald Miskel ThD, DCC, MDiv.