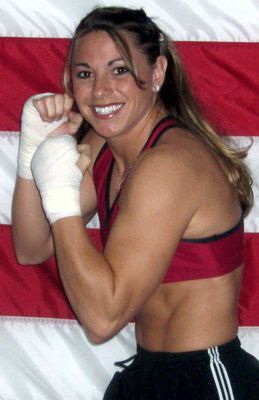 The Big Sandy Superstore Arena in Huntington was recently the venue for a professional boxing show that was taped by Fox Sports to be aired on a future edition of Fox's Friday Night Fights. The show consisted of 10 professional bouts with the main event featuring South Point, Ohio, fighter Nikki Epilon for the IBA Super-middle weight world title. Although the main event was filled with action it was an earlier bout that brought fight fans to their feet with excitement. A local fighter returning to the boxing ring for the first time in four years for a 4-round bout seem to be the crowds favorite. This show was intended to be a tune-up match for the ring rusty, Angie Woolum of Delbarton, West Virginia. As a fighter her resume is not bad especially for a former homecoming queen. She is a boxing beauty that truly is a prime example of the old saying . . . "You can't judge a book by its cover." At five feet, four and 125 pounds she is like a small desert-berry that is deceiving to the eye but to underestimate it could spell trouble. One taste of her crunching left hook or her lightening fast right will quickly convince you that you have just bitten off more than you can chew. The International Female Boxing Association (IFBA) ranked her number 9 in the world. She is also an undefeated kick boxer and just last year in Sao Paulo, Brazil, she became the first American female to ever win a World Title in Sport Jujitsu. Woolum has trained with some of the top boxing coaches in the business, like John Johnson who is best known for training Buster Douglas to a victory over Mike Tyson. She has trained in world famous gyms from Columbus, Ohio to Las Vegas, Nevada, diligently honing her skills as a professional fighter along side boxing greats like Oscar Delahoya. However, her journey as a female in a male dominated sport has not been an easy one, especially here in West Virginia.
In the 1970's and early 80's boxing was one of West Virginia's most popular spectator sports. The Charleston Golden Gloves was once a huge event for area fight fans, usually lasting Thursday thru Sunday. Favorites like, Jose Larzo, John Alderson, Georgie Sams, John Dailey, and Ronnie Mitchell more often than not displayed their pugilistic skills in front of a sold-out crowd. These young men like so many others who once participated in WV boxing found a sense of salvation in local boxing clubs. Boxing for these young men was more than a sport it was a means of expressing themselves by displaying their fighting skills in a controlled atmosphere. Many people are led to believe that boxing gyms are only havens for thugs and we are all better off without them. On the contrary, a true boxing gym is a house of discipline in which many troubled youth have changed their lives for the better. Today, it seems as if support for events that feature disciplined boxers has been replaced by the toughguy-toughgal competitions that mostly feature potbelly brawlers with little or no boxing skills. These types of shows fill the stands of the Charleston Civic Center. While the Golden Gloves have been reduced to a Sunday afternoon affair and pro boxing shows seldom draw enough fan support to break even. Many boxing fans believe West Virginia still produces world-class fighters but they lack the recognition that is often needed to advance. They believe the decline in fan support as well as the lack of opportunity for WV boxers is not the fault of area fans or athletes. They blame poor organizational leadership from those currently in charge of boxing here in our state. Many athletes in our area have been advised and now believe that the first step to success in the sport of boxing is to get out of West Virginia.
However, Woolum says she refuses to allow anything to interfere with her goal of becoming among the best of the best. Instead, her drive to succeed in the sport is fueled by the adversity she faces as a female fighter. She credits her current trainers; John Dailey and Ernie Boggs of Nitro for instilling in her a belief system that has empowered her to relentlessly pursue her dream. As a coach Boggs has produced champions in boxing, kickboxing and more world champions in sport jujitsu than any other coach in the world. "He has not only enhanced my fighting skills he has taught me that the victory is not found in the ring but the victory is in the journey to the ring" says Woolum. I understand now that all the trials and tribulations that I have gone through as a female fighter has made me evolve as a person as well. So much so that she has even abandoned her original ring name, "The Assassin." Woolum says that ring name doesn't accurately describe her. "An assassin is a thief of life, one without honor and I want to be known as a champion of life," she adds. I have learned while training at BCI that being a warrior is an honorable position that expands far beyond fighting itself. With success comes the responsibility of remembering where you come from. So in honor of her roots she has taken a ring name given to her by her training partners. One day in the gym my coach called me "the Mingo Warrior" sense then it has come to represent many aspects of my life. I am proud to be from this state and especially from a county named after a Native American tribe that was once considered to be among West Virginia's most fierce warriors. From Mingo County she has traveled the world in pursuit of her goal to become a world champion boxer. Now she continues that quest as she returns to boxing right here in West Virginia.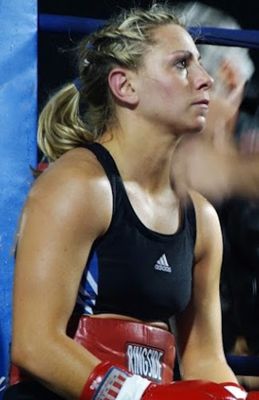 Woolum struggled for 17 days to make the weight only to be disappointed when her opponent withdrew the night before. Rather than disappoint her fans that had already purchased tickets she accepted an alternate opponent. Her new opponent was Angel McNamara from Baltimore, Maryland who appeared to have an 8-inch reach and 10-pound weight advantage. As the referee brought the boxers to the center of the ring for final fight instructions anticipation grew from the crowd, as it was very clear that McNamara towered over Woolum. When the bell rang for round one to begin it was apparent to everyone that the smaller Woolum was not intimidated by the size difference as she brought the fight to McNamara. Round one was a virtual slugfest with Woolum appearing to narrowly take that round. McNamara who obviously was an experienced, ring-smart fighter had no problem finding her opponent because it seemed Woolum was constantly in her face. Round two McNamara connected with a right hand that sent Woolum to the canvas. It was a good shot that would have kept a lesser fighter down for the count. But Woolum displayed the heart of a lioness as she climbed back to her feet and finished the round strong. The last two rounds McNamara seemed to be losing steam as Woolum continued her Mingo Warrior assault. When the smoke had finally cleared many thought the smaller fighter had at worse earned herself a draw but a narrow decision gave McNamara the win. It is said that a true fighter is not judged by the size of the body but by the size of the heart and Woolum was a living example that night that this old adage is true.
Although Woolum was visually disappointed in her performance she humbly accepted the judges' decision. Even with this loss she says, I was still successful in delivering a message to the women who were present that night. The message she says, is that you can be what ever you want to be in life regardless of gender, all you have to do is believe. For example, you don't have to be the nurse when you can be the doctor, you don't have to be the flight attendant when you can be the pilot, and you don't have to be the cheerleader if you want to be the player. No matter how many times you hear "you can't," just believe you can and you will succeed. As for The Mingo Warrior, her attitude alone has placed her among champions and she is scheduled to fight again next month in Tampa, Florida.
Angie Woolum on Facebook
Angie "The Mingo Warrior" Woolum
Trainers: Ernie Boggs & John Dailey