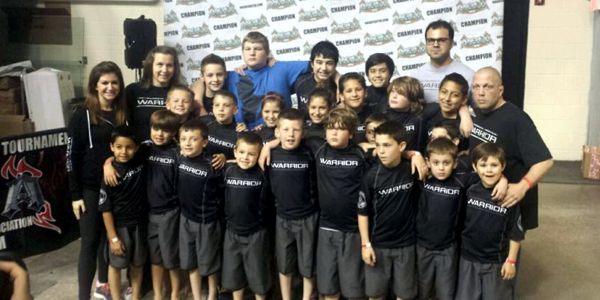 (Dallas, TX, 04/11/14) Students of Warrior Martial Arts Academy competed in the North American Grappling Association Dallas Championship to win 33 medals on April 5th. The 22 students collectively earned 11 gold, 15 silver and 7 bronze medals.
"We are so lucky to have such a large and diverse Competition Team here at Warrior Martial Arts Academy.  We are able to draw from our multiple locations in Frisco, Plano and Little Elm.  The overall turnout and amazing results reflect our scale and incredible instructors," said Ian Cohen of Warrior Martial Arts Academy's Plano location.
Members of the Warrior Martial Arts Academy competition team had spent months preparing for the tournament.
"Being on the competition team has taught me how to be more respectful and how to work hard in order to earn something.  I won four gold medals at my first two tournaments and my hard work paid off," said Will Hawthorn, a sixth grade student who attends Stafford Middle School in Frisco.
The parents of Warrior Martial Arts Academy students also commented on their children's experience in the tournament.
'Having my son, Hudson, join the competition team has been such a positive experience.  He is not only learning how to deal with adversity through competing in the Brazilian Jiu-Jitsu tournaments, he is also learning the value of sportsmanship and respect of his opponent, along with developing a "never give up" attitude.  The training and skills provided to him by the Warrior Martial Arts instructors are among the best in the sport, proven by his ability to medal in the first two tournaments he's participated in,' said Cory Chandler, whose seven year old son Hudson Chandler attends kindergarten at Pink Elementary.
The North American Grappling Association, also known as NAGA, is the largest submission grappling organization in the world with over 175,000 members. The group hosts multiple regional and national tournaments throughout North America and Europe. To learn more about NAGA, visit nagafighter.com. For more information on Warrior Martial Arts Academy, visit their website.