The role of Chuck Norris has always been a positive one in our lives. It started for my family when I was only 4 years old and my older brother was 7. He got to take karate at Mr. Norris' Sherman Oaks school, studying for a short time under Mr. Harold Gross. I wanted to take karate, but I was a girl. Ballet was more in line with what little girls studied in the late 1950's. I believe our lives are blessed by a God who loves each one of us, and who has big plans for us, but I am so often amazed at just how He works.
I grew up, had children of my own, and eventually my husband and I moved our family to Reno, Nevada. One day I took a walk outside the print shop where I was working on a design project for a client and I passed a karate studio. I noticed a newspaper article taped to the window and I stopped to read it. It was about Mr. Gross, and I recognized him as my brother's instructor. It had been more than 30 years, but I remembered him!
I entered the studio door and bowed slightly, not really knowing why. My heart raced a little, like I was sneaking a cookie from a cookie jar. Mr. Gross came out of his office to meet me and we talked. Of course I signed my 3 young children up to take classes.
Day after day I watched my children as they learned kata and self defense techniques, and day after day I wished it were me out on the dojang floor. I took the kids to every possible class and always stayed to watch. One day Mr. Gross' wife, Jackie, approached me and we sat and talked. She said, "You know, Dana, "it would be okay for you to study martial arts."I got a uniform, put it on and never looked back. It has been the best decision of my life.
It was God and the martial arts that got me through many, many hardships in my life. I was born with monocular vision and had no depth perception or spacial concepts and still had issues with it as an adult. Martial arts helped me with this. I was in an accident where I lost my short term memory. Martial arts helped me with this. My husband had a massive stroke and was paralyzed and we lost everything. God and martial arts helped my family and I through this.
Mr Norris was my instructor's instructor, and both men talked about making good choices. The character, Walker, Texas Ranger, was God fearing, loving and honest, and a role model for all of us.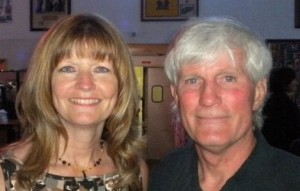 During another difficult period, my first instructor, Mr. Gross, came back into my life and we talked about Chuck Norris and his impact on all of us. I was attending a birthday party for Mr. Pat Burleson. The party was in Texas and given by a dear and Godly man, Jamie Cashion. The party was one of the highlights of my martial arts career. Most everyone there knew Chuck and his name came up often as we talked. Mr. Gross introduced me around and I had the opportunity of a lifetime to listen to the legends themselves as they talked about their careers, their exploits and martial arts in Texas. Of course they told me that Chuck Norris always wanted to be a Texan, and really was an honorary Texas Ranger.
I returned home to Nevada, a state truly battered by a rotten economy. So many of my clients were no longer able to pay their bills. I'd kept them going for as long as I could, but I knew I couldn't continue forever. Our houses were worth less than half of what they were and people were walking away from them in droves. During this time, my martial arts web sites were growing tremendously in popularity, requiring more and more time from me. Of course, I loved every minute of it, but financially it was difficult and my schedule was too hectic.
Summer hit, and so did the martial arts events I would attend. It started with the Mark Gerry Roast in Oakland, California. This was another spectacular event with many of the greatest martial artists attending. I drove to Oakland stayed at the home of Mark Gerry, with Cynthia Rothrock, Eric Kovaleski, Art Camacho, James Lew, Sonny Sison, and others. There was no time for me to sleep, only naps on the couch. There were trips to and from the airport, late night talks, stage managing the Roast, attending the Sid Campbell tournament and then, the bomb dropped. I received a phone call from my girlfriend who was watching my home and she told me that the people I owned my house with wanted me to move right away so they could rent the house for more money. I agreed, but I would be on the road until September attending martial arts events on the West Coast. Now I would have to drive back home to Nevada right away, pack up my home and office and find some place to store everything before I continued my trip. It was a really big house and I was already weary. The worst part of all this was that I was suppose to go from Mark's to the memorial celebration for Professor Wally Jay and now I would miss saying good bye.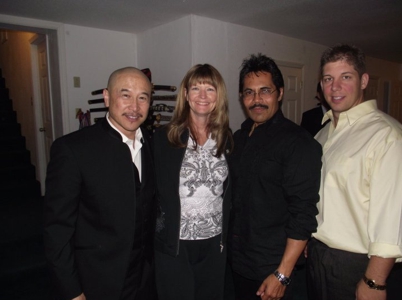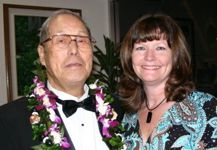 I drove home, and with the help of many of my church and martial arts friends, I packed up my entire home and office and moved in two days, then drove back to San Jose to meet with clients. A few days later I returned to Nevada once again, to prepared to leave for Las Vegas and then for an extended stay in southern California. I took off the next morning and drove the 8 hours it took to get to Las Vegas for the Chuck Norris' United Fighting Arts Federation (UFAF) Convention.
There had been no time to sleep or eat correctly and I was exhausted when I arrived in Las Vegas. I got lost looking for the hotel and arrived later than I expected. I hadn't booked a room and the hotel was full. I didn't have time to find another hotel so I change in the car. I would find another hotel later. Mr. Norris was showing , Answering the Call, his documentary honoring our troops in Iraq and I didn't want to miss it. I ran through the parking lot in the Las Vegas heat and through the hotel until I reached my destination.
I slipped into a seat to watch the documentary, more exhausted than I'd ever been. I was too tired even to cry. I stared at the movie screen trying to reorient myself. Slowly I slipped into war torn Iraq, traveling from base to base with Mr. Norris as he met with and encouraged the soldiers. He traveled from camp to camp in unbelievable heat, often eating rations, flying in helicopters, driving in tanks and trucks, always in the heat, always with a smile, mile after mile, base after base, camp after camp. The small children around me in the audience were squirming. There were so many troops, and each individual was important. There were tent hospitals and lines and lines of soldiers who wanted photos and a hand shake from "Chuck Norris". The more I watched the more enthralled I became. You could see that Mr. Norris was losing weight and that he was often running on sheer will power. He smiled and talked with each and every soldier, giving all of himself in the process.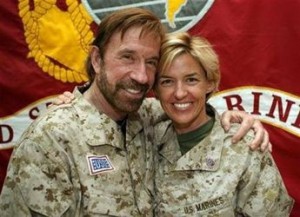 My soul became quiet and I was deeply convicted. If Mr. Norris, in his late 60's, could travel through Iraq under these circumstances, who was I to allow myself to become weak. He shared his faith and encouraged each individual, drawing on God and that "inner strength" he has. This documentary was not fiction, and the task was overwhelming, but he did it, followed by a camera crew, so we could share in the experience.
The conviction became deeper. How could I allow myself to find my circumstances to be "difficult". Our men and women in the armed services were giving everything, including their lives for us, and seeing the individuals close up this way changed my attitude and I was not going to let myself be beat. I am a martial artist with the Norris' in my linage and I was going to behave with that in mind!
I left the theater with a few old timers, truly great martial artists and friends of the Norris' and friends of mine. We talked about the documentary, the war, and it's role in our lives and how we appreciated what Mr. Norris had done to honor the soldiers and to share with us back in the States.
I share all this with you so you will understand why I support Chuck Norris' United Fighting Arts Federation and KickStart Kids and why I appreciate Chuck Norris. Here is a man who has taken his life and made a difference where it matters. Everyday his organizations make a difference in the lives of adults and children, and this is what I think martial arts is all about, and why we do what we do.
Read more about the UFAF Convention 2011. We will be providing more information about UFAF and KickStart Kids, and the men Mr. Norris has chosen to lead these organizations. You will meet Ken Gallacher and his daughter Tara Cox, Ed Saenz, Tip Potter, Chip Wright, John Presti and Steve Nelson, along with Reggie Cochran and Steve Hammersley. These  wonderful people are exceptionally bright and dedicated leaders who will help you make a difference in your art, your school, and in the lives of your students.