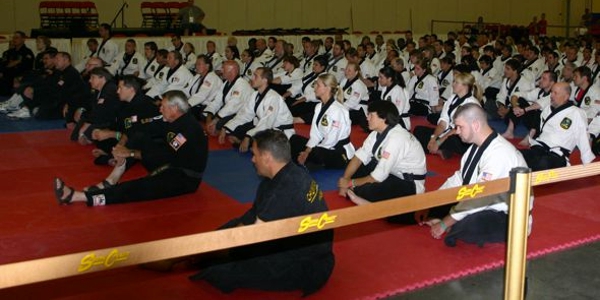 I recently had the wonderful opportunity of attending the 2011 UFAF International Training Conference and Chun Kuk Do World Championships. The event took place at the South Point Hotel & Casino in Las Vegas Nevada from July 13 through July 17, 2011. The most enjoyable aspect of this conference was the leadership. These men and women were so knowledgable, ran a tight ship, and were friendly and fun. I left there very excited about next years convention.
The event began with the Professional Development Series which took place on Wednesday and Thursday. In this series, knowledgeable experts came together to share with school owners about how to better meet the needs of students and potential students.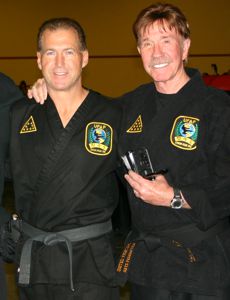 Reggie Cochran taught about how to use public relations and social media to share your professional martial arts school with your community. When they know you're there, they will come!!!
Stephen Hammersley talked with school owners about "first contact" and the best ways to build trust and credibility with potential students. This included discussions about making appointments with new perspective students who are looking at possibly studying martial arts with you, and using those appointments to generate excitement about the arts and about studying at one of the best achools around, yours! In a separate seminar he discussed how to design introductory programs, classes, and appointments that will truly showcase a school's benefits and bring new students into that school.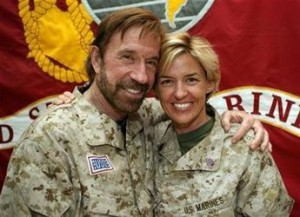 Kristi Tanner shared about UFAF and what it has to offer as an organization. The discussion centered around making UFAF an even better and stronger organization. UFAF strives to be an asset in the lives of the martial artists who belong to the organization and continues to seek perfection as an organizatioin. How could it not, with UFAF's leadership personally chosen by UFAFs founder, Grand Master Chuck Norris.
A joint seminar taught by Steve Giroux, Reggie Cochran and Stephen Hammersley discussed overworked and little known income generators for schools. The discussion centered around how to tap into important revenue streams that will help you provide everything your students want and need and will help you to continue to build your business.
On Thursday evening we had an opportunity to attend the screening of Chuck Norris Answering The Call, a moving documentary following Mr. Norris during one of his visits to the troops in the Middle East. You read about how this documentary changed my attitude in the article The Role of Chuck Norris In Our Lives. Following the viewing of the documentary we enjoyed a BBQ and pool party. This gave everyone the opportunity to talk and catch up. There were so many people who hadn't seen one another in a while and it was enjoyable to watch people reconnect, and to watch others connect for the first time. I too reconnected with people like Duke Tirshel and Danny Lane and made many new friends as well!
On Friday, The Instructor Development Series began. This series was designed specifically for martial arts instructors.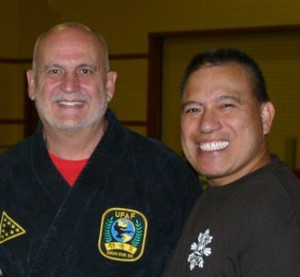 John Will (ISDT) taught Advanced Coaching, "What makes one trainer more effective than the next?". This seminar took the traits that make up the total teaching package, communication skills, teaching students in a way they can learn, class structure, logical and meaningful explanations of techniques and strategies, how to get techniques to "stick" in the students minds, motivational factors etc. and Mr. Will took the attendees to a whole different level of understanding and using these techniques.
How to Teach Anything was the title of Ed Saenz's seminar. In this seminar a great "teacher" taught how to really get through to students, no matter what level of talent the student may or may not have. This is what teaching martial arts is all about, teaching students!
The training "Headliners" were also incredible.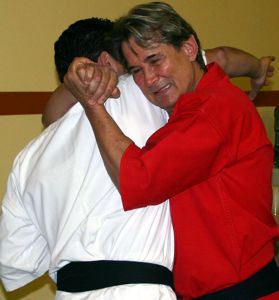 Richard Norton taught street application of our martial arts techniques. He discussed managing our fear, adrenal switches, pre-emtive striking and showed us drills that will develop speed and power. He also explored the technical aspects of stimulus response training and how to approach it with students.
Raffy Pambuan addressed the often misunderstood techniques of knife defense tactics. Assisted by John Bain, Ama Guro Pambuan taught how to identify a knife attack, and how to defend against it, relaxation methods when faced with a knife attack, how to use knife on knife techniques, and how to use improvised weapons. He taught how to use your surroundings to your advantage, controlling and manipulating a continuous attack, how to escape a hostage situation, and how to counter multiple attacks or attackers. Ama Guro Pambuan also showed us the most important body parts to protect in a knife fight, and how to train for real life situations, the mindset, attitude, expectations, and realities of knife attacks.
Chuck Norris has always enbraced new martial technology to better his Chun Kuk Do system and John Will and David Meyer were invited to the UFAF Convention to add new and varied techniques for instructors to use as they teach the Chun Kuk Do Integrated Self Defense Techniques. This self defense curriculum includes elements of BJJ, general grappling, and MMA technology, presented in a safe and respectful enviornment. This seminar taught closing, clinching and takedown skills, ground-and-pound defense, disengaging and getting back to your feet, and a solid set of grappling transitions and finishes – all with a modern-day, reality-based, self defense emphasis. John Will is not only an excellent instructor, but he also is a great motivator and teacher.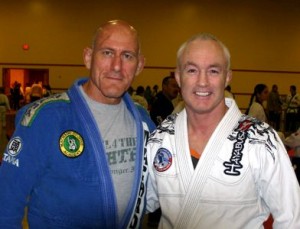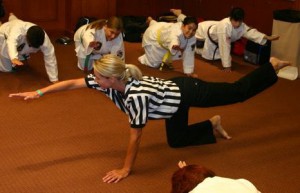 It was pure joy to engage with so many dedicated UFAF instructors who taught seminars for underbelts covering so many diverse topics, including kata, sparring, tricking, breaking, gun defense, ground skills, conditioning, self defense and more. There truly was something for everybody!
David Rodriguez – Becoming a Kata Champion
Joe Gemma – K.I.S.S. Gun Defense
Kenny Gallacher – Charge Up Your Ground Game
John Malone – Sweep the Leg
Kristi Tanner – Be a Mean Lean Karate Fighting Machine, Conditioning Training
Sonia Moreno White – Kata Fight!
Clayton Ferguson – A Measured Response: Liability-Conscious Self Defense
Kevin Hibbs – Turbo-charge Your Sparring Skills!
Jerry Dwyer – Entering the Ring: Secrets of Great Kata Performance
Vic Matera – Refine the Effectiveness of Your One-Steps
Michael Holstien – Flipped Out – Add WOW to your forms!
Jorge Alonzo – FAST Sport Sparring!
Lindy Woods – Discover the Beauty of Kata
Clara Melendez – Power Breaking – Breakthrough Self Defense
Doug Shaffer – Self Defense for All Sizes!
Kenneth Fjeld- Tools to Build Your Sparring Game
Saturday afternoon and Sunday afternoon included the team fighting competition which went fast and furiously, as fighting does, and it was truly a competition. I was impressed with the honor and respect the teams showed one another. This same honor and respect was shown throughout the competition, which included, demo team competition and individual fighting competition along with kata and weapons competition.
As if all this wasn't enough excitement, on Saturday evening I attended the UFAF Awards Dinner. As we entered the banquet hall, I realized that this organization was special indeed. Mr. Chuck Norris, along with his beautiful wife, Mrs. Gena (O'Kelley) Norris, and Mr. Aaron Norris, along with the UFAF President, Mr. Ken Gallacher, stood in a line and shook the hand of each and every martial artist and family member and friend that came through that door. I couldn't help giving out hugs as I went through the line, as I was truly surprised. I wasn't use to feeling this special and these men and women made all of us feel special and welcome.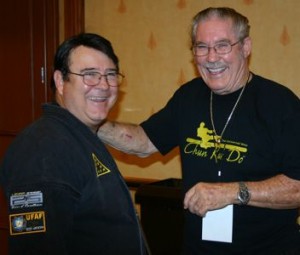 The purpose of this evening was to recognize special individuals in three categories, Instructors of the Year, Schools of the Year and Most Inspirational Members.
Instructors of the Year included:
Steve Brown from Top Form Karate & Fitness in Weirton, WV
Clayton Ferguson from Champion Martial Arts in Barboursville, West Virginia
Javier Garcia
Joe Gemma
Steve Nelson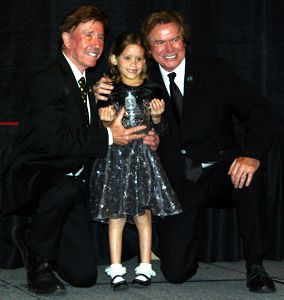 Schools of the Year included:
CJ Karate Studio – Charles Comas
Karate GGYM – Joe Gemma, Vic Matera, Ivan Mitchell, Rhonda Mitchell, Bill Witt, Deb Witt
American Martial Arts Training – Stephen Hammersley
K.W. Karate Center – Clara Melendez
American Martial Arts – Kristi Tanner, Georgina Wheadon, Heather Eaton
Most Inspirational Members included:
Stephen Hammersley
Karrianne Neely
Steve Nelson
Sydney Nicole Walters
The most poignant part of the evening was a tribute paid to Greta Potter, a 7th Degree Black Belt and the wife of Tip Potter. Greta was a diabetic and succumbed to the disease a few months before this convention. She was a remarkable woman, who, even after losing her legs to the disease, continued to travel with her husband for UFAF and teach from her wheel chair. "Greta, you are missed and loved by all the members of UFAF and there is a hole in each heart that only you can fill, please rest in peace."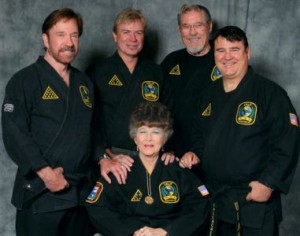 Another event  that was delightful, was watching Mr. Chuck Norris and Mr. Aaron Norris having photos taken with each of the attendees and other guests that wished to have a photo with them. It took a very long time, and was a labor of love, and once again allowed me to see that the Norris' care about their students and instructors who are part of the UFAF family, and UFAF is truly a martial arts family.
Speaking of family, I was blessed to have the opportunity to sit and chat with Mrs. Wilma Norris Knight, mother of Carlos (Chuck), Aaron and Wieland (in Heaven) Norris. She is a wonderful, kind, Godly woman who shared her life story with me. She has written a book entitled Acts of Kindness – My Story and if you like the Norris legacy, you will love reading about the woman who raised the Norris men to be who they are today.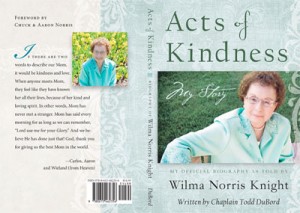 "If there are two words to describe our Mom, it would be kindness and love. When anyone meets Mom, they feel like they have known her all their lives, because of her kind and loving spirit. In other words, Mom has said every morning for as long as we can remember, "Lord, use me for your Glory." And we believe He has done just that! God, thank you for giving us the best Mom in the world." Carlos, Aaron and Wieland (from Heaven)
As you can see, the UFAF Convention was a fantastic event and I will be there next year! I hope you will all join UFAF and attend the convention with us in 2012!
Photos by Dana L. Stamos, All Rights Reserved.