November 26, 2013
The Action Martial Arts Mega Weekend is on the Horizon!
The Ultimate Destination for Martial Arts will take place on January 24, 25 & 26, 2014. The Ultimate Destination is the world's largest gathering of martial arts superstars, combat celebrities, and renowned Masters from around the world. The Ultimate Destination is the only destination where you can congregate, meet, greet and share with thousands of fellow martial artists who gather together from around the globe.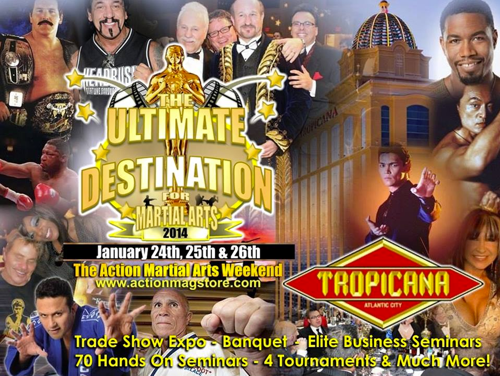 Commonly termed "The Academy Awards of Martial Arts", This event is listed as one of the largest banquet gala's in Atlantic City and the world's largest assembly of celebrities, champions, suppliers and, of course, movers and shakers in the martial arts industry. Over 4 to 5 thousand people attend The Ultimate Destination for Martial Arts every year. Their are 3 days of amazing seminars (60+) taught by THE BEST OF THE BEST and there is no charge to the public and to dinner guests for all seminars.
Our expo and trade show continually expand in many different directions, with hundreds of vendors spots. We have also expanded into Sunday for the Martial Arts Business Conference with more top of the line speakers. On Friday NAPMA presents its World Tour With Toby Milroy and Stephen Oliver.
This year we have 7 Tournaments and Competitions including:
The New Heaven and Earth Tai Chi Tournament
The BAM's Krazy Martial Athletic Challenge
Crossed Swords Padded Weapons Tournament
Sticks of Thunder Challenge
The War on the Shore Open Martial Arts Tournament
The Point MMA Tournament
The Renzo Gracie BJJ Open Challenge Tournament
Also new for this year are the Friday night ROC MMA Fights with Shihan Lou Neglia and The International Warrior Pageant, also on Friday evening.
For those of you who love Muay thai, we have added the Ace Ramerez Thai Kickboxing Certification program.
Of course, we are having the Friday night Wine and Cheese Dance and its open to all participants. Were having the Sunday VIP Brunch with the Stars and Masters and then the "Academy Awards of Martial Arts", our star studded banquet will take place on Saturday evening!
The only destination is The Ultimate Destination for Martial Arts taking place on Jan 24, 25 & 26, 2014 at The Tropicana Atlantic City. For More information contact Alan Goldberg at Actionma4@gmail.com or call him at 718-856-8070. You can also go to the web site, www.ActionMagstore.com, for event information and registration forms for The Ultimate Destination for Martial Arts 2014.