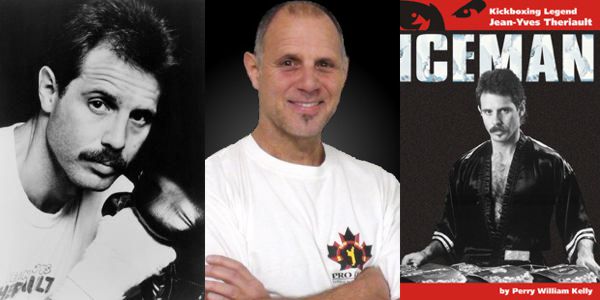 Jean-Yves Theriault is a Canadian kickboxer, trainer, and an author. He was born on January 15 of 1955 in Paquetville, New Brunswick, Canada. He was the fifth of six brothers. He moved to Ottawa, Canada when he was five years old.
In 1972, at the age of 17, Theriault began his martial arts training under Kyoshi John Therien and he achieved blue belt status in jujutsu. Theriault trained and competed until 1976 when he began to train in kickboxing. Theriault won his first kickboxing competition after only 6 months of training in the sport. Not long after, Guy Malette, the former Golden Gloves boxing champion, took Theriault under his wing and Theriault began a very intense training program. His hard training paid off and Theriault began to make a name for himself on the kickboxing circuit, competing in Eastern Canada and North Eastern United States. In 1978 Theriault became the P.K.A. Canadian Middleweight Kickboxing Champion. In 1980 he won the P.K.A. Middleweight World title, in full-contact karate, and he held this championship for 15 years. He also won world titles in both the I.S.K.A. and P.K.C..
Theriault earned the nickname "The Iceman," from Rodney Batiste the first time he defended his title as he had an intimidating icy stare and was very cool in the ring. A few of Theriault high profile victories include two wins against future four time K-1 champion Ernesto Hoost and a draw against the legendary Don "The Dragon" Wilson. He has also fought world champions Rob Kaman, Tosca Petridis and Rick Roufus.
Theriault fought 76 fights from June 1976 to December 1995. Of those fights, 69 were wins (61 knockouts), 6 were losses, and 1 was a draw. His one draw was with Don "The Dragon" Wilson on December 18th, 1984. Theriault was full-contact World Champion 23 times.
As a champion, Theriault has worked with many groups and charities, such as the Big Brothers, Children's Wish Foundation and Laucan. He is author of a book on kickboxing techniques and has a series of videos on the science of combat sports. Theriault was the subject of an hour and a half film produced by the National Film Board. The Sports Writers Association of New Brunswick voted Theriault Athlete of the Decade, but he has still not been inducted into the the New Brunswick Sports Hall of Fame.
He retired on December 1, 1995, after a 3rd round knockout of Marcus Reid. Jean-Yves still trains five days a week and he teaches classes at all Therien Jiu-Jitsu & Kickboxing Schools.
He has also become a world-class promoter for the sport of kickboxing, and with his friend Kyoshi John Therien. Through the Iceman Amateur Kickboxing Circuit, they offer new, young fighters the opportunity to compete.
Jean-Yves Theriault obtained his Black Belt in Jiu-Jitsu in early 2008.
Titles
1995 I.S.K.A. Full Contact Light Heavyweight World Champion
1992 I.S.K.A. Full Contact Super Middleweight World Champion Retains title after losing to Rob
Kaman earlier that year – see fight record for more information
1988 I.S.K.A. Full Contact Light Heavyweight World Champion
I.S.K.A. Full Contact Super Middleweight World Champion
P.K.C. Super Middleweight Full Contact World Champion
1980-1995 P.K.A. Full Contact Middleweight World Champion
1978 Canadian Full Contact Middleweight Kickboxing Champion