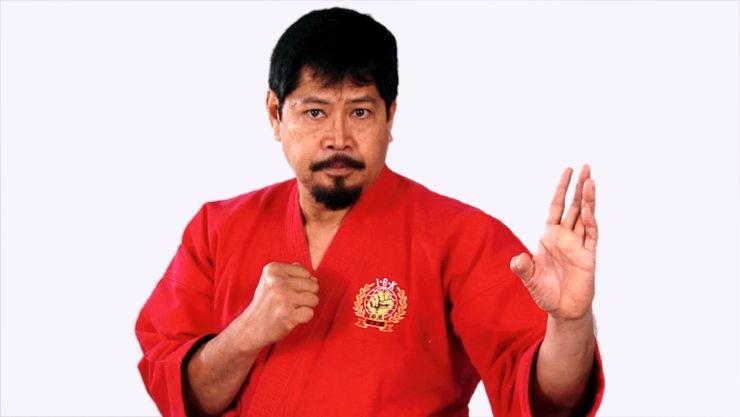 Tino Ceberano is a Gojukai Goju-ryu karate master (Japanese Yamaguchi-ha) who is a key figure in Australian martial arts history. He is a direct student of Goju Kai karate founder Gogen Yamaguchi.
Tino Ceberano was born Constantino Ceberano on the island of Kauai, Hawaii on September 24, 1941. His father, whose surname was really Sobirano, was Filipino and a professional boxer who emigrated from the Philippines to Hawaii with Tino's mother. There name was spelled phonetically as Ceberano when they emigrated.
Tino Ceberano studied boxing and judo as a youth and he earned a Black Belt in the Judo. It was a Korean War veteran who first introduced Tino to kempo karate.
Ceberano would share in a future interview saying, "I was immediately attracted to karate's discipline, its intricate breathing methods, and the principles of mutual respect. This applied in the dojo, where the opponent or classmate was given equal respect—regardless of size, strength, or ability. And outside the dojo, the same principle was to be applied, regardless of the other man's race, color, or creed. I wasn't long in karate before I noticed all the usual physical benefits, but it was my mental improvement that really impressed me."
In 1958, Ceberano's family left Kauai and settled in Honolulu where he got his first Goju Kai training with instructors Anton Navas and Masaichi Oshiro.
Ceberano joined the United States Marine Corps in mid-1959. His military service require him to travel so it became more difficult to training, but Ceberano persisted and he earned his 1st dan rank in Goju Kai karate under Masachi Oshiro in 1963.
In October 1966, after he was officially discharged from the US Marine Corps and after receiving his Sandan, 3rd dan from Gogen Yamaguchi, Tino Ceberano and his family moved to Melbourne, Australia at the request of Yamaguchi so Ceberano could help establish Goju Kai karate in Australia. Ceberano would establish a Goju Kai karate dojo at Monash University. In 1963 Mervyn Oakley had started a Goju Kai dojo in New South Wales and he began traveling to Melbourne to assist the new Goju Kai dojo. The two men continued to introduce karate to the Australian public and Hanshi Tino Ceberano helped make Goju Karate one of the most widely practiced styles of karate in Australia.
After Yamaguchi passed away in 1989, Hanshi Tino Ceberano formed his own organization which he called the International Goju Karatedo or the IGK. It is uncertain whether this organization was sanctioned by senior Goju Kai officials or not. In February 1992 Tino Ceberano attained his 7th dan ranking. In 2003 he was promoted to 8th dan and in 2006 he was inducted into the Australasian Martial Arts Hall of Fame. He was appointed to the Australasian Sokeship Council in 2007 and in 2008 he was awarded his highest honor with his elevation to 9th Dan.
Hanshi Ceberan has also been the Chief Referee of W.U.K.O. (World Union of Karatedo Organizations) and he also holds the title of Vice President of the organization.
Tino Ceberano Hanshi, Kudan, 9th Dan, Chief Instructor and head of the I.G.K. is often referred to as the father of karate in Australia.
One of Hanshi Tino Ceberano's most famous students is action actor Richard Norton and Ceberano would played the role of Lau in Richard Norton's film, Under the Gun (1995).