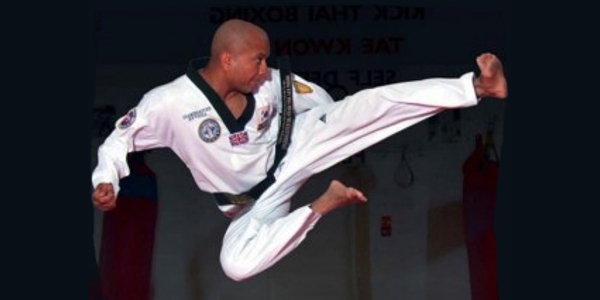 Grandmaster Tony Vohra was born in India in 1958, coming to England in 1962, and settling in Nottingham which is still his home base.
As a boy, he enjoyed David Carradine's "Kung Fu" and this led to a fascination with Martial Arts. As a young teenager, Bruce Lee became famous, and as an avid watcher of Bruce Lee's films, Vohra engendered a desire to emulate this very popular figure.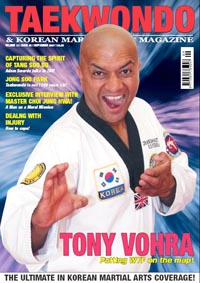 Tony Vohra trained in yoga in his back garden, which led him to join various clubs where he received training in karate and kung fu, before finally realizing that Taekwondo was his forte. Taekwondo is still his most beloved martial art, but his knowledge and skill encompasses Kung Fu, Kick Thai Boxing, and Kuksool-won, with another specialty, self defense.
Meeting with Doctor Lee Keun Tae in 1982, fired Tony Vohra enthusiasm for a full time center of his own, as he had previously been teaching at several leisure centers around Nottingham, and at Trent Polytechnic (University now) since 1976. Teaching was taking up most evenings and weekends, and had to be tailored around his full-time career. In 1983 his dream for his own school was finally realized. A suitable building became available, and after much refurbishment the "Nottingham School of Taekwondo" in its own full-time center, was born.
Up to this point he had already achieved some fame competing in local and national competitions. This culminated in being selected for the World Taekwondo Federation Championships in Stuttgart, Germany. Sadly, at this time, 1979, students were forced to finance themselves. His subsequent marriage and the purchase of a home meant that he was unable to attend. He did however, compete in Neinegan in 1980. Between Neinegan and the opening of his own full time center, he taught the East Midland Universities Officer Training Corps the skills of Taekwondo, self-defence and unarmed combat.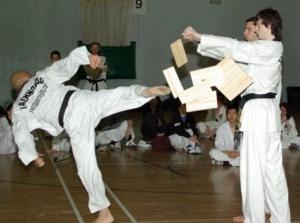 Many people heard about "Grand Master Tony Vohra" through the extensive press coverage he received, including appearances on "Pebble Mill", "TV-AM" "Breakfast – Time" and numerous other programmes, including local and national radio and TV. Much coverage has also been given to his teaching of the disabled, senior citizens and ladies and his charity work. He has been noted for his contributions and articles in dedicated martial arts magazines, and he has been extremely fortunate in his receipt of sponsorship from many local business people.
He continually strives to better his skills and those of his students, and this includes regular trips abroad for competitions and seminars, both on his own and with those students who wish to accompany him.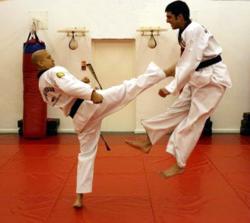 In recent years, Tony Vohra has been as far a field as Korea, China and South Africa, and the Far Eastern countries to participate in international competitions and demonstrations. He also made an extra visit to Korea to gain his International Master Instructors Certificate back in 1998. He also competed in the World Championship in 1998 and 2000 (these events are held every two years), successfully bringing home many 1st place trophies – which also acts as a great incentive for his students.
Tony Vohra continues to take part in and organize demonstrations, locally, nationally and internationally, and thereby hopes to spread the world of Martial Arts, its meaning, and its benefits to everyone.
Currently, Tony Vohra resides in the "Robin Hood Country" of Nottingham. His family all participate in Martial Arts. He is opening more clubs around the midlands, and will be going further afield shortly. His international clubs include Thailand, South Africa and Ethiopia.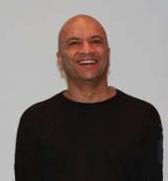 Tony Vohra has always believed that anyone and everyone can achieve what he has achieved, if they have the determination and ambition. He invites all to be part of his winning team at Grand Master Vohra's Martial Arts Academy. He offers to help you reshape your future and gain a more positive outlook on life. Your dreams of improving yourself or even of becoming a National or international expert are achievable.