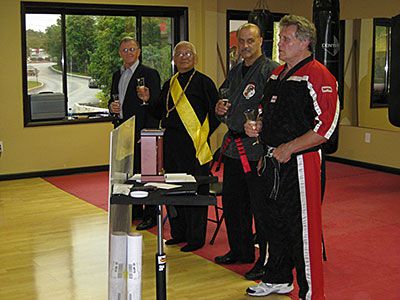 WAYNE, PA (9/15/08) – The Nackord Karate System in Wayne, PA is honored to announce the promotion of its Grand Master, Dennis Nackord, to ninth-degree black belt in a ceremony held on Saturday.
The martial arts lineage of Nackord can be traced back to three of the most influential people the sport has even known, Joe Lewis, the "Greatest Karate Fighter of All-Time," Dr. Maung Gyi, the man who brought kickboxing to America, and Ed Parker, the founder of American Kenpo Karate. Both Lewis and Gyi were on hand to promote Nackord to the rank of ninth-degree black belt, the first in the 40-year history of the Joe Lewis Fighting System, in front of hundreds of students and family. (Ed Parker is deceased.)
"I am honored to get the rank from Joe Lewis and Dr. Gyi," Nackord said. "Those guys are for real. A lot of ranking has a dubious lineage, so to have two legends in our sport promote me gives me more responsibility in my instruction."
Lewis, who earned black belts in three different styles in under a year as a Marine while stationed in Okinawa, Japan, was named the "Greatest Karate Fighter of All-Time" by his peers in 1983. A world champion in both karate and kickboxing, Lewis is the first person to be awarded a tenth-degree black belt and won four U.S. Championships, three international championships and the World Karate and Kickboxing Championships. He has also been dubbed the "Father of American Kickboxing."
Gyi, the "Founder of American Kickboxing," brought the sport to the United States in 1963. He is also the founder of the American Bando Association.
A native of San Francisco, Nackord has been nicknamed the "Father of Kenpo Karate in Philadelphia" after opening his first of over 20 karate schools in Northeast Philadelphia in the early 1970s. He has promoted over 160 black belts during his 40 years of instruction.
While the extreme fighting associated with Mixed Martial Arts has propelled that sport into the public eye, Nackord's approach focuses on developing the student's inner-drive. "Perseverance, concentration, and self-confidence are needed for self-defense, the workplace, and everyday life," Nackord states on his website, www.karate99.com.
"Dennis and I work a lot on how to think and how to increase a person's maturity to reach a higher level of consciousness," Lewis said. "Fighting is something that hoodlums do. Martial arts is an activity that teaches kids a form of improving their self-concept through self-discipline."
Unaware of Lewis' arrival while performing a day-long seminar with Gyi, Nackord was surrounded by over 20 of his current black belt students and hundreds of family and friends.
"You're not an instructor without students," Nackord said. "They are all saying congratulations to me, but I'm the one who is fortunate to have them."