The Writers Guild of America's strike is causing much of network television to shut down, and the sport of mixed martial arts could benefit from it. The TV strike could put mixed martial arts on network TV.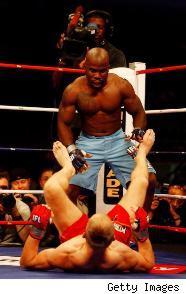 Media Daily News is reporting that NBC might join forces with an MMA organization to put together some shows, either in prime time or late night, during time slots that ordinarily would have gone to scripted programming. The best option might be to have MMA during the time slot that currently goes to Saturday Night Live, which will be in reruns until its writers return to work.
Meanwhile, UFC is reportedly talking to CBS about putting some of its shows on network television. That could help CBS appeal to the elusive young male demographic.
Whether it actually happens or not, the mere fact that multiple television networks are considering showing mixed martial arts is another sign of the sport's extraordinary growth. It was only a few years ago that mixed martial arts was in danger of being banned in the United States, and no respectable company would have dreamed of joining forces with it. And soon it could be available to every television household in America.