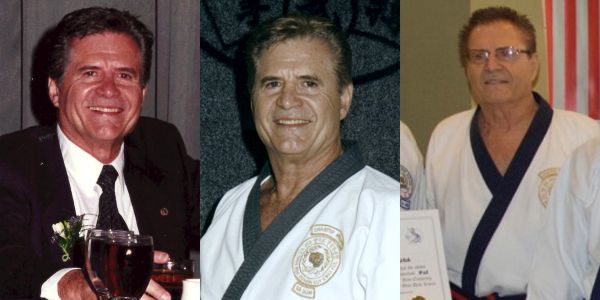 Victor Martinov
July 29, 1936-June 2, 2015
22-year Santa Ynez Valley resident Vic Martinov passed from this life to the next on June 2, 2015 after a hard fought battle with Leukemia.
Vic Martinov was born on July 29, 1936, in New York, NY to Miro and Marion Martinov.
In 1969, Vic graduated with a B.S. from the University of California, Long Beach. Most noteworthy of this accomplishment is that during his 15-year effort to obtain his degree during the evenings, Vic worked full time during the day, while providing to raise his family, setting the stage for his future which was defined by a lifetime of hard work, impeccable integrity, the highest ethical standards, quiet humility, and most of all, love.
Vic started his career with the Los Angeles County Flood Control, eventually becoming a district supervisor. However, his drive and eventual calling was in real estate development. Over his career, Vic developed multiple condominium projects and large-scale single-family residential tracts, mostly located in the South Bay area of Southern California.
While a very successful businessman by any standard, Vic's true passion was his practice of martial arts. Over a 50+ year span, Vic eventually not only achieved the highest rank of 9th degree black belt but was a member of the Senior Advisory Committee and Master Instructor for the Soo Bahk Do Karate organization.
As was his approach with everything else that he did in life, Vic pursued his love of martial arts with unmatched dedication and service to preserving the art form and to the Soo Bahk Do organization. The current Grandmaster of Soo Bahk Do, H.C. Hwang, sums up the sentiments of what most people, whose lives Vic touched, thought of him.
"Every step of his life has left behind footprints in the form of memories of beautiful stories and wonderful experiences shared with others. He respected and treated all who came before him with equal fairness, kindness and respect."
His wisdom, kindness and selfless giving were among his defining characteristics. One of his students and close friends describes the impact that Vic's life had on him. "There was never a time that I stood in front of him that he didn't have something to give me. Simply put, I loved him. His patience, support, guidance, friendship and love these past 40 years has helped make me a better person and enriched my life beyond what words can describe."
Many years ago, another one of his close friends, wrote a poem about him, which is proudly displayed on the wall of his home gym. It is called, The Uncommon Man. Selected excerpts read; "This man rides not on life's wavering crest susceptible to changing tides, giving, nor accepting less. It is that rare secret in life's sacred chest that has taught him the lesson to give and only expect his very best. He celebrates life by creating a life; full, significant and interesting, moving beyond the mundane into depths penetrating."
His family life was conducted no differently than his professional and martial arts careers; a resolved dedication to give nothing but his best. He is adored and loved beyond any human description by his wife, Thoma, who he was married to for 42 years, his son, Chris (Darnell-wife), daughter, Aleah, and four grandchildren, Nicholas, Mitchell, Olivia and Lucas.
The lives he touched along his journey encouraged others to give their very best, whether the task be insignificant or great. The life and legacy that he has created for his family and friends will live on, as we see the beauty that he has left behind for us, giving us cause to celebrate. He lived his life to the full and selflessly gave to others from a bottomless well of wisdom and love. His loss will leave an unfillable void in our lives until we are able to be with him again.
Husband, father and friend. You are greatly loved.
By Chris Martinov
First Tang Soo Do Testing in California 1965
In an exchange agreement between the U.S. and the Korean military, Master Jong Hyong Lee was stationed in San Diego in 1965. While there he contacted Mariano Estioko and Chuck Norris and re-connected them with Kwan Jang Nim Hwang Kee and the Moo Duk Kwan. As a result of this, the first Tang Soo Do Dan testing in California was held in 1966 at Chuck Norris's dojang in Torrance, California.
Grandmaster Estioko was promoted to 2nd Dan and Chuck Norris to 3rd Dan at that time (although Estioko was actually Norris's senior but did not have the opportunity to be tested since leaving Korea).
The Dan testing that day, which was very comprehensive and extremely physically taxing, lasted for over 12 hours. Approximately 12 individuals actually tested for Cho Dan at that testing but only Andy Ah Po (Dan Bon #10187), Gerald Taylor (Dan Bon #10188), and Vic Martinov (Dan Bon #10189) were promoted to Cho Dan at that time. Willie Norris (Chuck's younger brother who was later killed in Vietnam) also tested that day but was not promoted to Cho Dan until a few months later.