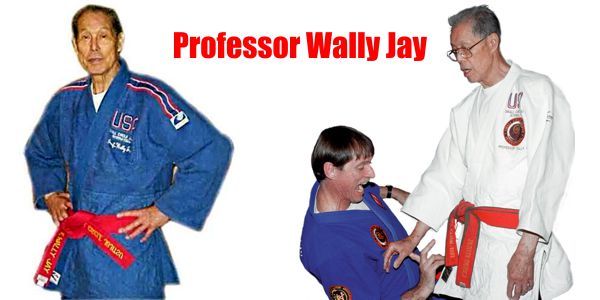 Professor Wally Jay
June 15, 1917 – May 29, 2011
Great Grandmaster and Founder of Small Circle Jijitsu, Professor Wally Jay, passed away peacefully at 2:20 am on May 29, 2011 in Redwood City Kaiser Hospital at 93 years old.  Prof Jay experienced a stroke on Tuesday May 24th and on Saturday as per his previous wishes was removed from life support.  He survived another 12 hours and had family and friends with him. The Jay Family extended their gratitude to those that were there to lend support and to those that had him in their prayers.
Prof Wally, founder and grandmaster of Jujitsu America and Small Circle Jujitsu International, held a 10th Dan in Jujitsu and 6th Dan in Judo. He traveled all over the world promoting Kodenkan Jujitsu and Small Circle Jujitsu. Prof. Jay was one of the first of Prof. Henry Okazaki's pupils to advocate cross training. He served as Technical Director for Jujitsu America.
Prof. Wally Jay was an Honorary Doctor of Science Degree from the College of Martial Arts, Sioux Falls, South Dakota, was a graduate of the Nikko Restoration Masseur Institute in Honolulu Hawaii and was listed in Who's Who in Martial Arts in 1977 and 1985. He was named by the Northern California Judo Black Belt Association as "Judo Coach of the Year" in 1960, was Black Belt Hall of Fame's "Man of the Year" in 1960 and their Jujitsu Instructor of the Year in 1969, and was named by Inside Kung Fu magazine as "One of the Most Influential Martial Artists of All Times."
He served as Team Captain of the U.S. Martial Arts Team that traveled to China in 1985, demonstrated at the First International Wu Shu Championships in Man, China, and had the honor of demonstrating at the Dal Nippon Butokukai Festival on Emperor's Day in Kyoto, Japan. He appeared on CNN when he along with Prof. Tony Maynard and Ernie Boggs, demonstrated in South Africa for the Boputatswana Government in 1992. Prof. Jay's judo players were one of the "winningest teams" in the late 1950's and early 1960's, which led to him being voted as Hokka Judo Yudanshakai Judo Coach of 1960. In 1960 his team captured the Mexican Judo Championships in Mexico City, and in 1963-64 the American Jujitsu Institute awarded him Outstanding Coach of the Year. He produced many medallists in national judo championships, such as Bradford Bunge and David Quinonez, who won national high school titles in 1968 and 1970 respectively. Prof. Jay authored two books, Small Circle Jujitsu and Dynamic Jujitsu, as well as five instructional videos. His dojo, Island Judo/Jujitsu Club, is located in Alameda, California. (Biography)