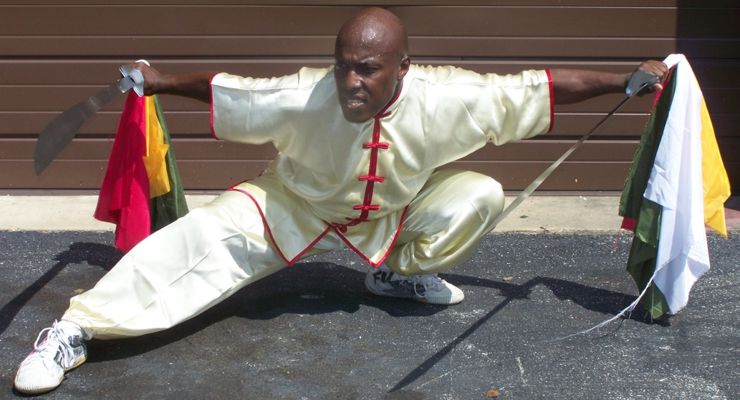 Willie "The Bam" Johnson's life story is so powerful that A&E created a documentary about him. The documentary shows his rebirth from bullying, poverty, and physical, sexual and mental abuse. Rampant crime and drugs engulfed his community. Becoming a successful drug dealer, user and criminal eventually landed Willie in jail like so many other youths.
Professor Willie "The Bam" Johnson used martial arts principles to help break the cycle and he is known as an Urban Legend and he was honored to beome a member of Black Belt Magazine's Hall of Fame along with some of the world's greatest martial artists including Bruce Lee, Jet Li, Jackie Chan and many others. Willie is also a seven-time World Champion in Sports Karate. He represents all the life-changing benefits that come through the study of martial arts.
Willie "The Bam" Johnson was inspired by Bruce Lee when Willie was only 6 years old and living in downtown Baltimore. Today, he is a graduate of the Beijing Physical institute of China and holds a seventh degree Black Belt under Master Kenneth Parker, a master degree under Grandmaster Dennis Brown and a first degree Black belt under Master Garcia Davis. Among his credits are a solid record of competitions wins including the first national Triple Crown Wushu/Kung Fu title, WAKO World Title, two All-American titles, and being the first African-American to hold two national American Sports Karate Association titles. He is the producer of more World Champions in one year than any other martial artist.
Through the Better Attitude Maker Sports Karate Team, he is also a recognized action star. He played himself on the hit TV show- WMAC Masters along with Bruce Lee's daughter Shannon Lee and some of the 21st century's leading martial artists. He has also been on many other TV and film projects including the Hong Kong Production entitled "Super Fights." Johnson also had a fight scene against Chuck Jeffreys – The choreographer for a number of Wesley Snipe's Films, Including Blade: Trinity. He was also a featured performer on the Wesley Snipes production "Wesley Snipe's Presents: Master of the Martial Arts", Chuck Norris' "Kick Drugs Out of America" and the Dragon-Fest "Superstar Show."He also holds the best selling DVD Instructional Series for Paladin Press with "Street Combat", "Street Chin-NA" and soon to be released "Street MMA." Human Kinetics, a leader in sports publications, released his other best seller, a book entitled "The Complete Martial Artist." He has also been featured in all of the top Martial Arts magazines since the 80s as an author, on the cover or as a featured personality.His unique urban innovative approach of producing personal greatness from the inside-out through the tools of Martial Arts has made him the ambassador of truth from the underground to the mainstream. His consistent approach of research, learning and adapting truly exemplifies the title of "Professor."
Willie "The Bam" Johnson is one of the world's leading instructors and has taken first-hand knowledge of innovative and positive experiences and structured them into curriculum that provides solutions to community and worldly problems. These curricula have been taught in colleges, schools, law enforcement agencies, and many other professional organizations. Truly dear to his heart is his work with those who society has counted out and labeled as under-privileged. He sees himself in each individual he works with and strives to help through his "Stronger Than Drugs Foundation" which has allowed him to travel the world to speak on different topics. Willie often travels back to Baltimore City and helps to rebuild the community he helped to tear down and he always travels back to the same community center that saved his life- McKims Community Center.
Willie "The Bam" Johnson has been honored by Governor O' Malley with his own Willie "The BAM" Johnson Day celebrated on September 28th in Baltimore. Senator Barbara McKloskey also honored him for his extraordinary work by flying the United States American Flag over the Washington Capitol for his excellent community service. He also received two "Baltimore's Best" Awards given to him by the honorable William Donald Shaffer.
The award that has the most meaning to him is the American Cancer Society Community Fundraising Award, an award that he received for starting a cause in an effort to commemorate his mother, Martha Johnson, who died from cancer. He also joined forces with Baltimore City government and the parks and recreation center to create a Stronger Than Drugs Program to help display unity, an endeavor that was once in Laurel, Maryland for the Cemberley Gardens community.