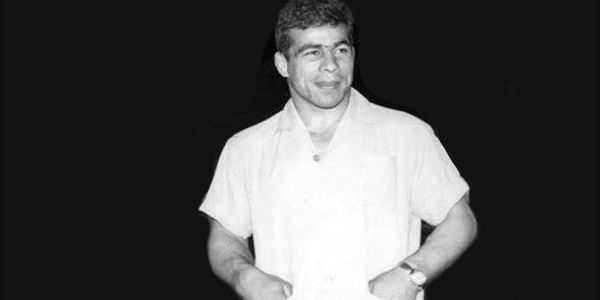 Gholamreza Takhti was born on August 27, 1930, in Tehran. He was raised in in poverty and he trained in a makeshift sports hall until he left Tehran to work as an oil worker. After being drafted into the army he was introduced to freestyle wrestling, He won his first Iranian championship in 1950, and became the first Iranian wrestler to win an international medal when he gained a silver medal in the World Championships at Helsinki in 1951, followed by silver at the Helsinki Olympics.
Gholamreza Takhti started as a middleweight wrestler in the 1952. In the Helsinki Olympics, at 22 years old, he managed to win the silver medal in the 79 kg weight category. Four years later in Melbourne, along with the other great Iranian wrestler, Emam Ali Habibi, Takhti became the first Olympic gold winner for his country. This was achieved in the 87 kg weight category. He won gold in the 1959 Tehran World Championships and later he participated in World Championships of Yokohama (Japan) and Toledo (Ohio, USA) and respectively won gold and silver medals.
As Gholamreza Takhti got heavier, he decided to move up to the next weight, 97 kg, for the Tokyo Olympics in 1964. He competed unsuccessfully at the Tokyo Olympics and in the 1966 World Championships for adverse political reasons. Even after he retired from competition, the government at the time attempted to discredit him as he was very popular with the people. Though he lost in the last two competitions his popularity was not diminished. He was most famous for his chivalrous behavior and sportsmanship, and he continues to symbolize the essence of sport to the Iranian people.
Gholamreza Takhti mysterious death on January 7, 1968 was "officially" listed as suicide, but the popular opinion was one of political assassination by government security service known as "SAVAK".
The late Gholamreza Takhti is the highest ranked Iranian wrestler in history of Iranian wrestling. With one gold (1956 Melbourne) and two silver medals (1952 Helsinki, 1960 Rome) in Olympic games, and two gold (1959 of Tehran, 1961 of Yokohama) and again two silver medals (1951 of Helsinky, 1962 of Toledo) in World Championships, the legendary Gholamreza Takhti is the most celebrated wrestler in Iranian wrestling.