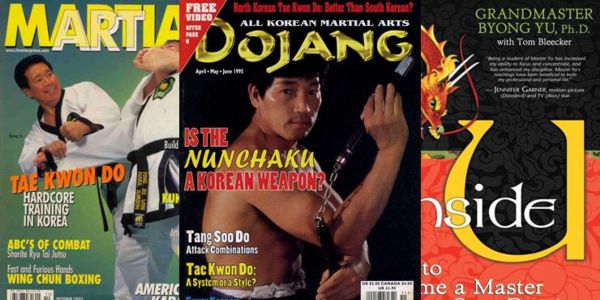 Master Yu Byong was born on January 17, 1935 and raised in Korea. He moved to the United States in 1964. Overcoming physical disabilities, language barriers, racial prejudice, and homelessness, Master Yu Byong (nicknamed Lightning Bolt) took the martial arts circuit by storm and eventually attained his 9th Degree Black Belt from the World Tae Kwon Do Federation. Master Yu Byong was inducted into the World Professional Martial Arts Association's Hall of Fame, voted Man of the Century, and in 2001 received the prestigious Martial Arts World Federation Lifetime Achievement Award. Master Yu Byong presently resides in the Los Angeles area, where, now in his 80's, he continues to teach martial arts.
1996 – Master's Exposition, Special Guest: Chuck Norris
1995 – Black Belt Magazine's Man of the Year
1994 – Film: Master of Nunchucks
1994 – Northern California Tae Kwon Do Association President
1990 – Lafayette Tae Kwon Do Studio Opens
1990 – Eighth Degree Black Belt, Tae Kwon Do
1981 – Supporting Actor, The Master's Way
1979 – Co-Star Black Blood Hong Kong
1977 – 1st Place, Form Division New York State Grand Championship
1974 – Yu's Martial Arts established in SF Bay Area
1970 – The ROK Marine Corps Blue Dragon Division TKD instructor, Vietnam
1969 – Champion, Republic of Korea, Marine Corps Tae Kwon Do Championship
1969 – 1st Place, Middle Weight Division Korean National Tae Kwon Do Tour
1964 – 1st Degree Black Belt, Judo
1962 – 1st Degree Black Belt, Hapkido
1960 – 1st Place, Light weight Division Korean National Tour
1958 – 1st Degree Black Belt, Tang Soo Do
To contact Yu Byong or Yu's Martial Arts visit their listing on the Martial Arts Schools and Businesses Directory by clicking on the image on the left.