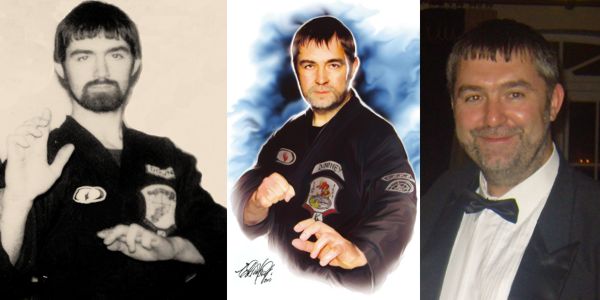 In 1973 Eddie Downey began his Kenpo career in Europe's first Kenpo Studio the Fitzwilliam Street Kenpo Academy in Dublin, Ireland. Eddie Downey's first instructor was Senior Professor John Conway a 7th degree Kenpo Black Belt ranked by Grand Master Ed Parker. Professor Conway sadly passed away in 1992 after a short illness in Newhall, California.
Eddie Downey later trained with Professor Maurice Mahon in Baggot Street, Dublin. Professor Mahon instilled in him strong basics, stances and fighting skills. Professor Mahon currently holds the rank of 10 th Degree Black Belt and has been an active leader of the Kenpo community in Ireland for the past forty five years.
During the 1970s Professor Eddie Downey had a very successful tournament career in Ireland which included taking first place in the all Ireland Kenpo Karate Championships. Professor Downey was a regular member of the Irish National Team for many years and represented his country at European and World Championships. Professor Downey also competed and officiated at Ed Parker's Long Beach International Karate Championships for fifteen years.
During his Kenpo studies Professor Eddie Downey became a close personal friend of Grand Master Parker, having known Grand Master Parker since 1974. Professor Downey was the principal organiser of Grand Master Parker's numerous visits to Ireland and in 1981 after testing for his 1st degree Black Belt, Professor Downey began training directly under the supervision of Grand Master Ed Parker. He subsequently achieved his second-degree black belt from Grand Master Parker in 1985 and his third degree black belt in 1988. Grand Master Parker appointed Professor Downey as a regional representative for the I.K.K.A. in Ireland and Professor Downey held this position until his resignation from the I.K.K.A. in April 1996 to take up a new appointment as the European Director of the American Kenpo Karate Systems (A.K.K.S.).
In 1990 when Grand Master Parker suddenly passed on, Professor Eddie Downey requested Senior Professor John Sepulveda to become his Instructor and for the last twelve years Professor Sepulveda has visited Ireland on a regular basis to guide and train Professor Downey and his students in Kenpo. In 1992 Professor Downey tested for his 4th Degree Black Belt in Long Beach, California. In 1996 Professor Downey was honored to test for his 5th Degree Black Belt with the American Kenpo Senior Council board of examiners. The testing panel featured some of the worlds most respected Kenpo Masters listed below are the panel members:
Sigung Stephen LaBounty
9th Degree Black Belt,
Master Tom Kelly
9th Degree Black Belt,
Master Richard "Huk" Planas
9th Degree Black Belt
Master Bob White
9th Degree Black Belt
Master Ron Chapel
9th Degree Black Belt
Master Frank Trejo
9th Degree Black Belt
Professor John Sepulveda
8th Degree Black Belt
Professor Paul Dye
7th Degree Black Belt.
Grand Master Lou Angel
10th Degree Black Belt Gojo Ryu (Guest Examier)
In 1995 Professor Downey hosted an International Martial Arts training camp in Ireland and with Professor Sepulveda's assistance the camp was able to host Professor Jeff Speakman as a camp Instructor. Mr. Downey came to know Mr. Speakman in 1987 through an introduction by Grand Master Ed Parker and was really excited at the opportunity to work with one of Grand Master Parker's personal students. Mr. Speakman's visit to Ireland was very successful and since then he has made regular visits to Ireland as a guest of Professor Downey.
Professor Downey achieved his 6th Degree Black Belt in Las Vegas, Nevada, USA in the year 2000. He was graded and promoted by the A.K.K.S. International black belt board of examiners which included Steven Le Bounty 9th degree, Huk Planas 9th degree, Lee Wedlake 8th Degree, Brian Heins 7th degree, Paul Dye 7th Degree and Jeff Speakman 6th Degree. Professor Downey was honoured to receive his new rank from the board. Professor Downey was prepared and recommended for his new rank by his instructor Senior Professor John Sepulveda 8th Degree Black Belt.
Professor Downey has focused his Kenpo career on providing fair and honest leadership to his students and has worked tirelessly to learn and promote the Ed Parker Kenpo System with his member schools and students in Ireland. It has been a life long goal of Professor Downey to develop the Kenpo system in Ireland and Europe as envisaged by the late Grandmaster Ed Parker. He is the President and founder of the European Kenpo Karate Association (EKKA) and in this role he travels extensively throughout Europe teaching and promoting the Ed Parker Kenpo System.
Professor Downey is the European director for the American Kenpo Training System (AKTS) and has been a personal student of Master John Sepulveda for the past eighteen years. Professor Edward Downey is currently an 8th Degree Black Belt.
To contact Eddie Downey and Celbridge Kenpo Karate Academy visit their listing on the Martial Arts Schools and Businesses Directory by clicking on the image on the left.