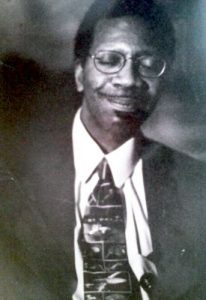 I, Alan Sims, am writing this as a tribute to my late brother Alfred Sims Jr., known affectionately as "Toby" to friends and acquaintances.
Our family lived in Addisleigh Park, an area in Queens New York, where famous African-American celebrities such as Count Basie, Lena Horne, Fats Waller, and other African-American entertainers once lived.
We later moved across the tracks to St. Albans.
Toby and I became members of the Hansel and Gretel Club (the members to which I've lost contact).
My brother later moved to Briarwood Queens, where I later moved in with him when I went through a difficult time.
Years later when I had an apartment there, he later moved in with me.
While writing this tribute, I heard on the radio, the passing around of a petition in the Village to name West 8th st. Jimi Hendrix Way. How my brother would have loved to hear that.
A guitarist, author ("God Is The Heritage Of Humanity"), Bruce Lee fan, former United Nations worker, enjoyed of Drunken Master Kung Fu movies, admirer of Yip Man, Jimi Hendrix, Mahavishnu Orchestra, Carlos Santana, and blues guitarists enthusiast and Bob Marley fan, as well as a regular viewer of "Smallville" and "Supernatural", were just some of his favorites.
As I end this article the radio clip about Jimi Hendrix Way aired once more. No matter how much I write about Alfred Sims Jr. for me, it won't be enough.
Alfred Sims Jr. passed away on August 24, 2017. He will be deeply missed.