Photo Above includes Buddy Hudson, Jessie Bowen, Oso Tayari Casel, Pat Burleson, Joe Corley, Jeff Smith, Jhoon Rhee, Dennis Brown, Mrs. Rhee, James J. Thomas, Charlie Lee, Linda Denley, Ms Denley's grandson.
Many of the nation's elite martial arts masters, instructors and champions assembled in the beautiful Gaylord National Convention Center on the outskirts of Washington D.C. this past August. They were there to celebrate the unveiling of the "2017 Who's Who in the Martial Arts Legends Edition" and to celebrate the illustrious career, leadership and guidance of the Father of American Tae Kwon Do, Jhoon Rhee.
Who's Who publisher Jessie Bowen said "More than 200 Masters and Grand Masters graced the pages of this unique, historic encyclopedia of martial talent, but all focus was on the man who had helped lay the groundwork for all of them to flourish, 10th degree black belt Jhoon Rhee."
Grand Master Jhoon Rhee is an icon's icon. A native of South Korea, he immigrated to Texas in the '50s and taught at the University of Texas. Two of his first black belts were Allen R. Steen and J. Pat Burleson. More than 100,000 Black Belts trace their lineage back to Rhee, Steen and Burleson. In the 1960s Grand Master Rhee relocated to our nation's capitol in Washington D.C. and brought another Texan, now Grandmaster Jeff Smith, who would go on to win the World Light Heavyweight title.
In the course of his long career, Mr. Rhee taught dozens of senators and Congressmen and worked closely with several presidents on various projects. With President George H.W. Bush, Grandmasters Rhee and Smith joined with Chuck Norris in helping youth in a war against drugs, wherein they did high profile demonstrations across the country. Not content to effect the martial arts in just the United States, Rhee is also known as the "Father of Tae Kwon Do in Russia," where he has traveled extensively over the past decades.
In 2010, Grand Master Rhee had celebrated his 80th birthday in the Capitol Rotunda in Washington D.C. where he did his trademark 100 pushups in 60 seconds and delivered head high kicks while balancing a glass of water on his head.
Mr. Rhee's speech at the 2017 Who's Who Legends banquet focused on what the calls "Trutopia"—a Utopia for all of mankind, based on Truth and the Golden Rule. "If martial artists ruled the world", he said, "things would be very fair and equal for all!"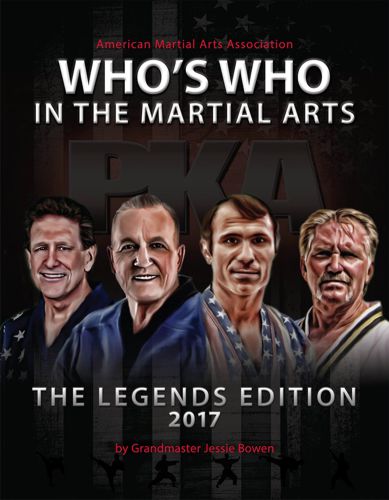 Grand Master Jessie Bowen, a 10th degree black belt and author, and who complied the Who's Who book said, "We are so very proud to have had the opportunity to include the stories of our martial arts legends in our new edition. Our sincere appreciation goes out to Grand Master Rhee for all he has done for us and for his generosity in appearing at our event." This is the third edition of "Who's Who in the Martial Arts," by Mr. Bowen, the director of the American Martial Arts Alliance in Durham, NC. It is now available on Amazon and at Century Martial Arts and through the website. WhosWhointheMartialArts.com
Grand Masters Jeff Smith and Joe Corley who assisted Mr. Bowen, added, "We felt that the emotion in the Gaylord Ballroom truly reflected the very best in camaraderie and respect that the martial arts has to offer and that the humility of all the real greats in attendance was remarkable—an amazingly historic gathering!"
By Joe Corley and Keith D. Yates