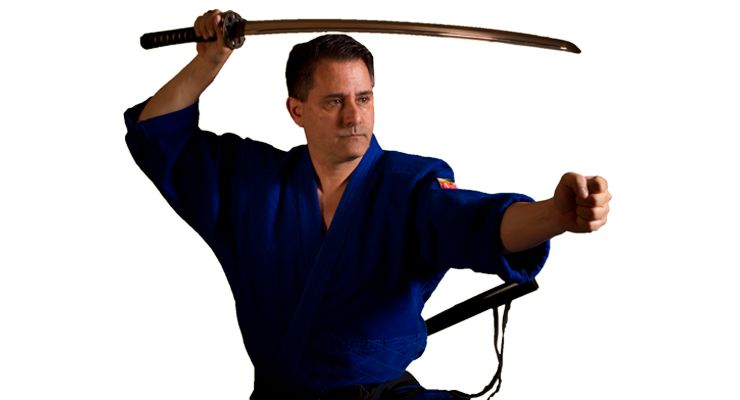 Allie Alberigo is a father, a vegan, an author, and a martial artist with 50 years of experience. He has taught and trained all over the world with some of the most renowned teachers. He currently holds a 7th degree Black Belt and the title of Shihan in the art he teaches within his schools called "21 Century Ninjutsu." Allie is the author of five books and co-author on two others.
Allie Alberigo was born in 1965 in West Islip, New York at Good Samaritan Hospital. He began his martial arts career at the age of three and one half years of age. His father a Nassau County, New York, Motorcycle Police officer and his mother a seamstress from War Torn Malta moved into the area in 1960.
Allie being a small child was put into the martial arts by his parents as a way to help him achieve physical and mental strength as well as to learn how to defend himself. He quickly took to the martial arts having competed in Judo tournaments at a very young age.
He acquired his junior Black Belt at the age of 7 years old under the style of "Jerome Mackey" which was an eclectic martial art. teaching many martial art forms. Allie was fortunate to have a cousin who was a very prominent martial artist and studied many disciplines. He went on to teach Allie the art of Aikido and guided Allie to the rank of Black Belt.
Allie Alberigo NY Tournaments Torso Shot
During that time the same individual inspired in him the desire to be a musician. Allie's musical idol's were Elvis Presley, and bands such as Kiss, Angel, Led Zeppelin, AC/DC, Styx and many others. This created in Allie a burning desire to be a performing musician. At the age of 10 he started performing in Night Clubs, local Movie Theaters as well as private parties with his band "Exciter." Allie pursued his career as musician while also continuing his career as a martial artist until about the age of 28 years old and made a name for himself in the Long Island Music Arena. He performed with bands such as Cinderella, White Lion, Kix, Vinny Vincent Invasion, Slaughter, Paul Dianno of Iron Maiden, Ace Frehley – Frehley's Comet, Autograph, Poison Dolly's, Skid Row, Valentine, Open Sky's, Bobby Rondinelli, Slaughter to name a few. Allie also recorded two Albums and a music video that was highlighted on MTV – basement tapes three times.
Allie Alberigo pursuit of martial arts excellence has always been enhanced by a variety of other interests from gymnastics, stunt work, motorcycle racing, horseback riding, archery, firearms, scuba diving and his work as a rock musician.
He continued his love for the arts embarking on a new career as an actor. Allie is an alumni in Michael Depasquale Jr.'s Action Film Camp and has landed movie roles in "The Cutoff, Watchusdie.com, Black Cougar, Tumbling After, Dishonorable Vendetta" while also appearing on Television shows such as Guiding light (2 times), Sex and the City, Black Cougar T.V (four episodes) as well as a featured demo on HBO for Tokey Hill's kickboxing.
Allie Alberigo has also produced his very own film short which was for a T.V. Pilot called "Dreamweaver." He also has been on hundreds of other shows being interviewed on his martial arts and business skills. Allie has a two Youtube channels which you can view and become a member of simply by clicking on the link highlighted Long Island Ninjutsu Centers YouTube Page you can also become a member of Allie's Taking it to the Next Level business Youtube page.
Allie continues to travel the world and teach martial arts at seminars with his unique teaching methods. He also is a public speaker and well known within the martial arts community for his work as a business consultant and his educational martial arts business site called Taking it to the Next Level. Allie is a leader in the martial arts community having spoken at the Martial Arts Super Show 7 out of the 9 years it has been in operation. Allie has also been chosen at the Key Note speaker at Member Solutions Conventions and has gone on to become the Head Consultant for MSI – Member Solutions the largest membership billing company in the U.S. Allie was also invited to speak in Australia at the Australian Martial Arts Supershow as well as MASOU – Martial Arts School Owner Union, NEST Management in Nottingham, England many years in a row.
Allie has always enjoyed sharing what he has learned in his four decades on the planet and continues to share his knowledge with his students, and piers. Allie has written thousands of articles for the media as well as MAIA -Martial Art Professional Magazine, NAPMA – National Association of Professional Martial Artists and Action Martial Arts Magazines. He has also been published in Shinobi No Mono Magazine and Karate International many times. Allie along with his good friend and partner Duane Brummit started the Podcast "School owner Talk," You can download the podcasts on Itunes or go directly to the School Owner Talk website.
At present Allie Alberigo has produced instruction video's called "101 Drills for an exciting classroom," "A Complete Guide to Running a Professional Martial Arts School," "Success Strategies," "Little Warriors Curriculum," "21st Century Ninjutsu Curriculum DVD's Series from beginner to Black Belt," and he has written "The Beginners Guide to Ninpo," "21st Century Ninjutsu – A Warriors Mindset," "Martial Arts Business 101 – Hooyah Living the Dream," and "The Three Kings" and has three more books in the works.