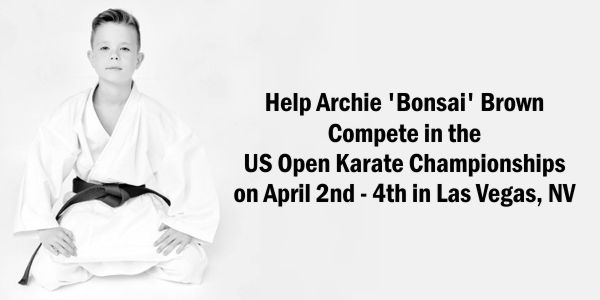 Archie Bonsai Brown Wants to Compete – We Can Help Him!!!
We all know and love Grandmaster Samuel Kwok and he has introduced us to 8 year old Archie Bonsai Brown from Great Britain. Archie will be representing Great Britain at the US Open Karate Championships April 2nd – 4th in Las Vegas, NV. Grandmaster Kwok is asking that we help Archie to raise the funds necessary to travel to America and to compete. Any size donation will help!!!
About Archie Bonsai Brown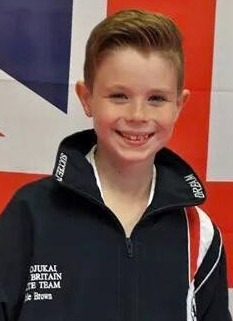 In May 2012, just before his 6th birthday, Archie Bonsai Brown began goju-ryu karate at a local dojo. His natural talent for martial arts was quickly recognized. Combined with his enthusiasm and dedication Archie could easily become a world class martial athlete.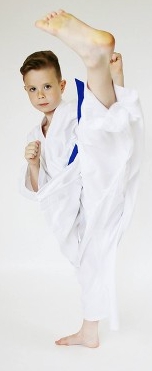 After 12 months of training, Archie began to compete across the country with great success. After 6 months of competing, Archie had won several titles, the highlight being the TKF (Traditional Karate Federation) National Kata Champion. At one competitions, a GB coach for the JKF (Japanese Karate Federation) GB Squad, asked Archie to try out for the GB squad. Archie was successful in his trials and joined the kumite squad in January 2014.
Since receiving high level specialized training, Archie's kumite has shown significant progress and he has had great results at competitions. Archie has a specific, long term training plan in place, so he will continue to improve.
Blackpool Wyre & Fylde's local radio station, Radio Wave, awarded Archie the Future Sports Star Award as recognition of his achievements thus far and his future potential.
On 26th July 2014, Archie represented GB in Japan at the All Japan Goju-Kai Championships. This was an incredible honor for any karateka, but especially for someone so young.
Archie regularly trains over 40 hours per month and travels to Liverpool 2 to 3 times per week for high level training and his GB squad training. He also travels to seminars throughout the country to train with other high level Sensei's. He sacrifices a lot of time with friends to pursue his dream of becoming a world champion.
Archie Bonsai Brown's Karate Journey on Facebook
Archie Next Goal The US Open Karate Championships Las Vegas
Support Archie Bonsai Brown's Sponsored 10K Run