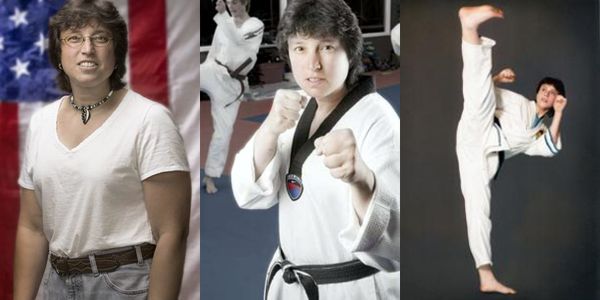 Arlene Limas is a 5th degree Black Belt in American Taekwondo. She has been studying the martial arts since she was 5 years old. She attended Walt Disney Magnet Grammar School, a school for gifted Chicago children, She graduated with honors. She then attended Whitney Young Magnet High School, recognized as one of the excellent academic programs in the nation. Arlene was an honor roll student for all four years and class Vice-President, recipient of the Citizenship Award and winner of the Carnation Company Scholarship for an "Education" essay. Arlene not only excelled in Academics but she also excelled in many sports including martial arts. She was "Most Valuable Player" for softball three years in a row, and was a Varsity member of tennis, basketball, and track & field. In addition to her sports activities Arlene managed to play Viola in the "All City" orchestra during her high school career.
Arlene graduated from De Paul University in the Spring of 1990 with a Bachelor Degree in Political Science and she was working toward a minor degree in athletic training. During summer breaks from college, Arlene worked as a Physical Education Coordinator for the University of Illinois NCAA summer sports program. She has also coordinated sports programs for the interest group "Concerned Hispanics."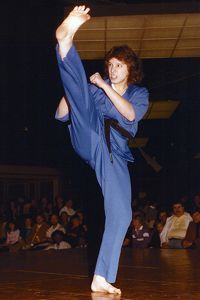 In 1990, Arlene moved to the Washington area, to work under martial arts champion, Jeff Smith. Mr. Smith owned three successful schools in the Northern Virginia area. Arlene ran Mr. Smith's largest school with over 350 students.
In May of 1993 Arlene opened her own school, Power Kix in Stafford, Virginia and within a little over 6 years she had 300 active students and strong, growing program.
In September 17, 1988, Arlene Limas made history when she became the first American, the first female to win a gold medal at the 24th Olympic Games in Seoul, Korea in the sport of Tae Kwon Do.
Ms. Limas, a member of the United States Tae Kwon Do team for six years competes in a sport that has seen extraordinary growth throughout the United States and worldwide.
In addition to her 1988 Gold Medal, her credits included innumerable national, world and collegiate championships. Her record is an impressive one that rivals other world class athletes.
1986- World University Championships, Gold Medalist (Berkley Ca.)
1986- World University Championships, Gold Medalist (Berkley Ca.) 1986
1987- National Championships Gold Medalist 1987
1988- Olympic Team Member (Tae Kwon Do), 1988
1988- Olympic Gold Medalist – Welterweight Division, Seoul, Korea 1988
1990- National Championships Gold Medalist, 1990
1989,1990- Olympic Sports Festival Captain (West Team) and Gold Medalist 1989 & 1990
1990- Pan-Am Tae Kwon Do Championships (Puerto Rico) Gold Medalist, 1990
1990- World University Games (Spain) Team Captain & Gold Medalist, 1990
1990- World Cup Gold Medalist (Spain), 1990
1991- National Championships Welterweight Gold Medalist, 1991
1991- Olympic Festival Gold Medalist , 1991
1991- World Championships Gold Medalist ( Athens, Greece ) 1991
1989- National Championships Gold Medalist, 1998
1998- U.S. Team Trials Silver Medalist, 1998
1998- Olympic Weight Division Qualifier Gold Medalist 1998
1998- Choson Cup Olympic Weight Division Invitational Gold Medalist , (Australia) 1998
1998- Pan Am Games Team Trials Silver Medalist, 1999
1999- U.S. Team Trials Gold Medalist, 1999
Taekwondo Hall of Fame
1987- Collegiate Athlete of the Year; 1987
1989- March of Dimes Amateur Athlete of the Year, 1989
1989- Named "Woman of Vision" – Latin Women's Organization for Business
Professional Involvement, 1989
1991- U. S. Taekwondo Union "Woman of the Year", 1991
2000- Selected as one of the top TKD fighters of the 20th century by TKD Times and Martial Arts Illustrated. 2000