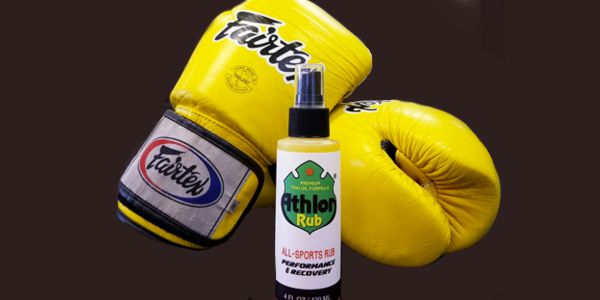 Athlon Rub was created from time-tested formulas elite martial artists have been using for generations. We use only naturally derived ingredients including 100% natural color; all production is under the strictest quality controls within a Good Manufacturing Process (cGMP) Certified facility. Our break-free container comes with an innovative pull-up cap and is made from recycled, BPA Proof materials. From the start, our goal was too produce a Thai Oil of the highest quality within quality control facilities where consistent supply is secured. We know the benefits of Thai Oil in elite training and we bring them to you from a trusted source.
Product Origins: Thai Oil formulas has been used as an integral part of Thai National Sport of Muay Thai, aka Thai Boxing or Art of Eight Limbs. In this setting, elite athletes living and training in camps apply Thai Oil on the body regularly during the pre and post work out to prepare for extreme physical exertion on a daily basis. Thai Oil is considered a contributing factor to the career longevity of the these elite athletes training and competing at extreme levels. In a martial art where the highest registered impacts are recorded, fighters have been known to have 200 – 400 fights in their careers which is many times over records in other combat sports. Because of its effectiveness, Thai Oil use has transcended into all sports and even manual labor.
Product Use:
Warm-up Phase: Use product as a warm-up aid to prepare for physical exertion. Best applied when a brief sweat has started; apply to entire body or body areas in use while avoiding eyes, open wounds, and sensitive parts. Sport Medicine Therapy: Request your Sport Medicine Specialist / Massage therapist to use Athlon Rub on your future sessions.
Athlon Rub: A Scientifically New Approach on an Ancient Tradition
Instructional Video – Athlon Rub Thai Oil Massage for Muay Thai