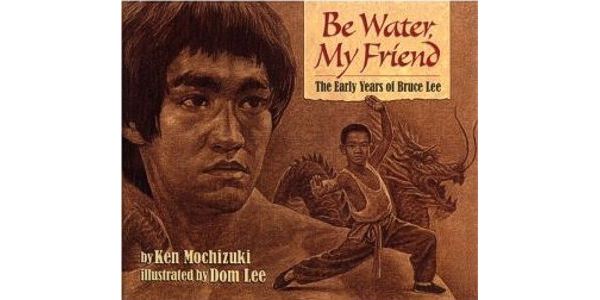 Be Water My Friend: The Early Years of Bruce Lee is written by Ken Mochizuki and illustrated by Dom Lee.
Before Bruce Lee became an international film star he was a boy growing up in Hong in the 1940s and 1950s who loved to read, play practical jokes, and get into trouble on the street. In Hong Kong, martial arts were as popular as baseball was in the United States. Bruce studied martial arts under the watchful eye of Yip Man, the best martial arts master in Hong Kong. At first Bruce's interest was motivated purely by his desire to win more fights in the street, but he soon discovered that he was really being taught not to have to fight. Bruce Lee eventually became a pioneer of martial arts cinema, and his legacy lives on in popular culture more than thirty years after his death. But it is his boyhood journey toward self-discovery and his courage to overcome obstacles that will inspire all who search for their way in the world today and Be Water My Friend: The Early Years of Bruce Lee tells his story.
From School Library Journal
Kindergarten-Grade 2–This picture-book biography, Be Water My Friend: The Early Years of Bruce Lee, is a gentle tribute to a martial-arts legend. The story follows Lee from his birth in San Francisco through his youth in Hong Kong. His family life, impatience with school, and legal troubles are touched upon, as is his growing passion for martial arts. The writing is clear for the most part, but can be awkward in places. Feelings and thoughts abound. For example, Gentleness?Bruce asked himself for the hundredth time, and, Angry with himself, Bruce punched the water. In an appended note, Mochizuki explains that since so little is known about his subject's youth, some events are extensions of the facts…. The brown-and-white illustrations, scratched through beeswax melted over acrylic on paper, are lovely and play an important role in moving the narrative along. Lee, who is often pictured wearing thick glasses, is shown interacting with family members, taking on opponents, and spending time in quiet contemplation. The book ends when Lee, at age 18, boarded a ship bound for America. The rest of his life is given a one-page summary. A fine introduction.–Anne Chapman Callaghan, Racine Public Library, WI
Copyright © Reed Business Information, a division of Reed Elsevier Inc. All rights reserved.
From Booklist
Be Water My Friend: The Early Years of Bruce Lee focuses on the childhood and youth of Bruce Lee. This biographical picture book portrays him as a boy who made mistakes but learned from them. Growing up in Hong Kong in the 1940s and 1950s, Lee dreamed of becoming a film star and had little use for school. He took up martial arts, and though initially drawn more to its combat than its philosophy, he slowly began to understand the finer points of the discipline. When his fighting temper led to trouble with the police at age 18, his parents sent him to San Francisco for a fresh start. The book's final page, "The Rest of Bruce Lee's Story," summarizes the remainder of his life. By the author and illustrator of Baseball Saved Us (1993), this distinctive-looking book offers a smoothly written text and many handsome, textured acrylic paintings done in tones of brown and cream. With its sophisticated look and high-interest topic, this picture book has appeal for readers across a broad age range. Carolyn Phelan
Copyright © American Library Association. All rights reserved.
[amazon_link asins='1620141647′ template='ProductCarousel' store='usadojo1-20′ marketplace='US' link_id='9d8bc7f0-4ae1-11e7-97ad-719957c10dbe']