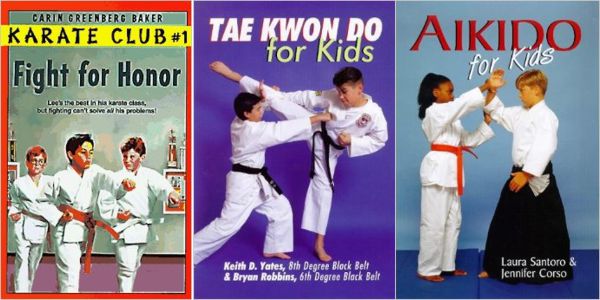 There are many older martial arts books for children that are excellent books so we are listing those books even though they me be a little more difficult to find.
---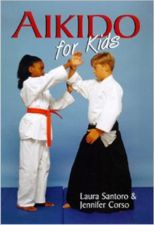 Aikido For Kids
by Laura Santoro and Jennifer Corso
Getting faster, stronger, smoother and working with other people, not against them, that is what Aikido is all about. These kid-safe techniques require no dangerous contact, some can even be done alone! Books contains 96 pages.

---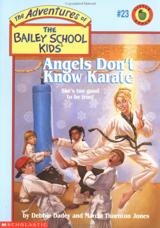 Angels Don't Know Karate
(Adventures of the Bailey School Kids)
by Debbie Dadey, Marcia Thornton Jones, Marcia Thornton Jones, Steven Gurney
Miss Angela Michaels, the new karate teacher in Bailey City, who is also the school crossing guard, is so kind and generous that Melody becomes convinced that she is a guardian angel.

---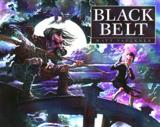 Black Belt
by Matt Faulkner. Illustrated by Matt Faulkner.
This exciting adventure story will intrigue and fascinate young readers and will give heart to anyone whose ever been threatened by a bully. Published by Alfred A. Knopf, New York. Hardcover, 33 pages.

---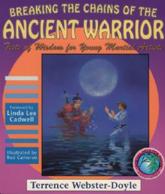 Breaking The Chains Of The Ancient Warrior
by Terrence Webster-Doyle
Illustrated by Rod Cameron
Twenty '"tests of wisdom" teach the essence of harmony, focus, spirit and other traits for a martial artist and a healthy child. Book contains 176 pages.

---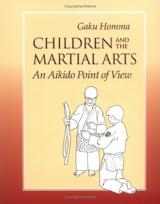 Children and the Martial Arts:
An Aikido Point of View
By Gaku Homma
Gaku Homma Sensei's dojo in Denver, Colorado, has included classes for children for many years. This book presents his approach to teaching them. The first part discusses what is unique about kids and explains how instruction of them differs from the instruction of adults. The second part details the basic techniques he covers with children, with explanations on how and why these should be taught.

---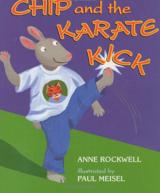 Chip and the Karate Kick (Good Sports)
by Anne Rockwell, Paul Meisel (Illustrator)
Chip O'Hare wants to be just like the martial-arts hero Striper Mee. But when he goes to karate class, it isn't action packed at all! Chip thinks he's the best in the class at striking and kicking, so he can't understand why Mr. Leo won't give him his yellow belt. Then a run-in at the park helps Chip realize that being a true martial artist takes more than just a ferocious karate chop!

---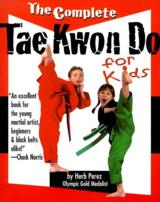 The Complete Tae Kwon Do For Kids
by Herb Perez
Over the past 10 years, the Korean art of tae kwon do has quietly become the most widely practiced of all martial arts in America. Its flashy, high-kicking techniques dominate fight choreography on the big screen; and TKD tournaments across the country attract record numbers of competitors and fans alike. Now with the help of 1992 Olympic Gold Medalist and tae kwon do instructor Herb Perez, the techniques and philosophy of this exciting martial art are available to all midgrade fans and students.

---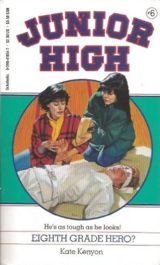 Eighth Grade Hero (Junior High, No 6)
by Kate Kenyon
With all the "teen" literature on the shelves these days that is appropriate for anyone BUT teen's, I can feel compfortable with my daughter reading these innocent fun books that talk about their every day life in a way they can relate to. 
---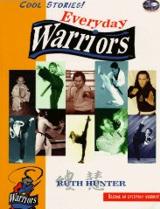 Everyday Warriors
by Ruth Hunter
One-hundred famous and not so famous martial artists share fascinating stories of how they have used their martial arts skills to meet challenges and persevere on the road to become legends, heroes and champions. Appropriate for every age level. Filled with awesome stories and valuable lessons. 105 Pages

---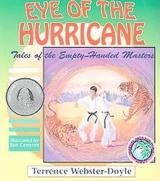 Eye of the Hurricane
by Terrence Webster-Doyle. Illustrated by Rod Cameron
Contains riddles, stories, and parables to help young people live with sensitivity and intelligence in their daily lives. Book is fully illustrated and contains 118 pages.

---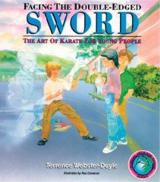 Facing The Double-Edged Sword : Art Of Karate For Young People
by Terrence Webster-Doyle
Through stories, parables and activities, this book teaches youngsters from the ages of eight to 18, the true spirit of karate. It offers practical tips to help children gain the confidence and tools they need to avoid being victimized without resorting to violence.

---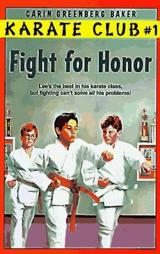 Fight for Honor (Karate Club, No 1)
by Carin Greenberg Baker
The Midvale Karate Dojo is the after-school home for the three Jenkins brothers. Lee, Michael, and Jeremy practice hard to perfect their kicks, blocks, and karate discipline. To them, karate is more than a simple sport–it's a way to learn about themselves. Fast-paced, full of exciting karate action and plots sure to attract young readers.

---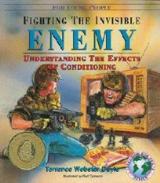 Fighting The Invisible Enemy
by Dr. Terrence Webster-Doyle
This book contains exciting, fun stories and activities to help you and your children understand how conditioned thinking prevents peace. Book contains 164 pages.

---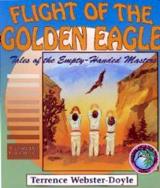 Flight of the Golden Eagle
by Terrence Webster-Doyle
Illustrated by Rod Cameron
These stories appeal to martial artists of all styles as a way of creating an understanding of how to leave with dignity, caring and beauty in their lives. Book is fully illustrated and contains 108 pages.

---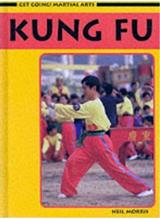 Get Going! Martial Arts
Tae Kwon Do, Judo, Karate, Kung Fu
by Neil Morris
Each title in this series is an introduction to a popular martial art aimed at first-time practitioners. The books focus on key skills, with step-by-step instructions, historical, cultural and general interest information.  This series is difficult to find.

---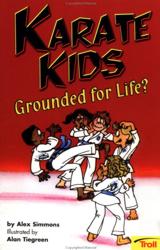 Grounded for Life?
(The Cool Karate School)
by Alex Simmons, Alan Tiegreen (Illustrator), Steve Demasco
Afraid he will have to drop out of karate class if his math grade doesn't improve, Matthew is tempted to cheat on a big test.

---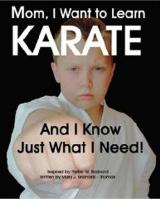 I Know Karate
(My First Hello Reader! With Flash Cards)
by Mary Packard, Dee De Rosa
Helps readers reinforce phonics, sight vocabulary, reading comprehension, and facility with language in a rhyming story about a boy who demonstrates his karate lessons, and the book is accompanied by thirty-two punch-out flash cards.

---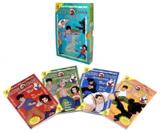 Jackie Chan Adventures
Read the first four stories in Jackie's exciting adventure. The four books included are: Enter…the Viper, Sign of the Ox, Jade's Secret Power and The Dark Hand. Every book comes with a cool trading card and a personal letter from Jackie! Approx. 50 pages each

---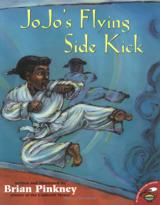 Jojos Flying Sidekick
by Brian Pinkney (Illustrator)
When Master Kim announces JoJo is ready to take the test for her yellow belt, butterflies start fluttering in her stomach. JoJo loves Tae Kwon Do, but can she really do a perfect flying side kick and break a board in two? Her family and friends offer all sorts of advice: "Do a little shuffle to chase the jitters away," says Grandaddy. "Yell 'KIAH!' at the top of your lungs," P.J. advises. "Why don't you visualize your technique?" Mom suggests.
But how can JoJo ever hope to succeed when she's still afraid of the creepy bandit tree outside her bedroom window? JoJo needs to find a way to turn her fears into success, and she soon realizes there's only one person who can help her do that — herself.

---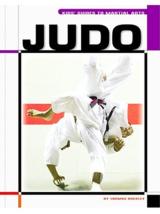 Judo – The Child's World of Sports-Martial Arts
Judo, as the book tells us, is for everyone. With details on the origins of Judo as well as clear and concise instructions to help young students get started, kids will learn about the importance of Judo for learning self-discipline as well as maintaining one's mental and physical health.
Judo, Japanese for "the gentle way," grew out of the hand-to-hand combat techniques developed by Japan's famous samurai warriors. Developed in the late 1800s by Dr. Jigoro Kano, the ancient jujitsu fighting system was modified to become a sport that anyone, young or old, could participate in. Traditional jujitsu's most dangerous elements were removed and a new set of sparring rules were developed. Compassion and respect for opponents and the use of an opponent's force against him were judo's new ruling principles. Most of Japan was dubious, until a team trained by the tiny Dr. Kano (he was only five feet, 2 inches tall) beat a team made up of the best students from several of Japan's best jujitsu schools. From there, judo's popularity exploded across Japan. Judo was brought to the United States by Yoshiaki Yamashita, who taught students at the U.S. Military Academy at West Point. Today, judo is an official Olympic sport and is studied and practiced the world over, by young and old alike. One in a series of four on the martial arts, the book does an excellent job of introducing its mid-level reader to the history, methods, strategy and philosophy behind this popular sport, or as the book argues, way of life. Broken down into multiple chapters, the book includes good photography, as well as a glossary, timeline, bibliography, index and internet resources. 2004, The Child's World, Ages 7 to 14. Kris Sauer – Children's Literature

---

Julie the Karate Kid (Sweet Valley Kids, 52)
by Molly Mia Stewart, Francine Pascal
Julie Porter can't wait to start karate lessons in gym class even though Charlie Cashman and the other boys say she's too small to be any good. But Julie carefully watches the teacher, Mr. Ogata, and works hard at mastering each karate move. That doesn't stop Charlie from teasing Julie-taunting her to try to karate kick him. But Julie doesn't want to. She knows the best karate students never try to fight. Can she show Charlie and his friends who's tougher-without losing her cool?

---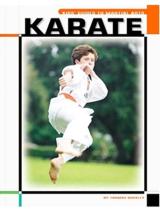 Karate – The Child's World of Sports-Martial Arts
by Thomas J. Buckley
In its early days, karate was a way for Japanese peasants to defend themselves. Now, it's used in popular movies and remains an exciting martial art. Explore the history of karate, and read about some of the strikes, kicks, and blocks a karataka uses. Discover the mental harmony and physical discipline required for the "way of the empty hand.
Karate, developed on Okinawa, Japan, but with its roots in China, is an aggressive fighting method. Used by peasants and farmers on Okinawa to defend themselves against the ruling elite's samurai warriors, karate mostly involves a series of hand strikes, kicks and blocks. More advanced students may add a staff, nunchaku or other basic, but effective, weapon. Karate teaches its students to put as much of the body's power as possible into each strike or kick and to focus all that power at the point of impact. With the right form and technique, this training can teach one to be a power force. Like other martial arts, however, karate places as much emphasis on mental toughness, compassion, spiritual well-being and respect as it does on methods of self-defense and sparring. The book does an excellent job of introducing its mid-level reader to the history, methods, strategy and philosophy behind this popular sport, or as the book argues, way of life. Broken down into multiple chapters, the book includes good photography, as well as a glossary, timeline, bibliography, index and internet resources. 2004, The Child's World, Ages 7 to 14. Kris Sauer – Children's Literature

---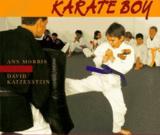 Karate Boy
by Ann Morris – PreSchool-Grade 3? This book is one of few that introduces this martial art to young children. The large, full-color photographs and simple text allow even preschoolers to learn what happens in karate school. The story follows David as he is about to test for a promotion from blue belt to green. Despite the title, the photos feature both boys and girls of mixed ethnic backgrounds demonstrating typical stances, punches, kicks, and blocks. A short glossary defines karate lingo. Cathryn A. Camper, Minneapolis Public Library.

---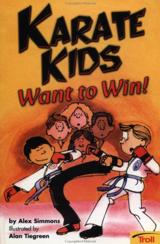 Karate Kids Want To Win! Karate Kids, Book 1
by: Alex Simmons, Alan Tiegreen
With the popularity of karate at an all-time high, this captivating chapter-book series follows the adventures of five friends who attend the Cool Karate School. In Book 1, Jonathan and Susan are confident they win the upcoming karate tournament. But when they lose their first matches, they learn an important lesson about winning and life.

---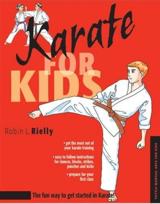 Karate for Kids (Martial Arts for Kids Series)
by Robin L. Rielly Gr. 5-8.
Although it's impossible to learn something as complex as karate through a book, this attractive volume will serve as a backup for kids interested in the activity or already in karate class. Rielly begins with a history of karate before going on to information about the uniform, including the meaning of the belt colors, the rules and etiquette of the dojo, and the interaction between student and teacher . . . Ilene Cooper Copyright © American Library Association. All rights reserved.

---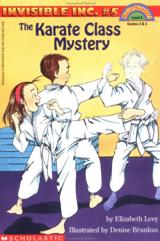 The Karate Class Mystery
by Elizabeth Levy
Grades 2-4. The fifth mystery about the Invisible Inc. trio has the three grade-school friends suspecting one of their own. The setting is karate class, with lots of talk about moves, punches, and blocks; but who has stolen Justin's karate belt? Is it his friend Charlene, who is mad at him? Justin is hard of hearing, and the way he copes with his disability is a natural part of the story. The teacher, Sensei Bobby, is encouraging but never condescending, demanding the highest performance from all of them. In the end, the friends find the shamefaced culprit, and order is restored. . . . Hazel Rochman

---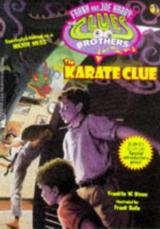 The Karate Clue (Frank and Joe Hardy – The Clues Brothers , No 2)
by Franklin W. Dixon
Nine-year-old Frank and his eight-year-old brother Joe, the Clues Brothers, have recently moved to Bayport, and they are already involved in a mystery. Their friend Brian has a karate belt that belonged to action hero, Jimmy Han. But somebody steals Brian Ludlow's black belt signed by action-movie hero Jimmy Han. Brian even promised to bring Jimmy to class, but now he says, "No way!" But maybe if the Hardys can find the belt, they'll be the true-blue action heroes of the day!

---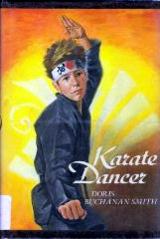 Karate Dancer
by Doris Buchanan Smith
Grade 5-8 Success in martial arts involves a combination of both mental and physical prowess. Troy Matthews longs to become a black belt, but he soon discovers that karate maxims are easier swallowed in the dojang than in the real world. When he loses his cool in a competition, his instructor makes him forgo his black belt test in lieu of organizing a karate demo for disabled children. Troy begins to take his karate training to heart . . . and the karate demo helps Troy finally understand what getting a black belt is all about . . . Cathryn A. Camper, Minneapolis Pub . Lib . Copyright 1987 Reed Business Information, Inc.

---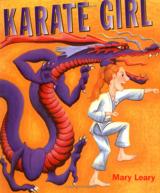 Karate Girl
by Mary Leary (Illustrator)
Kindergarten-Grade 2- A young karate student begins her class thinking that she can get back at the bullies who bother her younger brother. However, after taking the sensei's lessons to heart, Mary discovers that the martial art is about more than mastering self-defense; it helps individuals develop the inner confidence to "avoid a fight". . . Blair Christolon, Prince William Public Library System, Manassas, VA

---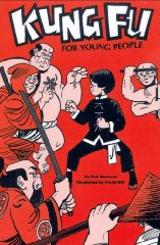 Kung Fu For Young People
by Ted Mancuso And Frank Hill
This book is for the budding martial artist under 12 years old.Traces the history of kung fu and explains some of the various exercises, stances, kicks, hand positions, and self-defense techniques involved in its practice. Book is fully illustrated by Frank Hill and contains 96 pages.

---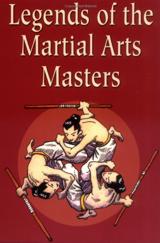 Legends of the Martial Arts Masters
by Susan Lynn Peterson
There is some contraversy as to the accuracy of this book. Complied by third-degree black-belt and award-winning author Susan Lynn Peterson, Legends Of The Martial Arts Masters presents a series of great folklore tales about historical and legendary figures associated with the martial arts. The brief, yet exciting, retellings of legendary figures will stir the hearts and minds of young readers with inspirational passion. With an especial appeal to those with an interest in the martial arts, Legends Of The Martial Arts Masters is a thoroughly engaging and enthusiastically recommended read for all ages.

---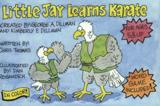 Little Jay Learns Karate
by Chris Thomas, Dan Rosandich
A delightful story of how Little Jay Eagle is introduced to the concepts of honor in the martial arts. Book includes educational word games and vocabulary builders as well as interactive activities for parents and children.

---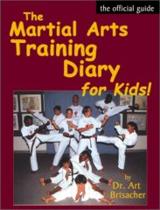 The Martial Arts Training Diary For Kids!
by Dr. Art Brisacher.
The Martial arts Training Diary for Kids is designed to help children get the most out of their martial arts lessons and hve fun doing it. It is a book children will love and their parents will treasure for a lifetime because it helps young martial artist create a lasting record of their journey from white belt to black belt and beyond. Regardless of marital arts style or rank, it will provide hours of entertainment for every young martial artist!

---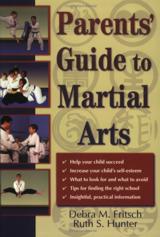 Parents' Guide to Martial Arts
by Debra M. Fritsch, Ruth S. Hunter
Faced with a child who wants to learn karate, most parents rely on the telephone book or word of mouth recommendations. Now they can turn to this excellent resource for guidance on evaluating an instructor's credentials and teaching methods, spotting unsafe practices,making smart decisions about membership contracts and more.

---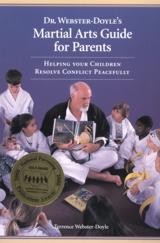 Martial Arts Guide for Parents
by Dr. Terrence Webster-Doyle
Included in this excellent, informative book are: Mental martial arts skills. Chart of non-violent alternatives. Active family role plays. Other creative activities that parents and children can work through together. Book contains 126 pages.

---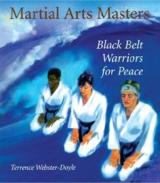 Martial Arts Masters – Black Belt Warriors For Peace
By Dr. Terrence Webster-Doyle
This book will help to teach young people such important values as courtesy, honesty, order, respect, and responsibility. It can also help parents, teachers, counselors, and school adminitrators who are looking for effective ways to help young people understand and resolve conflict peacefully. Book contains 128 pages.

---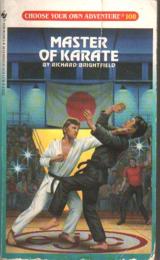 Master of Karate – Choose Your Own Adventure: 108
by Richard Brightfield
You and your friends have entered a nationwide karate competition sponsored by a Japanese electronics corporation. You are in Tokyo for the finals when you decide to take a tour of the city. While you're inside a store, a group of figures in black medieval armor suddenly rushes in and begins smashing the merchandise with heavy clubs. You must hide, and quickly. But where?

---

Maze of the Fire Dragon
by Terrence Webster-Doyle. Illustrated by Rob Cameron
This book teaches the importance of resolving conflict peacefully and acting intelligently. A must for martial artists of all ages. A Martial Arts For Peace Book published by Atrium Society of Middlebury, VT. Softcover book is fully illustrated and contains 108 pages.

---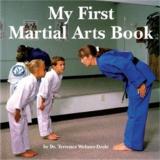 My First Martial Arts Book
by Dr. Terrence Webster-Doyle
A book for young people ages 4 to 8 on Martial Arts for Peace that can help them understand and resolve conflict without violence. Book contains 32 pages.

---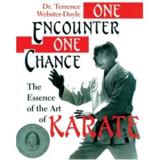 One Encounter One Chance
by Dr. Terrence Webster-Doyle.
This book takes a fresh look at the traditional principles of karate and especially a concept fundamental to all martial arts – that of the 'empty self'. It looks at peaceful resolution of conflicts. Book contains 221 pages.

---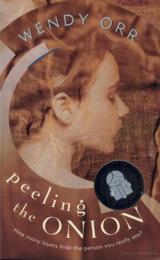 Peeling the Onion
by Wendy Orr
Grade 6 Up. After suffering spinal trauma in a car accident, Anna, 17, begins a painful physical and emotional recovery that peels away her old life and strips her down to her very core. A gripping narrative, told with smarting honesty. … a partly autobiographical first novel about the rediscovery of self. Before the car accident, Anna Duncan was a confident, pretty and popular karate champion. Now she has to re-establish herself physically and mentally. Age 12 and older 

---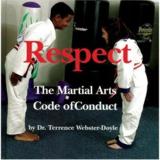 Respect: The Martial Arts Code Of Conduct
by Dr. Terence Webster-Doyle
The Martial Art Code of Conduct is the foundation of all martial artists, emphasizing living a life of good will and peace. Written for children aged 4 to 9, this book helps promote manners and social skills. 30 Pages.

---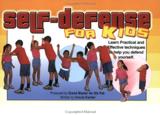 Self-Defense For Kids
by Ursula Escher
Unique and informative book with easy-to-follow, step-by-step color photographs is produced just for kids. It teaches important safety tips, practical and easy to learn Martial Arts applications and more. The pages are colorful and children will learn by reading or looking at the pictures. 47 pages.

---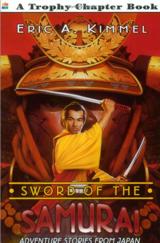 Sword of the Samurai: Adventure Stories from Japan
by Eric A. Kimmel
Grade 4-8 Readers who delight in stories of knights will be happy to discover this collection of 11 tales about the medieval Japanese warriors whose exploits rival those of their European counterparts. These well-documented stories of adventure and misadventure are not only good tales, but they also provide a look at a way of life bound by ironclad tradition . . . Barbara Scotto, Michael Driscoll School, Brookline, MA Copyright 1999 Reed Business Information, Inc.

---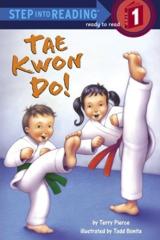 Tae Kwon Do! (Step into Reading)
by Terry Pierce
We're off to Tae Kwon Do class, where we'll learn to kick, spin, box, jump, and even break a board! We'll also have fun in this simple Step 1 book. Perfect for kids who are both learning to read and learning Tae Kwon Do or another martial art.
PreSchool-K This beginning reader follows a brother and his older sister through their Tae Kwon Do class from first bow to parting wave. The spare text uses repetition and familiar action words to highlight the activities. While the rhyme keeps the text moving, it's awkward at times: We bow./We step in now. The warm colors of the illustrations are inviting, but the overly round, stylized figures create an impression that isn't as polished or as sharp as the sport. Girls will feel empowered; boys may feel slighted as their participation in the class is less showy. Overall, though, most kids will get a kick out of Tae Kwon Do! H. H. Henderson, Heritage Middle School, Deltona, FL Copyright © Reed Business Information, a division of Reed Elsevier Inc. All rights reserved.

---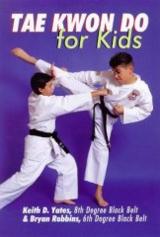 Tae Kwon Do For Kids
by Keith D. Yates, 8th Degree Black Belt, and Bryan Robbins, 6th Degree Black Belt.
Grade 4-8 Along with the standard side and roundhouse kicks, this Korean form of self-defense includes crescent kicks and spinning and jumping kicks that make it visually exciting to watch. This manual provides step-by-step instructions for learning these techniques and includes warm-up exercises, stances, and blocks. It also covers patterns (or forms), self-defense moves, and one-steps (drills), all of which reinforce Tae Kwon Do movements. Pressure points (places on the body where nerves are very sensitive) are also mentioned, and while no death grips are introduced, these and other self-defense moves should be used with caution. . . . Cathryn A. Camper, Minneapolis Public Library

---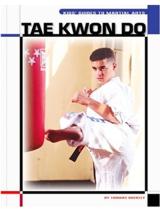 Kids' Guide Tae Kwon Do – The Child's World of Sports-Martial Arts
by Thomas J. Buckley
Tae kwon do is pretty young compared to other martial arts. But that hasn't stopped it from becoming the most popular of them all. Discover why as you explore tae kwon do's history and techniques. You too will learn that tae kwon do is more than a martial art—it can become a way of life.
Martial arts' youngest entrant is also its most popular. Tae Kwon Do, initially developed in Korea as a dangerous form of unarmed combat practiced by an elite fighting force, fell out of favor centuries ago and was not revived in its current form until after Korea was liberated from Japan after World War II. Today's Tae Kwon Do is the most popular of all the martial arts and has been included as an official Olympics event since 2000. Meaning literally, "the way of kicking and punching," the sport is best known for its varied and impressive kicking techniques. Teaching etiquette, respect and self-control, the sport not only is for exercise, but also for self-defense. One in a series of books on martial arts, the book does an excellent job of introducing its mid-level reader to the history, methods, strategy and philosophy behind this popular sport, or as the book argues, way of life. Broken down into multiple chapters, the book includes good photography, as well as a glossary, timeline, bibliography, index and internet resources. 2004, The Child's World, Ages 7 to 14.  Kris Sauer – Children's Literature

---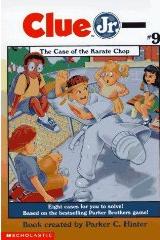 The Case of the Karate Chop (Clue Jr., No 9)
by Parker C. Hinter (Creator), Diamond Studio (Illustrator), Della Rowland
The new Clue Club kids get involved in all sorts of mysteries. There are cases to solve when the four friends go roller-skating, go to a birthday party, and even when they are just hanging out at a friend's house. You can try to solve these cases by reading carefully and studying the pictures. How many cases can you crack?

---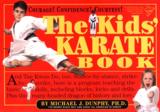 The Kids' Karate Book & Karate Belt
by Michael J. Dunphy
The Kids' Karate Book features clear, safe, basic instruction in karate and tae kwon do. Here are the stances, the blocks, the punches — including backfist, hammerfist, swordhand, and ridgehand. And the kicks — front kick, side kick, flying kick, hook, wheel, and axe. There are breathing exercises, drills, even a section on the four "c's" — courage, commitment, courtesy, and confidence. Black-and-white, step-by-step photographs clearly break down each move and are shot by Joe Smithberger, a photographer and black belt, using real karate students as models. Included with the book is a classic white cotton beginner's belt — an obi to loop around the waist twice. Put it on and begin to feel not just the power, but the grace, discipline, fitness, and, irrepressible enthusiasm of karate kids.

---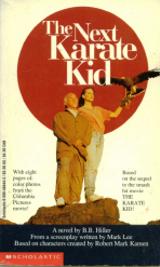 The Next Karate Kid
by B. B. Hiller
Thinking her new karate skills would be a good way to teach a lesson to a gang of bullies at her high school, Julie must remember Mr. Miyagi's teachings about controlling her anger if she is to keep her self-respect. Movie tie-in.

---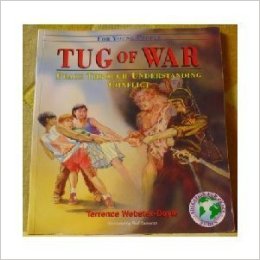 Tug of War
by Dr. Terrence Webster-Doyle
A powerful and interactive book which helps children recognize the roots of prejudice, nationalism, racism, and other forms of conditioned thinking that create conflict. Full of practical ways kids can contribute to peacemaking. Book contains 112 pages.


---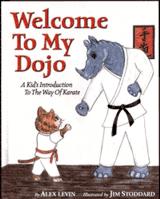 Welcome to My Dojo
by Alex Levin
A martial book unlike any other. The story follows young Janet–a ballet school reject with a big brother problem–as she enters a dojo (karate school) for the first time. Through her eyes, the book prepares children for the dojo experience, teaching them all about karate etiquette and explaining what is expected of a beginning student.

---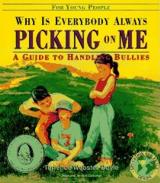 Why Is Everybody Always Picking On Me
by Terrence Webster-Doyle
Illustrated by Rod Cameron
Stories, games and activities are used to help young people get acquainted with the art of karate. A Martial Arts For Peace Book published by Atrium Society of Middlebury, VT. Benjamin Franklin Award winner. Softcover book is fully illustrated and contains 90 pages.

---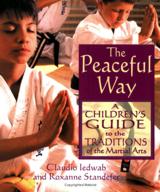 The Peaceful Way
An exciting exploration of the world of Martial Art for all young people interested in some of the history and thinking behind the study of Martial Art. With new full color illustrations, this Author's Electronic Version ofThe Peaceful Way investigates the ancient and modern traditions such as the meaning of the Black Belt, practice etiquette, the concept of Budo, and non-aggression self-defense. #EP-002

---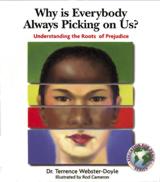 Why Is Everybody Always Picking On Us?
by Dr. Terrence Webster-Doyle
For ages 8 to 14 concerned about being picked on. Filled with sensible advice, stories and insights about how to peacefully cope with prejudice. Book contains 158 pages.