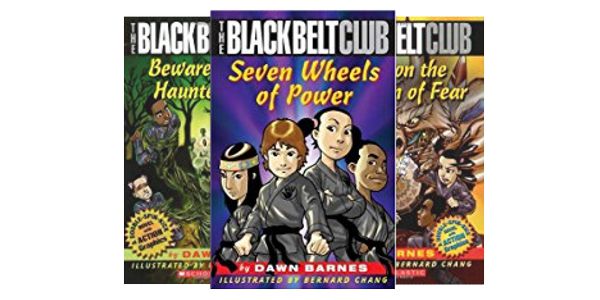 ere are many different types of martial arts books for children that are fun books and we are listing those books here on USAdojo.com. Click on the book's cover to order the book from Amazon.
The Black Belt Club Book Series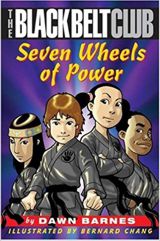 Black Belt Club #1: The Seven Wheels Of Power
An action/adventure series from talented martial arts instructor Dawn Barnes, founder and sensei of the most popular children's karate school in Los Angeles.
In this high-drama action novel, four members of the elite Black Belt Club set off on a daring adventure to save the world from an evil force that can only be stopped if they use their martial arts skills and karate-spirit powers to work together. Full of high-kicks, blocks, and intelligent problem-solving, here is a new series sure to pack a punch.
This series will be heavily illustrated by comic book artist Bernand Chang, best known for his work for DC and Marvel Comics, including issues of Superman, Spider-Man, X-Men, and Daredevil.

---
Night On The Mountain Of Fear (Black Belt Club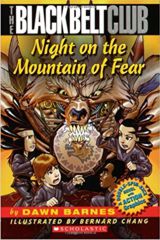 Block! Snap-kick! Lunge-punch! Join the Black Belt Club as they overcome evil. Here's the second action-packed adventure in this combination graphic novel/chaper-book series!
Max, Antonio, Maia, and Jamie are back in this high-drama action novel starring the Black Belt Club! Filled with comic-book-like illustrations, this fast-paced adventure follows our heroes into a scary desert world controlled by the evil Hate Master, Heyoka. Together, these four karate students must overcome terrifying tarantulas, vampire bats, and the Hate Master, who feeds off their fear. Only when they discover the true meaning of friendship will the Black Belt Club, and the world, be safe once more.

---
Black Belt Club #3: Beware of the Haunted Eye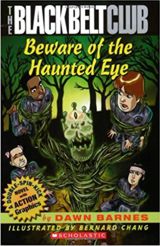 In this double-spin-kicking novel with action graphics, the Black Belt Club uses intelligence, teamwork, and good spirit to prevent the "Haunted Eye" from ending all life.
In the third book in the series, we follow Max and the three other members of the top-secret Black Belt Club on another action-packed, exciting adventure in the fight against evil. In this book, they go to a Celtic-based world where the "Haunted Eye" has overtaken all who make the seasons change and life thrive. Learning about balance, nutrition, aikido, and judo, they defeat the "Haunted Eye" and learn the importance of having balance in their lives.

---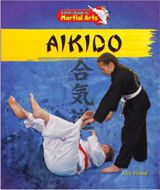 Aikido (Kid's Guide to Martial Arts)
by Alix Wood
Aikido is often translated as the way of harmonious spirit. Readers will learn to defend themselves but also to not cause injury to their attacker. Colorful photographs and step-by-step diagrams help readers gain a base knowledge of this form of Japanese martial arts.


---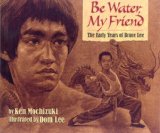 Be Water, My Friend: The Early Years of Bruce Lee
By Ken Mochizuki Illustrated by Dom Lee
The early years of Jeet Kun Do creator Bruce Lee! (More Info)

---
Diary of a 6th Grade Ninja
by Marcus Emerson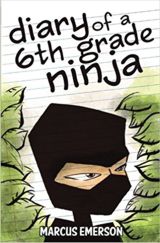 My name is Chase Cooper, and I'm a 6th grade ninja. It's my first day at a different school and the only person I know is my cousin, Zoe (but she might be a little too cool for me). I was just another scrawny kid until a group of ninjas recruited me into their clan. It was a world of trouble I wasn't prepared for, which is why I kept this diary (or "chronicle" as my dad would call it) – to warn other kids about the dangers of becoming a ninja. They say history is destined to repeat itself… well, not if I can help it. Diary of a 6th Grade Ninja is a hilarious adventure for children ages 9-12.

---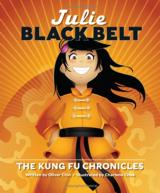 Julie Black Belt
By Oliver Clyde Chin
Inspired by her movie idol, Julie takes up her parents' offer to try kung fu and assumes she'll get a black belt right off the bat. But when all beginners are given a white belt, Julie wonders What would her heroine Brandy Wu do? Follow Julie's journey as she learns this sport's true spirit! "Julie Black Belt and its wonderful imagery are a great introduction for young readers into the world of martial arts." – Phillip Wong, 13-time national and international Wushu Grand Champion, and Zhang Hong Mei, China's National Wushu Team, International Games Gold medalist.

---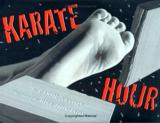 Karate Hour
by Carol Nevious, Bill Thomson,
Marshall Cavendish, Carol Nevius
Kindergarten-Grade 4–"Karate hour is starting now. Dressed and belted, we all bow." So begins a tribute to this ancient martial art. Using rhymed couplets that never strike a false note, Nevius carries readers through the mind and body exercises that make up a typical class. She deftly captures the excitement and energy of the experience as well as the discipline and commitment required to rise in rank . . . Grace Oliff, Ann Blanche Smith School, Hillsdale, NJ

---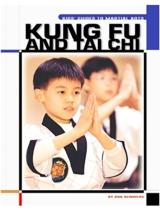 Kung Fu and Tai Chi – The Child's World of Sports-Martial Arts
by Ann Heinrichs
Have you ever seen an action-packed kung fu movie? Have you seen people moving their bodies in the calm motions of tai chi in a park on a Saturday morning? You might not think these two practices have much in common, but they do. They are both styles of the ancient Chinese martial arts of wushu. Discover the sports in which the "hard and strong
The Chinese martial arts take many, many forms. The most popular are tai chi, the yin to kung fu's yang. Made famous by movie stars Bruce Lee, Jet Li and Jackie Chan, kung fu grew out of the ancient fighting skills practiced by China's Shaolin monks. Then, as today, many of the styles and movements were named after animals, with the Tiger, Snake, Crane, Dragon, Leopard, Praying Mantis, Monkey and Eagle styles being among the most well-known. Each style is based on the animal's movements and fighting techniques. Kung fu, the more aggressive of the two art forms, uses blocks, punches, strikes and kicks. Tai chi uses a softer, more flowing style to achieve the same result. Today, tai chi is known the world over as a great way to relieve stress and achieve a greater state of harmony. One in a series of four on the martial arts, the book does an excellent job of introducing its mid-level reader to the history, methods, strategy and philosophy behind this popular sport, or as the book argues, way of life. Broken down into multiple chapters, the book includes good photography, as well as a glossary, timeline, bibliography, index and internet resources. 2004, The Child's World, Ages 7 to 14. Kris Sauer – Children's Literature

---
Samurai Principles and Practices: Helping Preteens & Teens in School, Sports, Social Activities and in Choosing Careers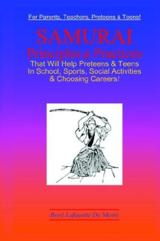 by Boyé Lafayette De Mente
This book is based on the training and lessons used by samurai parents during the nearly 800 years that they ruled Japan…training and lessons that made the samurai one of the most extraordinary groups of people in any society in any time in history. The training and lessons were designed to teach children discipline, respect for others, self-respect, diligence, honesty, a high regard for the truth, taking absolute responsibility for their actions, using emotional intelligence, using intuitive intelligence, understanding nature, keeping themselves well-groomed, and more…all things that are desirable in human beings.

---
The Kids' Karate Workbook: A Take-Home Training Guide for Young Martial Artists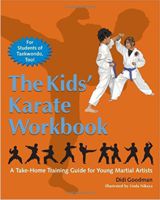 The Kids' Karate Workbook is an engaging workbook meant to be used at home by young people who want to supplement their regular Karate or Taekwondo training. Drawing on the author's more than 20 years of experience teaching martial arts to children, the book offers a step-by-step curriculum that traces a typical journey from first-day beginner to intermediate-level student.
Along the way, kids learn about uniforms and etiquette; practice the most frequently used strikes, kicks, blocks, and forms; and unlock the basics of martial arts physics. The curriculum is highly interactive, inviting readers to answer questions and solve puzzles. It also highlights common mistakes to avoid, answers frequently asked questions, and points the way to a deeper understanding of martial arts. The easy-to-follow text is accompanied by 150 illustrations depicting the author's own students—real kids who are also serious martial artists. While written for youngsters, the book is equally useful for parents who want to assist in practicing at home, as well as instructors who teach children.

---
The Martial Arts Book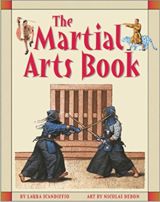 An unrivaled overview of the history and philosophy of martial arts.
Martial arts have become increasingly popular in North America over the past century. Yet few books for children present an overview of the history and philosophy of these ancient disciplines. The Martial Arts Book does just that.
Learn about the samurai who preferred to use strategy over violence and who were trained to pay attention to the sound of breathing or the movement of joints to tell if someone was asleep or just pretending. Meet the female ninjas known as Deadly Flowers, and the last ninja, Seiko Fujita (1899-1966), who stuck needles in his skin and ate rat poison, lizards, and even a brick to learn to withstand pain and poison. A concluding chapter will help in choosing the right style and school of martial arts for you.

---
Taekwondo Kids: From White Belt to Yellow/Green Belt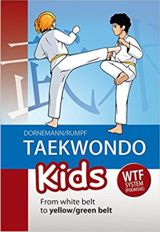 Taekwondo Kids, 2nd Ed provides you with the first practical guide to Taekwondo and has been specially written with children and youths in mind. The book uses simple, easily understood language and numerous appropriate illustrations suitable for children and youths, all the exercises can be carried out or practiced further without any difficulty.

---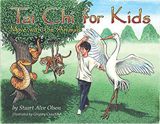 Tai Chi for Kids: Move with the Animals
The first tai chi book exclusively for children ages 4 to 8.
Uses children's delight in imitating animals to teach the eight basic tai chi forms essential for health.
Each exercise is accompanied by colorful artwork and photographs of the author's 7-year-old son demonstrating postures.
Written as a story to invite imaginative play and learning.
Designed for children and parents to play with together and for independent learning by older children.
Millions of adults practice the ancient Chinese exercise of tai chi everyday. Now children can experience the numerous health, learning, and social benefits of tai chi–focused attention; enhanced creativity, imagination, self-confidence; and improved balance, circulation, and overall health–through the eight simple exercises introduced in Tai Chi for Kids.
Inspired by his own son's excitement with tai chi at the age of only three, master teacher Stuart Olson appeals to the innate imagination and playfulness of children to teach them the eight basic forms of a tai chi practice. Children have fun imitating animals while guided by colorful and playful illustrations and photographs of Olson's son, Lee, performing each posture. Olson uses the language of a storyteller, wonderful animal metaphors that invite children to pretend, and easy-to-follow step-by-step instructions so that every child can enjoy such exercises as "Chasing the Monkeys Away," and "Riding the Tiger to the Mountain." The book also includes a fun teaching tale of how tai chi first began that can be read out loud by a parent or independently by the older child. Tai Chi for Kids introduces children to a lifetime of physical fitness and instills in them a love of movement.

---
The Three Ninja Pigs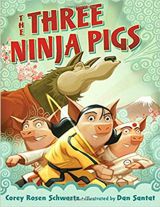 Practice makes perfect in this kick-butt fractured fairy tale.
Why does this wolf think he can come to town and blow all the houses down? These three little pigs just aren't going to take it from that bully anymore! The first starts aikido lessons—he'll make mincemeat out of that wolf! His brother learns a little jujitsu–he'll chop that guy to pieces!
But when the wolf actually appears, it turs out these two pigs aren't quite ready after all. Good thing their sister has been training every day to master some serious karate moves that save the day. KIYA!

---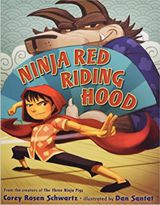 Companion to the hit The Three Ninja Pigs, this fractured fairy tale is a sure-fire storytime hit.
Wolf just can't catch a break! Ever since the three little pigs started teaching everyone Ninja skills, huffing and puffing just hasn't been enough to scare up a good meal.
His craving for meat sends Wolf to classes at the dojo, and soon he's ready to try out his new moves. A little girl and her tiny granny should be easy targets—right?
Not if Little Red has anything to say about it! Kiya!
Corey Rosen Schwartz serves up a fun combination of smart-aleck dialogue and tongue-in-cheek rhymes that'll have kids howling, and rising star Dan Santat's spunky illustrations are sure to pack a punch!

---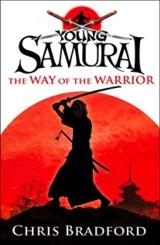 Young Samurai – The Way of the Warrior
By Chris Bradford
Jack Fletcher is shipwrecked off the coast of Japan, his beloved father and the crew lie slaughtered by ninja pirates.
Rescued by a legendary master swordsman and brought under his wing, Jack begins the grueling physical and psychological training needed to become a samurai. Life at Samurai school is fraught with difficulty for Jack who is bullied and treated as an outcast.
With his friend the remarkable, beautiful Akiko at his side and all the courage he can muster, Jack has to prove himself. Will he be able to face deadly rivals and challenges that will test him to his very limits? (More about this book)
Click link below to order a Young Samurai book.
Young Samurai – The Way of the Warrior

Young Samurai – The Way of the Sword

Young Samurai – The Way of the Dragon

Young Samurai – The Way of Fire


Young Samurai – The Ring of Earth

Young Samurai – The Ring of Water

Young Samurai – The Ring of Fire

Young Samurai – The Ring of Wind

Young Samurai – The Ring of Sky

Young Samurai – The Return of the Warrior

---
Tales of Bunjitsu Bunny
by John Himmelman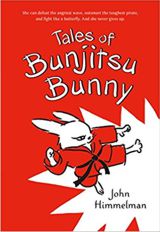 Introducing Isabel, aka Bunjitsu Bunny! She is the BEST bunjitsu artist in her school, and she can throw farther, kick higher, and hit harder than anyone else! But she never hurts another creature . . . unless she has to.
This series of brief stories about Isabel's adventures are a beguiling combination of child-friendly scenarios and Eastern wisdom perfect for the youngest readers.
Tales of Bunjitsu Bunny, written and illustrated by John Himmelman, is the first in a series of books about a smart young bunny faced with different challenges. The lively story about a kind and wise rabbit, with two-color illustrations, will appeal to young martial arts fans.

---
Bunjitsu Bunny's Best Move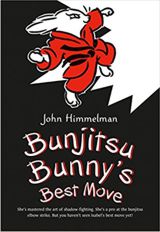 Isabel is back! The best bunjitsu artist in her class, she can throw farther, kick higher, and hit harder than any-bunny else. But her strongest weapon is her mind!
With even more fun, adventures, and wisdom than before, Bunjitsu Bunny's Best Move by author/artist John Himmelman continues to charm in this beguilingly funny chapter book series on one bunny's feats in martial arts. The lively story about a kind and wise rabbit, with two-color illustrations, will appeal to young martial arts fans.

---
Gilded (The Gilded Series)
by Christina Farley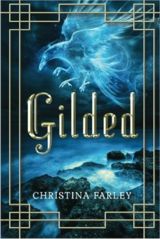 Sixteen-year-old Jae Hwa Lee is a Korean-American girl with a black belt, a deadly proclivity with steel-tipped arrows, and a chip on her shoulder the size of Korea itself. When her widowed dad uproots her to Seoul from her home in L.A., Jae thinks her biggest challenges will be fitting into a new school and dealing with her dismissive Korean grandfather. Then she discovers that a Korean demi-god, Haemosu, has been stealing the soul of the oldest daughter of each generation in her family for centuries. And she's next.
But that's not Jae's only problem.
There's also Marc. Irresistible and charming, Marc threatens to break the barriers around Jae's heart. As the two grow closer, Jae must decide if she can trust him. But Marc has a secret of his own—one that could help Jae overturn the curse on her family for good. It turns out that Jae's been wrong about a lot of things: her grandfather is her greatest ally, even the tough girl can fall in love, and Korea might just be the home she's always been looking for.

---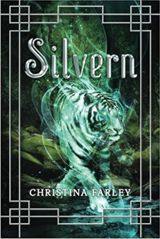 Jae Hwa Lee is ready to forget about immortals and move on with her life. Until the god of darkness, Kud, sends an assassin to kill her. She escapes with the knowledge that Kud is seeking the lost White Tiger Orb, and joins the Guardians of Shinshi to seek out the orb before Kud can find it. But Kud is a stronger and more devious god than Jae ever imagined. Jae is soon painfully reminded that by making an enemy of Kud, she has placed her closest friends in danger, and must decide how much she can bear to sacrifice to defeat one of the most powerful immortals in all of Korea.

---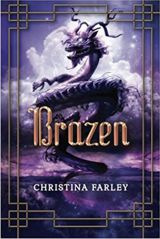 Jae Hwa Lee spent her sixteenth year in Seoul, trying to destroy the evil immortals who had been torturing her family for centuries. The last thing she expected was to be forced to become their assassin. Trapped in the darkest part of the Spirit World as a servant to the Korean god Kud, fighting to keep her humanity, and unable to contact her loved ones, Jae Hwa is slowly losing hope. Kud, god of darkness, will do anything to keep her as a pawn in his quest for power over all of Korea, her entire family thinks she's dead, and Jae's true love, Marc, believes she is lost to him forever.
When Kud sends Jae to find and steal the powerful Black Turtle orb, Jae sees an opportunity to break free and defeat Kud once and for all…but first she needs to regain Marc's trust and work with him to vanquish the darkness that threatens to overwhelm Korea. There's much to lose as Jae struggles to save the land she's come to call home.

---