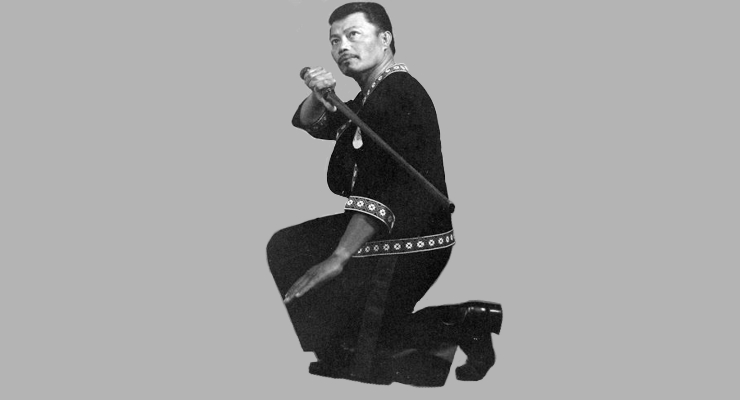 At the 1964 Ed Parker International Karate Championships held in Long Beach, California, Grandmaster Ben Largusa gave America its first demonstration of the Villabrille-Largusa Kali System. Bruce Lee, Dan Inosanto, and Jhoon Rhee and many other martial artists from around the world were also in attendance at this tournament.
Ben Largusa was born in the town of Kilauea on the island of Kauai, in Hawaii in 1926. As a toddler he was exposed to Kali when he was allowed to watch Filipino men practice with the sticks.
Ben Largusa's father taught him the basics of Kali but his first formal instruction came from an Eskrimador by the name of Master Augustine,  In 1945 Ben joined the United States Army so his study of Kali was temporarily halted. While in the service, Ben trained in a variety of other martial arts including judo and boxing.
In 1951, at the age of 25, Ben returned to Kauai and become a student of Grandmaster Floro Villabrille. Villabrille was 39 at the time and in his prime. Ben trained one on one with Villabrille for 7 straight years. When Ben first began his training he was asked by Grandmaster Villabrille to promise that he would never share the deadly art of Kali with anyone other than his own sons. At this time Kali was a closely guarded secret only passed on from teacher to student and father to son. The art was taught only to Filipinos who were deemed loyal students and the art was never taught to non-Filipinos. Ben Largusa left for the mainland in 1958 but remained in close touch with Villabrille and would trained with him whenever the opportunity arose.
It was Ben Largusas who broke-down and systematized Villabrille's fighting techniques and put together the theories and philosophies that comprise the art. Ben Largusa explained that Villabrille "was greatest influence in my life because he opened my eyes to many things, allowing me to observe, analyze and finally modify things for the better." Because of Ben's work with the art, his name was added and the art became known as the Villabrille-Largusa Kali System. As the years passed, Ben Largusa would perpetuate Villabrille's teachings and promote a part of the Filipino heritage. With the blessing of his teacher, in 1969 Ben began teaching a select group of students privately in his home in South San Francisco, California. The first generation of students included his sons Lindsey Largusa and Jerry Largusa, Greg Lontayao, Mel Lopez, Tony Lamadora, Greg Rojas, Kaohu Cummings, Ted Fidel and Rick Reyes. Ben Largusa was Floro Villabrille's foremost student and Villabrille chose Largusa successor to the Villabrille Kali System. In 1972, Villabrille bestowed upon Largusa the rank of Tuhan (Master) of the Villabrille Kali System.
The Largusa School of Kali, in South San Francisco, California, was formally opened in 1973. It was the first school to teach Kali to the public. Later that year, the Kali Association of America was formed as the governing body for the Villabrille-Largusa Kali System. All member schools fall under it governance.
Grandmaster Villabrille presented Tuhan Ben Largusa the Conveyance of Life Interest In 1981. This gave Ben Largusa the exclusive right, license and authority to continue to use the name of the Floro Villabrille School of Kali and to promote the Villabrille-Largusa Kali System.
When Grandmaster Villabrille died in 1992, Tuhan Ben Largusa succeeded him as Grandmaster of the Villabrille-Largusa Kali System. In 1994, LBen argusa named Professor Mel Lopez as his successor and gaving him the rank of Tuhan (Master) of the Villabrille-Largusa Kali System. In keeping with Grandmaster Villabrille's wishes, the Villabrille-Largusa Kali System has only one Grandmaster and one Master.
Grandmaster Ben Largusa passed away on October 3, 2010.