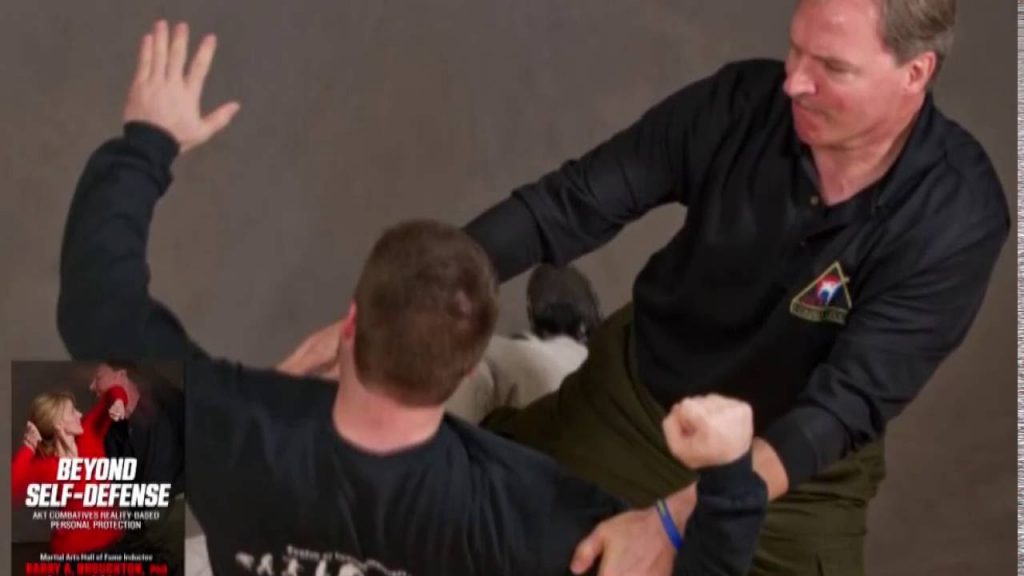 Do you want to learn self-defense skills quickly? Do you want to enhance your current defense skill set? Looking to become Empowered! Beyond Self-Defense will help you learn effective techniques for stand-up defense and ground defense. Author Barry A. Broughton, PhD is a Martial Arts Halls of Fame inductee and he has applied his extensive training in the martial arts and his years of practice in orthopedics and sports medicine to create the comprehensive reality-based AKT Combatives system that goes Beyond Self-Defense.
• Highly effective and practical techniques provide the novice and seasoned practitioner with simple yet brutally effective methods of self-defense.
• Adaptable techniques for anyone regardless of experience, size or gender.

• Learn your assailant's "anatomic vulnerabilities" for target acquisition.
• This personal combatives system provides a seamless transition of defense for all ranges and planes of attack, giving you the tools needed to defend yourself in any situation.
• Covers topics such as, Legalities, Self-defense vs. Personal Protection, Developing a Personal Doctrine, The Mindset Beyond Self-defense, Intent, Awareness and Preparation.
• General Safety Tips, Avoiding Sexual Assault, Home and Vehicle Awareness Guidelines, Controlling the Situation, Physiological response to violence, Proper training—proper response, Reflex response, Understanding Reactionary Gap, and much more.
Beyond Self-Defense has over 325 full color images and diagrams with directional arrows, Beyond Self-Defense includes valuable personal protection concepts and effective techniques for real-life self-defense that will help you prevail during a violent confrontation. Currently being used as a college textbook, Beyond Self-Defense can also be used for self-education for real-world personal protection. The techniques are presented in a logical, progressive and instructional format, as taught in Dr. Broughton's self-defense courses and seminars. Educate Yourself! Be Prepared…Not Paranoid!
About the Author
Grandmaster Barry A. Broughton, PhD has applied his extensive training in the martial arts and years of practicing orthopedics and sports medicine to create and found AKT Combatives, a comprehensive reality-based martial arts system. Martial Arts Halls of Fame inductee, Dr. Broughton, served on active duty in the US Army as a Combat Medic and a Battalion Medical Officer and holds black belts in several styles of martial arts. Additionally, he has been inducted into multiple Martial Arts Halls of Fame, the World Wide Martial Arts Council, and has served on the Board of Directors of a number of martial arts organizations; he is currently the Northeast Regional Director for the US Sport Jujitsu Association. Due to his numerous accomplishments, he was also featured in The Martial Directory: International Instructors Edition. Broughton is the owner of AKT Combatives Academy with several locations in New York State and is the head coach of Team AKT sport jujitsu team. He teaches his Self-Defense and AKT Combatives curriculum as Physical Education credit courses at a State University of New York (SUNY) college and teaches related seminars around the country. Drawing on his multi-faceted experience, Dr. Broughton has created this concise text to include accurate references to human anatomy, valuable concepts, and effective techniques for real-life self-defense. This book can be used as a college text or for self education in real-world personal protection. For more information about the author and AKT Combatives, or to schedule a self-defense seminar with Dr. Broughton in your area, visit www.AKTcombatives.com.