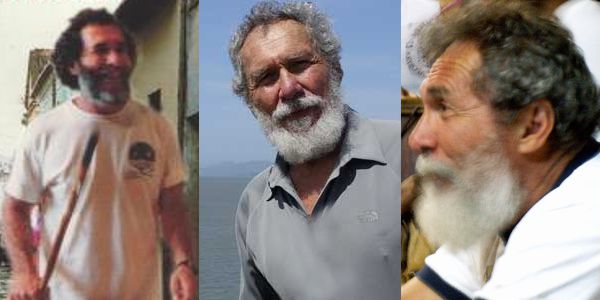 Ubirajara Guimarães Almeida or Bira Almeida was born in 1943. He is best known as Mestre Acordeon and he is a native of Salvador, Bahia, Brazil, and a master of the Brazilian folk art known as capoeira. He has an international reputation as a respected teacher, performer, musician, organizer, and author. He has actively practiced and researched the origins and traditions as well as the political connotations, and contemporary trends of capoeira for over 50 years. Mestre Acordeon travelled extensively outside of Brazil to promote capoeira.
in the late 1950s Bira Acordeon was a student of the legendary Mestre Bimba. Acordeon began teaching capoeira in the early 1960s. He founded the Grupo Folclorico da Bahia in 1966. This group performed the show Vem Camará: Histórias de Capoeira in the Teatro Jovem in Rio de Janeiro. The approach to capoeira presented by this show influenced a new generation of young capoeiristas and gave credence to the concept of grupo de capoeira and today's capoeira regional.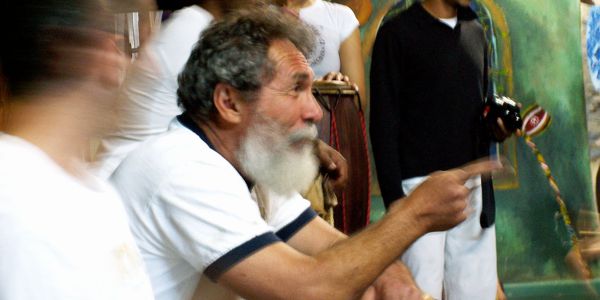 Acordeon had already won three titles in capoeira national championships in the 1970s before coming to the United States at the end of 1978. Acordeon introduced capoeira on the West Coast of the United States in early 1979. He currently maintains the United Capoeira Association (UCA) with several associated schools. He also has created the Capoeira Arts Foundation in Berkeley, California which sponsors UCA and the Projeto Kirimurê, a social program for children in the neighborhood of Itapoã in Salvador, Bahia, Brazil.
A capoeira recording artist, Acordeon has recorded 9 CDs, and produced 3 DVDs. He is the author of magazine articles and books about capoeira, including Agua de Beber, Camará: A bate Papo de Capoeira, and the Capoeira Arts Café: An Academia de Capoeira. Capoeira: A Brazilian Art Form, Acordeon first book, was also the first capoeira book in English.
Acordeon has received honors in support of his practice, teaching, and research of capoeira and among those honors. Among them, he is the Tinker Visiting Professorship at the University of Wisconsin–Madison. In the Fall of 1994, he became the first "artist" to receive this award. In 2008, recognition of his thirty years of continuous work on the West Coast, the City of Berkeley proclaimed October 18th as Mestre Acordeon Day.