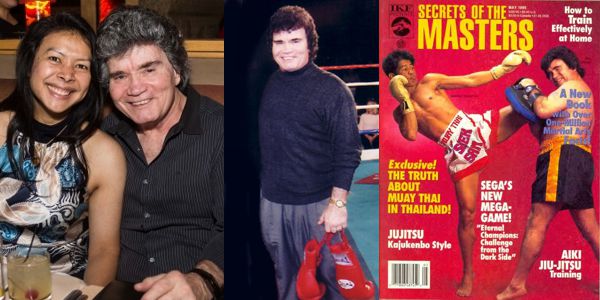 Tae Kwon Do Rank and Background
Bob Chaney trained in the Martial Arts for over 43 years. He was promoted, with Chuck Norris and Bob Wall, to Eighth (8) Dan "Grand Master" Black Belt with the "International Tae Kwon Do Federation" (ITF) personally by "Tae Kwon Do founder", General Choi in April 2002 at a ceremony in Pittsburg, Pennsylvania, (just shortly before the General's death).
Bob Chaney started his original training in Issinryu in 1962 then switched to Tae Kwon Do in 1964 under Korean Grand Master Ill Joo Kim. Bob was the former player coach of the United States Karate team with the "World Union of Karate Organization" (WUKO) in 1975/76. A 1975 Gold Medalist Bob Chaney also won 6 Grand Championships and garnered over 300 national and international trophies and awards in both Tae Kwon Do and Karate competitions over a span of 12 years. Bob Chaney and former World Champion Al Gene Caraulia were the first Americans to earn class-A's international referees licenses. Bob Chaney was the first chairmen of the appeals committee and first vise chairmen of the AAU National Certification program, the United States governing body for the "World Union of Karate Organizations" in the mid 1970's. Bob Chaney and Al Gene Caraulia were the pioneers that appointed most of the original referees and (WUKO) judges. Bob Chaney is currently licensed by the Nevada State Athletic commission as a professional Kickboxing and MMA (Mixed Martial Arts) judge.
Boxing Background and Experience
Bob Chaney originally started training in boxing as an eight year old under his father retired Pro Boxer Bob Chaney Senior. He began kickboxing in 1973 then became the student and God Son of legendary boxing trainer Johnny Tocco of "Johnny Tocco's Ringside Gym" in Las Vegas, Nevada in 1989. Bob Chaney started training in Muay Thai with former Thai fighter Comb Sasatan in 1988 in Las Vegas, Nevada before moving to Bangkok, Thailand in November of 1993 to train at "Osothapha camp" in Bangkok, Thailand. The Gym owned by Chanai Pongsupha was renamed after Army General Sasipaprapa to "Sasipaprapa Gym" in the mid 1990's. He continued training under and working with formerly "#1 rated Super Middle Weight" boxing champion" Chuck "Hurricane Kid" Siminnoni in 1997.
Promotional Back Ground
Bob Chaney began promoting Kickboxing with his first time event held at the Canton Memorial Auditorium in Canton, Ohio December 17th 1975. Bob Chaney has personally promoted or been intricately involved in promoting over 25 Full Contact, Kickboxing or Muay Thai events. Some of the more major events were "Europe VS Thailand" a live event via satellite feed from the Irgiff Palace in Rome, Italy back to Channel Three (3) in Bangkok, Thailand. "Las Vegas VS Japan" Taped from the Union Plaza in Las Vegas, Nevada. "Thailand VS USA" a National Pay Per View event from the Thomas and Mack Center, in Las Vegas, Nevada and live Pay Per View events from the "Palms Hotel and Casino" in Las Vegas, Nevada, the "Santa Anna Star Casino" in Albuquerque, New Mexico, "Hollywood Park Casino" in Los Angeles, California and the "Fairgrounds" in Victorville, California. Most recently Bob Chaney partnered up with Dennis Warner, Mike Rush and Val Leedy with plans to promote quarterly Muay Thai and Mixed Martial Arts Events at the "Hollywood Park Casino" in Los Angeles, California.
Bob personally selected and was instrumental in hiring close friends "Super Models" Sonia Couling and Louket Matinee (Former Miss Thailand) for color commentating at Omnoi Stadium on the outskirts of Bangkok. Bob can be seen commentating some of those fights from Omnoi Stadium with Sonia and Louket. Bob Chaney has been a regular bi-monthly traveler to Thailand for over 9 years. He is business associates with many of the Promoters and Stadium owners in and around Bangkok as well as friends and associates with the owners and promoters at "Chaweng Stadium" in Koh Samui, Thailand.
Bob Chaney arranged the Omnoi Stadium Title fight held at the Palms Hotel and Casino in Las Vegas, Nevada in December 2002. This was the first time that a Stadium Title fight was held outside of Thailand and the first time ever that the Nevada State Athletic Commission sanctioned full Muay Thai Rules. Bob Chaney brought over his friends Thong Tai the "Lumpini Stadium Champion" to fight Tae Wa Rit Noi for the "Omnoi Stadium Title". Additional Bob Chaney arranged and brought over the Thai Officials and referees to instruct and gain the confidence of the Nevada State Athletic Commissioners that opened up the door for full Muay Thai rules that are now used in Nevada.
Bob Chaney used his Thailand Connections to arrange and bring over 11 top Thai Fighters including, "BM Sasiprapha", "Malaipet", "Lumpini Stadium Champion, Thong Tai", "Tae Wa Rit Noi", "Nong Tom" "The Lady Boy" Parinya", the legendary "Samart", "Gunnsak", "Charoentong", "Lumpini Champion and Wusu Gold Medalist, Pajonsuk", and "Wonchana".
Bob is affiliated with "Pitnoi"," Sangmorakot", "Chaweng Stadium and Asawayotin Camps" in Thailand.
Bob Chaney had many affiliated studios in the United States. At one time his studio in Upland California had an active enrollment of over four hundred students. All of Bob's affiliated studios credited much of their high enrollments and huge successes largely to the inclusion of Muay Thai programs that account for approximately 50% of total enrollments.
Bob Chaney trained over 200 National and World Champions in Karate and Tae Kwon Do, 7 World Kickboxing Champions and 5 World Muay Thai Champions.
Bob secured the rights and arranged the airing of some of the greatest Muay Thai fights and fight footage for Muay Thai fans in America.
Bob has been on the cover of several martial arts magazines and has been highlighted in over 25 feature articles in many of the Martial Arts Publications such as Black Belt, Inside Kung Fu, Fighting Stars , Tommy Mc Kay's 'Big Book of Karate, Secrets of the Masters, Tae Kwon Do Times, Combat, and Grappling Magazines.
Bob Chaney passed away on Easter morning, April 27, 2016 at 10:00 am. Bob wrote the story of his life and one day it will be published. He had a great story to tell and he was a great story teller. Hopefully we will see his book in print soon. RIP Bob Chaney.  We miss you already.
There was a Celebration of Life for Bob Chaney on Saturday, April 9, 2016 from 1:00pm – 3:00 pm at the San Juan Diego Center, 3015 Pala Mission Road, Pala, CA.
Article about Bob Chaney
Bob Chaney Gets Kicks Out of Martial Arts
Bob Chaney's Conditioning For Full Contact
Bob Chaney Muay Thai and Tae Kwon Do Creates Fighters
For more information about Bob Chaney Family Martial Arts visit their listing on the Martial Arts Schools and Businesses Directory by clicking on the image on the left.