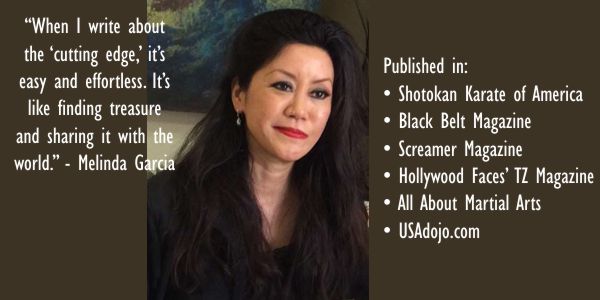 Melinda Garcia is a writer based in Cerritos, California. First professionally published in 1989, Melinda worked as a Staff Writer and Columnist for Screamer Magazine, a prominent Los Angeles music magazine in the 1980's and 1990's. Melinda began her career by writing reviews of live band performances taking place at legendary Hollywood nightclubs such as Gazzarri's, The Roxy, Whisky A Go-Go, and Johnny Depp's The Viper Room. Eventually, she wrote about major concerts taking place in larger venues such as the Los Angeles Forum, Universal Amphitheater, Santa Monica Civic Auditorium, and Irvine Meadows Amphitheater. Melinda has interviewed musicians (in-studio, at record label offices, and on tour), wrote feature articles, and maintained her own two columns: Video Vixen, where she reviewed music videos; and, Metal West, where she reported the latest news within the West Coast music scene. When the magazine expanded to international distribution, Melinda was promoted with a news column, World Metal Report, where she reported major rock'n'roll music events taking place around the world. Some of the musicians she has written about include Aerosmith, AC/DC, Anthrax, Danzig, Death Angel, Guns N/ Roses, Ice-T, Kiss, Metallica, Motley Crue, Ozzy Osbourne, Pantera, Poison, Skid Row, Suicidal Tendencies, The Black Crowes, and Van Halen, just to name a few.
Eventually, Melinda became actively involved in the world of Martial Arts. From 1995 to 2000, Melinda was a Contributing Reporter for Shotokan Karate of America ("SKA"), founded by chief instructor, Tsutomu Ohshima, one of the most highly regarded karate practitioners in the world. As a Lifetime Member of SKA's Black Belt Council, and with extensive experience writing
for SKA, Melinda went on to write articles featured in All About Martial Arts, USA Dojo and Black Belt Magazine.
Melinda is also a Contributing Writer for Tranzision (TZ), a beauty magazine founded by veteran Hollywood Makeup Artist, Elsie Daniels. Melinda also contributes her public relations experience to diverse projects involving Ms. Daniels' makeup studio, Hollywood Faces.
So, what exactly is it that inspires Melinda to keep writing and creating? Melinda explained, "I love to write in general; however, I am inspired to write about people that have that special 'cutting edge.' To me, the 'cutting edge' means people that generate excitement; people that have fire; people who are able to dig deep within their soul and somehow express themselves creatively to the world in a particular art form. Because of their passion for what they do, they are the best at what they do. In the process of it all, they inspire others to do more and be more. That, to me, is the 'cutting edge.' It's beautiful and moving to watch them in action. When I write about the 'cutting edge,' it's easy and effortless. It's like finding treasure and sharing it with the world."
Melinda Garcia was born in Philadelphia, Pennsylvania. She has a Bachelor of Arts degree from California State University, Long Beach and a Certificate from the University of Paris, Sorbonne. Melinda has been recognized by the Long Beach Press Telegram with an Academy of Achievement Award in Journalism. Melinda is also a First Degree Black Belt in Shotokan Karate of America and a Certified Makeup Artist from Hollywood Faces and ABC Adult School.