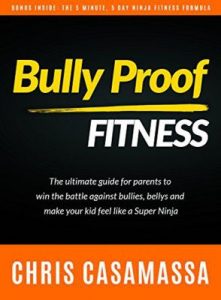 The battle against bullies and bellies has been going on for generations. Since the 1960's, the number of children who are considered overweight or obese has nearly quadrupled. Bullying, especially at schools, is almost at epidemic levels and has led to kids who turn to drugs, alcohol or even suicide! Now parents will have the tools they need and be better equipped to help their kids with time tested and proven strategies to fight back against both bullies and bellies. Many times, parents have the wrong conclusion about their kids being bullied. Parents thinks that it reflects on them and they sometimes blame themselves, and their wrong, they shouldn't be blaming themselves. There's a fundamental issue, and it's not what the psychologists say. It's not what the school system says. It's not what the parents think. Inside this book we uncover the secrets that have helped countless numbers of kids become more confident and self reliant than ever before. This is the step by step system that has helped over 20,000 kids get stronger, feel safer, and become more confident. Bully Proof FITNESS uses a dynamic combination of simple, short 1- 5 minute training sessions that can be tailored to any child (or adult). With easy to follow videos, kids can get fit , strong and healthy in no time! This is the BEST system in the world to help kids get Bully Proof and on track for success in school and life! Get free workouts and meal plans at Bullyproof FITNESS. Download the Bully Proof FITNESS APP on iTunes or the Bully Proof FITNESS APP on Google Play. Find out more at Chris Casamasa.
Biography
Chris Casamassa, is a #1best selling author, entrepreneur, motivational speaker, business consultant and certified martial arts trainer. He has over 30 years of experience as an expert in kids health, fitness and safety.
He is the creator of the award winning program KICKNFIT KIDS a fitness and safety program committed to helping 1,000,000 kids worldwide become bully proof, fit and healthy. KICKNFIT is available as a license for gyms, day care centers, schools, academies, & studios worldwide. KICKNFIT is also available as a home training program available worldwide details at www.kicknfitkids.com
Chris is a 4x national Martial Art champion and currently holds a 9th degree black belt. He is also the President of the 12 Red Dragon Karate schools in California which were founded in 1965 by his father Louis D. Casamassa.
Because of his amazing martial arts skills and talents, Chris has appeared in dozens of films and TV shows. For his millions of fans around the world, he is most recognized for his role as the Super Ninja: "Scorpion" in the Billion dollar franchise Mortal Kombat. For more info visit www.chriscasamassa.com
Get Social with Bully Proof FITNESS
INSTAGRAM: www.instagram.com/bullyprooffitness
Facebook: www.facebook.com/bullyprooffitness
Twitter: www.twitter.com/realbullyproof
Get Social with Chris:
SNAPCHAT: SNAPCHAT@realmkscorpion
https://www.snapchat.com/add/realmkscorpion
Facebook: www.facebook.com/thedojodoctor
Twitter: www.twitter.com/realmkscorpion
Instagram: www.instagram.com/realmkscorpion
Reviews
Not only did I write a forward for this book, I also purchased the book the day that it became available! Why? I did it because I believe in Chris Casamassa and what he is teaching our children. Today with so many internal and external pressures facing our children, it is nice as a parent to have a road map that helps our children deal with bullying. Chris has outdone himself with this book and he should be as proud of it and what it will do for our children as I am proud of him.