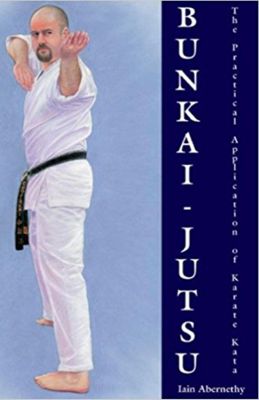 Bunkai-Jutsu is the analysis of the karate katas and their application in real combat. It is also the title of this pioneering book by Iain Abernethy. The fighting applications of the karate katas (forms) is one of the most fascinating and sadly misunderstood aspects of karate practice.
Bunkai-Jutsu provides the reader with the information they need to unlock the secrets of kata and to begin practicing karate as the complete and realistic combat art that it was intended to be!
This groundbreaking and often controversial book provides a detailed analysis of the combative concepts and principles upon which the katas are based. This book is essential reading for all those who want to understand the real meaning of kata. Bunkai-Jutsu explains every aspect of the katas and their application in real combat" ~ Doug James 7th Dan
"Iain Abernethy has done it again with another excellent book on the application of karate kata. No martial arts library is complete without Bunkai-Jutsu. Iain Abernethy has shown us the real beauty of karate with his innovative and pioneering work." ~ Geoff Thompson, world-renowned martial artist (6th Dan karate), self-protection expert and best-selling author.
"Iain's work is both educational and thought-provoking" ~ Paul Clifton, editor of Traditional Karate and Combat magazines.