Have a COVER STORY for strangers who strike up conversation with you and you don't want them to know anything about you.
When I was in counterterrorism school at the Federal Law Enforcement Training Center (FLETC) in Artesia, New Mexico in 2002 every student was instructed to come up with a cover story, because we were all going to work undercover in airports and in aircraft around the world as United States Air Marshal agents. A cover story is when you tell people facts about yourself that are not true so that they will never discover your real identity. The more boring the cover story, the more likely the person trying to engage you in conversation will lose interest in you.
To conceal your true identity, through a cover story, you have to change the facts of your life and remember by heart the "lies" you intend to use. If someone strikes up a conversation with you while sitting next to you on public transportation or in a social setting you have to sound convincing. If they ask you what city that you live you don't give them the actual city you live in so they can look you up one day, but you give them the name of a different city, and you had better know a lot about that city because they may be familiar with that particular city you just named. Inevitably people will ask you, "What do you do for a living?" In my case back in 2002 I couldn't answer, "I'm a counterterrorist on a mission right now." The truth could have compromised the mission. For you currently with the police or serving with a government entity or military unit information about yourself and your job could compromise local or national security and in some cases even get others killed. So, to keep people from probing you for information you come up with a profession that you are familiar with to create your cover story. For example, after college I was in advertising for a few years, and so my cover story, if asked, was that I was an Art Director for an advertising firm. Since I knew all about the profession if someone asked me specific questions I could answer them and they would believe that it was my current profession. I would talk for a few minutes saying that I designed coupons for newspapers, and they would get bored talking with me after a few minutes. However, when you come up with a name of the business that you work at, you need to have a name and location for your business because the curious person might ask you for a business card. To handle this particular problem with my advertising cover story I would just say, "I'm working freelance now," and give them a bogus phone number.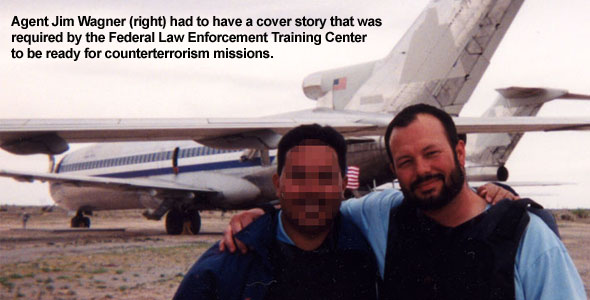 When I was in counterterrorism school they asked all of us to give introduce ourselves using our false names and speak for a minute or two using our cover stories. The instructors wanted to see if we could convince our classmates, and of course I did. But, I will never forget when the instructor asked the agent sitting behind me, "What do you do for a living?" He relied, I am a male exotic dancer, and the class busted up laughing. Nobody was expecting a cover story like that. Well, he did have a second cover story, a little more mainstream, but with a Village People physique he could have very well passed as an exotic dancer.One day a criminal may be doing surveillance on you. They may seem like a normal person asking you routine questions, but a voice inside of you tells you not to trust them. In cases like these you may want to have a cover story of your own. You don't want to be talking to a possible terrorist in the lobby of a government building, "Yea, I've been studying martial arts now for fifteen years," because you may be the first person he wants to kill when the guns start coming out. Martial artists tend to brag about their background, it's the Alpha Dog attitude in them that makes them do so, but in many cases it is best to not let people know.
Occasionally when I am overseas and over-curious cab driver asks me, because of my accent, "Are you American?" In which case I reply, "I'm Canadian, from Vancouver." It throws their scent off, and after all, who hates the Canadians? It's the United States of America, the "Great Satan," they hate. Just that little statement is a cover story. And, if they start asking me about the Vancouver area I can be convincing because I have taught there several times, eh.
Is a cover story part of the martial arts? The answer is, "Of course it is." Again, what is the literal term for "martial arts" You got it, it's "war arts," and there are people out there at war with you: crazy people that snap and go violent, drunks and druggies, criminals, and terrorists. A cover story is just all part of your training to be more reality-based.
Be A Hard Target.