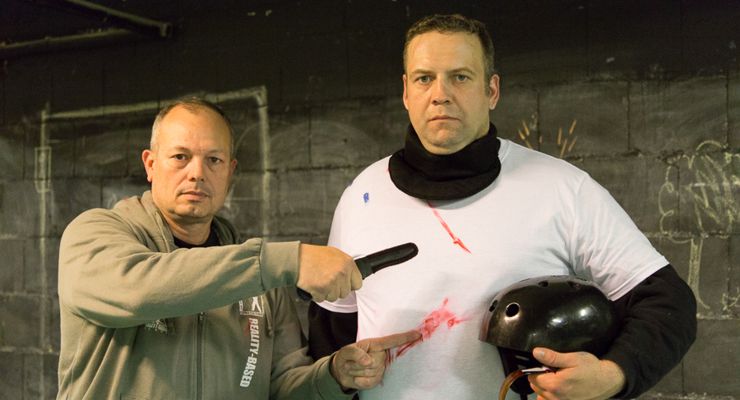 Have you ever heard this argument during knife training before?
The attacker swears, "I cut you! You would have been dead!"
Then the defender says, "No you didn't! I blocked it!"
Nobody knows for sure the extent of the "injuries" because a rubber or plastic training knife does not leave a mark. Unless the strike was obviously seen or felt by the defender any other "stabs and cuts" may not have been detected during a realistic attack because of few factors: adrenalin, tunnel vision, or out right lying to cover up the failure to stop blade contact.
Those days of arguing over just how lethal a knife attack was, or wasn't, are forever gone. Introducing the Jim Wagner Reality-Based Training Tool, designed by yours truly, and manufactured by world famous German knife maker Böker. This training knife shows exactly where cuts and stabs would be on the human body after making contact, because on the quality rubber blade is an industrial durable cloth actually sewn directly into the blade (an original Boker Plus and Jim Wagner technology), so that it will never come off, and chalk or red lipstick to indicate blood is applied to it. The box that the product comes in contains red lipstick for immediate use. The cloth that wraps around the blade is attached to both top and bottom edges. However, the lipstick can be applied to only one edge of the blade and to the tip to simulate a single edge knife. If the training calls for a double edge knife, such as with military combat training, then both sides can be coated with lipstick.
The RBB Training Tool is made of a quality rubber that is not too hard, and not too soft, but just right. The right material was chosen for one reason – SAFETY. Of course, any training with any object can be dangerous to the eyes, and that's why right on the right side of the blade it has the words TRAINING KNIFE ALWAYS WEAR EYE PROTECTION. Everyone in the Jim Wagner Reality-Based Personal Protection systems already knows that wrap around eye protection is mandatory for my Knife Survival, Knife Expert, Tactical Knife, and the Knife Instructor courses, but there are still a lot of self-defense schools that haven't followed my example in regards to safety precautions when they train with various training weapons. I was the first civilian self-defense instructor to introduce safety protocols to the civilian martial arts community similar to that of the police and military (wrap around eye protection, ridged neck guard, hard shell helmets, elbow and knee pads for light contact), and I am proud that I have a warning printed on this product. You can see the standard safety equipment worn by my students in the photos. In fact, the main reason I set out to design "the ultimate training knife," was safety for my students, and for practitioners of other systems. Up until this product was available on the market in March 2014 in Europe, and finally reaching the shores of the United States last month, the few alternative products that were out there before mine were, in my opinion, dangerous. One competitor marking training knife has a frame made of aluminum. Needless to say, any metal tool used in contact training has a high risk of inflicting unintentional injury. I've had many police and military personnel personally complain to me about a particular aluminum frame marking knife that has felt wrapped around it, not to mention its exorbitant price tag. Another manufacturer uses hard plastic for their marking knife. Hard plastic is safer than metal, but with absolutely no give to the blade training injuries are still problematic.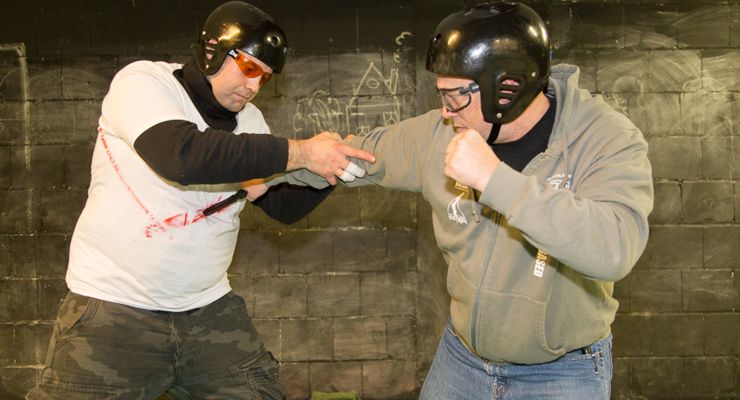 Besides being made of a better material for safety the RBB Training Tool gave me an opportunity to offer a better product with more features. One feature I included in my original design is a marking pad on the butt of the handle made of a similar material found wrapped around the stabbing and cutting edges of the tool. This pad is to be coated with blue lipstick to indicate blunt trauma injury. Although a strike with the handle of a real knife may not always produce blood, it certainly can damage soft tissues and crack bones. However, with my invention any blue stamped rectangle found on a training partner's clothes or skin, or against their protective helmet, after the training would indicate that a blunt trauma strike had been made, which represents bruising. A blue lipstick also comes with the product.
What makes the Jim Wagner Reality-Based Training Tool even better than anything else on the market is its low retail price of 29,95 euro ($39.95 in the United States), and that it is part of the popular Jim Wagner Reality Based Blade series. That means if you own one of my real Reality Based Blades, be it the original RBB (stock number BO051), the Recurve, Drop Point, Fixed Tanto, or even the Reality-Based fully functional dull Trainer, you will be training realistically, because they are all the same size and feel of the RBB Training Tool. It has the same textured ergonomic grip grooves on both sides of the handle (one of which is purposely smooth like the series to guide the thumb to the thumb stud in blind or low light situations), lanyard hole, anti-slip back spine, and a definite visual separation between blade and handle. You'll also notice that the point is rounded for even more safety. Too many non-marking rubber, plastic, metal, and wooden training knifes have dangerous points, which may not penetrate flesh, but they hurt a lot more than is necessary. Even if you don't own one of my real RBB series knives, that doesn't matter, because this RBB Training Tool is the same size as most tactical folders, steak knives, or fixed blade fighting knives.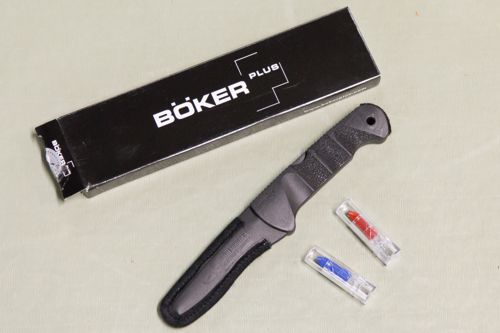 This affordable RBB Training Tool is a must for every martial arts school, police defensive tactics program, military combatives training unit, private security and bodyguard trainers, doorman/bouncer courses, and anyone else who wants realistic, result showing, knife training. When it leaves a mark on the "victim," there is no denying it. Plus, based on the amount of lipstick left behind will determine if the attack was deep or superficial. Obviously a solid red rectangular mark left on the victim's chest would indicate a deep stab wound, whereas a very light mark would indicate a superficial would that is only skin deep. The darker the color, the more contact was made. A light scrape of color on the victim's arm would indicate the top layer of the skin getting scraped or nicked, but a deep red line would mean a cut possibly going all the way to the bone. Such "defense wounds" would indicate if the victim would have been able to keep on fighting with the injury or not. After all, severed muscles or tendons could mean not being able to open or close the hand. A lot of information can be gleaned after the knife fight scenario because of the RBB Training Tool.
For those who don't know anything about how to defend against various knife attacks or how to use a knife for self-defense, then that information can be found in my courses, books, videos, and articles; the same techniques and training methods I have taught to elite units all over the world, and which literally revolutionized edged weapons defense training.
To order your RBB Training Tool in Europe visit www.boker.de
To order outside of Europe visit the online store at: www.jimwagnerrealitybased.com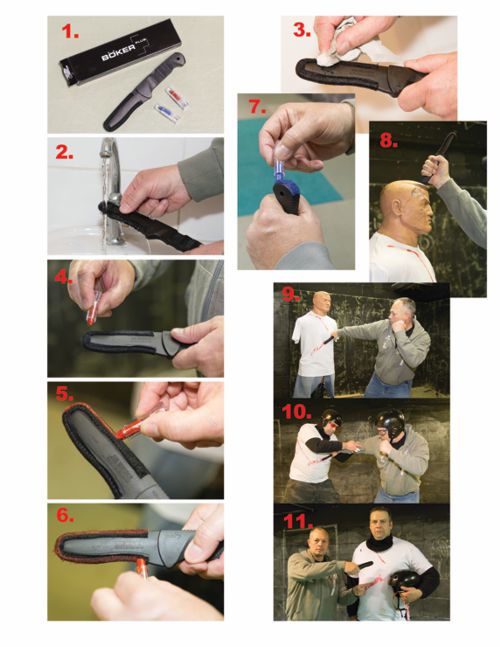 The Jim Wagner RBB Training Tool comes with one stick of red lipstick and one blue lipstick.
 Before the first use only place the industrial cloth under water to "treat it."
 Make the cloth on the blade and handle damp before applying the lipstick.
Chalk or red lipstick can be applied depending on training uniform.
 Red lipstick applied to the edges and tip representing blood.
 Both sides of the blade can be coated to represent a double edged blade.
Blue lipstick applied to the handle cloth will represent blunt trauma.
The exact location of a blunt trauma strike will show up on a mannequin or training partner.
Jim Wagner demonstrates the RBB Training Tool by placing a white t-shirt on a training mannequin.
With proper training equipment, and a RBB Training Tool, there is no better tool for learning about the dangers of edged weapons.
Jim Wagner points to the a severe abdomen injury that occurred in a realistic training knife attack.