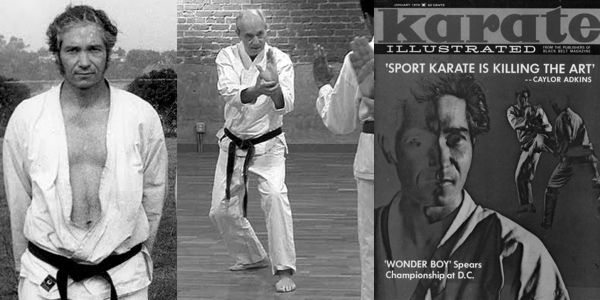 Caylor Adkins is one of Mr. Tsutomu Ohshima's first American-trained black belts in Shotokan karate. He is a pioneer in karate and a legend in the martial arts world.
Caylor Adkins began practicing judo in 1957 after he witnessed the first official demonstration of karate to the American public given by Mr. Tsutomu Ohshima at the 1957 Nisei Week Exhibition and Tournament. Mr. Adkins started karate practice in October 1957 under the direction of Mr. Ohshima and he was one of six members to be awarded the rank of first degree black belt (shodan) in 1959 at first the dan test in the Shotokan Karate Association.
During his early Shotokan karate training, Mr. Adkins attended California State University, Long Beach and in 1961 he formed the school's first karate club. California State University Long Beach Shotokan Karate Club was the second university karate club to be established in the United States., but the club dissolved after only one semester. That same year, Caylor traveled to Japan to study karate at Waseda University and upon his return he open his Long Beach dojo with John Ogden's Judo dojo. In 1968, Caylor came back to California State University Long Beach, along with Don DePree, and re-established the karate club.
Early in his martial arts career, Caylor Adkins was President of Shotokan Karate of America, National Chairman of the Amateur Athletic Union (AAU) karate committee (1975-1977), and first vice president of World Union of Karate-do Organizations (1975-1977). His dedication and active involvement in karate carried him all over the world and he has been known for his many feats in the martial arts arena in the 1960s and 1970s. During the last 30 years he has concentrated on studying a wide range of other martial arts besides his original training in Shotokan Karate. Mr. Adkins has become recognized for his leadership and knowledge of the martial arts.