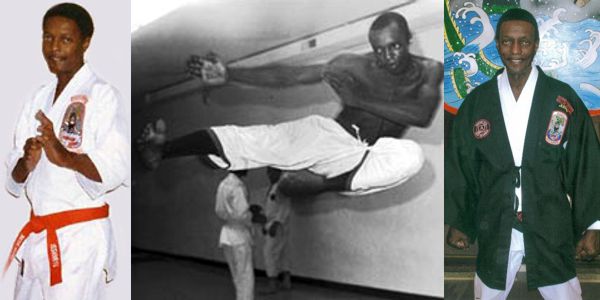 Willie Adams has a long and colorful history as one of the most prominent and respected martial artists in America. His history began in the late 1950's and early 1960's, when he earned his Black Belt in Isshin-Ryu Karate under Dan Nagle, James Chapman and Doug Noxon. In June 2008 Hanshi Willie Adams become a 10th Degree Balck Belt in Isshin-Ryu Karate. Adams was recognized by Harold Mitchum, who was the Senior American on Okinawa with Grandmaster Tatsu Shimabuku, the highest ranking Isshin-ryu Karate instructor and President of the Okinawan American Karate Association or OAKA.
Sensei Willie Adams has also had the opportunity to study other martial arts, including Shotokan under Master Ozaki, Kung Fu under Masters Lee and Wong, Aikido under Master Yusuda, Judo under Master John Osako, and the Arts of Quan Tao and Poke Lon under Master Phil Reeders.
Willie Adams complete dedication to the study of martial arts, Isshin-ryu Karate in particular, laid the groundwork for a stellar tournament career, spanning from 1963 to 1975. He has always been a fierce, top-notch competitor. Highlights of Master Adams' accomplishments include winning several Illinois, Indiana, Michigan, Ohio and Pennsylvania State Championships in the Weapons and Empty-Hand Kumite and Breaking Divisions.
He won the 1966 International Karate Championship Black Belt Kumite Division, and was also a member of the United States International Karate Team in in 1964. He was an outstanding coach as well. In the 1970's as Captain of the Detroit All-Stars, he led his fighters to two years of undefeated success in tournaments throughout the East Coast and Midwest.
In 1972, his team competed against Chuck Norris' team to a draw for the Title of the United States Team Champions.
Sensei Willie Adams is also involved in the administrative side of the martial arts. He was a member of Grandmaster Shimabuku's first, original organization, The Okinawan American Karate Association (OAKA).
Later he became the State Representative, then Regional Representative. Vice-President, and finally President of the American Okinawan Karate Association (AOKA).
As a result of his unflagging dedication to and high level of achievement in the Art of Isshin-ryu Karate, Sensei Adams has received many honors, including induction into the International Karate Hall of Fame, the Michigan Karate Hall fo Fame, and he received the prestigious Spirit of Isshin-Ryu Award. Most recently, he was inducted into the International Afr-American Sports Hall of Fame, an honor of which he is very proud.
Sensei Willie Adams has owned and operated a number of successful businesses outside of the dojo, including a Limousine Service, the Worldwide Import/Export Company, Renaissance Security Investigation Company and Panther Brand Karate Uniform Company.
He owns one of the most successful karate schools in the state of Michigan. He trains all of the major police departments in the area, including the Wayne County Sheriff's Department, the Detroit and Southfield Police Departments and several other Law Enforcement Agencies. He is licensed by the State of Michigan as a Private Investigator, and is also active in the Southfield Police Department.
Sensei Adams was born on January 20th, 1946, and he was educated at Southeastern High School, Cass Technical High School, Highland Park Community College and Wayne State University.
To contact Hanshi Willie Adams and Southfield Martial Arts Institute visit their listing on the Martial Arts Schools and Businesses Directory by clicking on the image on the left.