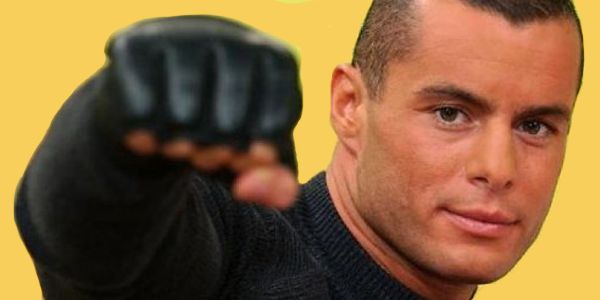 Chalid Arrab was born on May 28, 1975. His nickname is "Die Faust". He is a Moroccan-German kickboxer and mixed martial artist. He trains at Team Golden Glory in Breda under famous Dutch trainer Cor Hemmers.
Chalid's Amateur boxing record of 34 Wins and 31 KOs out of 37 bouts has earned him the nickname "Die Faust" ("The Fist" in German).
On April 29, 2006 Chalid Arrab entered the K-1 World GP 2006 in Las Vegas as a heavy underdog. Just one week before the fight he was involved in serious car crash in Germany. Chalid walked away unharmed.
In the quarterfinals Arrab took on a former wrestler, Sean O'Haire. Arrab stepped in quickly firing with series of uppercuts and knocking out the American in first round.
In the semifinals he met Carter Williams. Midway through the second round Williams dropped Arrab with a right knee and Chalid ended up losing the fight with a split decision. Under K-1's substitution rule Williams could not continue due a broken nose and shin injury suffered in his fight with Chalid and the fortunate German was sent back in to face Gary Goodridge in the GP tournamnet final.
In the first round Goodridge threw in a quick left hook to score an early knock down. Heading into the third round, Die Faust was trailing badly on all cards due the two downs. The only thing that could possibly win it for Arrab was a KO. Midway through the third round he caught Goodridge with a right hook to the jaw and dropped him. "The Fist" capped his comeback in dramatic fashion and became the K-1 World GP 2006 USA Champion.
On September 30, 2006 at K-1 World Grand Prix 2006 Final Eliminations at Osaka, Japan Chalid Arrab earned himself a unanimous decision win over Japanese fighter Musashi and qualified for his first ever appearance at K-1 World Grand Prix 2006 Finals.
On December 2, 2006 at K-1 World GP quarterfinals Chalid met 4 times K-1 World Champion Ernesto Hoost after the original three rounds the judges ruled a draw and an additional round was added, Chalid Arrab lost that extra round by unanimous decision. He is married to Dutch actress and TV Presenter Jorinde Moll.
Chalid was scheduled to fight on August 11 in Las Vegas, against Mighty Mo. However Chalid was unable to secure a visa in time, and was replaced by Stefan "Blitz" Leko.