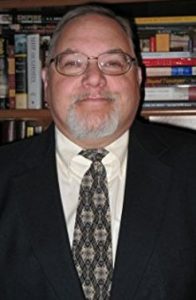 Christopher M. Clarke, Ph.D. was born in New York in 1949 and grew up in New Jersey. He began training in karate in 1965, studying the Goshin-do Karate-Do system under Gerald Thomson and Hakkoryu Jujitsu under Robert Gannon. He received his first degree black belt in 1968, and his second degree a year later. During this time, he trained on several occasions with Master Frank Van Lenten, 8th degree and founder of the Goshin-do system.
In 1969, Dr. Clarke began to also study Kobayashi Shorin-ryu under Robert Herten, a student of Master Nakazato Shugoro, who had recently returned from a tour with the US Air Force on Okinawa. He received his first degree black belt in Shorin-ryu in 1970 and was awarded an instructor's certificate by the Beikoku Karate Renmei in 1971. He graduated from Fairleigh Dickinson University in 1971 with a degree in international studies.
In September 1971, Dr. Clarke entered active duty in the US Air Force. He was stationed in Ohio and on Guam. In 1972, he visited Okinawa, where he trained with Master Nakazato and visited a number of other top karate schools. Upon his return, he joined the American Shorin-ryu Karate Association and the Okinawan Karate Federation. He was promoted to third degree black belt in karate in 1974 and third degree in weaponry by Master Glenn Premru later the same year. In 1975, Dr. Clarke was awarded a fourth degree in karate. He was discharged from the Air Force in 1975 and began attending graduate school at the Ohio State University, where he received an M.A. in 1979, and a Ph.D. in 1980, both in political science
From 1973 to 1977, Dr. Christopher M. Clarke trained under Dr. Kotaka Sadao, fifth degree black belt in Nihon Kendo (Japanese fencing) and Kogen Ittoryu Iaido (the art of drawing and cutting with the Japanese sword). He was awarded black belt ranking in both arts by the American Kendo Federation in 1976.
On January 1, 1980, Dr. Clarke was awarded promotion to fifth degree black belt in karate and fourth degree in weaponry. He received his sixth degree in 1983, seventh degree in 1990, eighth degree in February 2000 and ninth degree in July 2009. Dr. Clarke was also promoted to fifth degree in weaponry in 1985 and sixth degree in 1990. From 1980-2004, he was vice president, member of the executive board, and chief instructor of the American Shorin-ryu Karate Association. In early 2005, Dr. Clarke helped found the Shorin-ryu Karatedo and Kobudo Association of America (SKKAA) and served as its Chairman of the Board, President, and Chief Instructor until retiring in 2013. He remains honorary director, continuing to offer important insight, suggestions and mentoring as needed.
From 1980-1984, Dr. Christopher M. Clarke worked at the US-China Business Council. From 1984-2009, he was a senior China analyst and head of the China Division of the US State Department's Bureau of Intelligence and Research. He has visited China eight times, where he pursued research into T'ai Chi Ch'uan (Taijiquan) and other Chinese martial arts. He retired in 2009 and is now an independent China consultant.
Christopher M. Clarke Books are numerous and cover many topics related to the martial arts. In addition to a number of books and articles on China, Dr. Clarke has written or edited nearly three dozen books on the martial arts. Books by Christopher M. Clarke on Amazon
Other Books by Christopher M. Clarke
Okinawan Karate: A History of Styles and Masters: Volume 1: Shuri-te and Shorin-ry
Okinawan Karate: A History of Styles and Masters: Volume 2: Fujian Antecedents, Naha-te, Goju-ryu, and Other Styles
Warriors and Wisemen: More Stories From the Martial Arts
Okinawan Kobudo: A History of Weaponry Styles and Masters
Budo Meijin: Three Great Little-known 20th Century Japanese Martial Master
Sugino Yoshio: The Little Giant of Modern Japan's Martial Art
Monks, Madmen and Martial Master
Empty Handed I Entered the World: Great Okinawan Karate Masters Lost in 2012-2014
Modern-day Samurai: Kotaka Sukesaburo Minamoto-no Sadayasu Sadao – An Appreciation and History of his Kenjutsu Style
Ramblings from a Ten Foot Square Hut: Reflections After 50 Years in the Martial Arts
Saving Japan's Martial Arts
Samurai, Scoundrels, and Saints: Stories From the Martial Arts
Okinawan Kobudo: A History of Weaponry Styles and Masters
Okinawan Karate: A History of Styles and Masters: Volume 2: Fujian Antecedents, Naha-te, Goju-ryu, and Other Styles
Ramblings from a Ten Foot Square Hut: Reflections After 50 Years in the Martial Arts
Kamikaze!: Japan's Divine Wind and the Spirit of the Martial Arts
Through Japan's Narrowest Gate: The Test for Kendo Hachidan
Buy Books by Christopher M. Clarke on Amazon