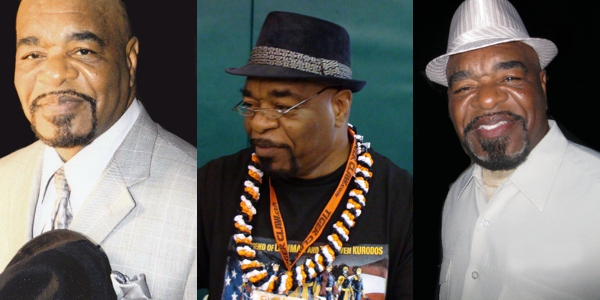 Grand Master Clarence McGee was a student, an instructor of the martial arts, a promoter and educator, founder and owner of the Golden Dragon Martial Arts Academy; founding member and Vice President of the Black Karate Federation and a national honoree in Who's Who in American Martial Arts.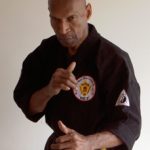 Grand Master Clarence McGee, Jr. was born October 10, 1950, in the heart of South Central Los Angeles, California. Mr. Clarence McGee was the eldest of four siblings, and graduated from Thomas Jefferson High School in 1969. In 1977 he earned an Associate of Arts degree from South West College, where he majored in music. Mr. Clarence McGee has been married for 25 years and is the proud parent of 5 adult children, four daughters and one son. As a father, he takes prides in the relationships he has with his children and the family traditions he has been able to establish for his family over the years.
Master Clarence McGee's career in Martial Arts began in 1968, under Eugene Davis Jr., where he learned Shorin Ryu Karate. In 1969 he began his Kempo career under Sijo Steve Muhammad (Steve Sanders). Mr. McGee became a founding member of the Black Karate Federation (BKF) and, in 1975, he received his 1st degree Black Belt. Master McGee currently held a 10th degree Black Belt in B.K.F. Kempo Karate. His rank represents 50+ years of hard work in the Martial Arts.
In 1970 Mr. Clarence McGee was on the first Brown belt team that shocked the Long Beach International's when they debuted the Black Karate Federation to the world. The BKF team members included Ricky Heath, Al "Hot Dog" Harvey, Vontry Moss, Kraiguar Smith, and Mr. Clarence McGee. Mr. McGee became a top competitor, competing against well known competitors including Ray Sua, John Natividad, Cecil Peoples and Frank Trejo, as well as many others from that era. Mr. McGee was known for his blazing back knuckle and vicious crescent kick. He won most of the tournaments, and was always in the top three in his divisions during this period. He competed in the Long Beach Internationals (IKC), The California Karate Championship (CKC), Four Seasons Tournaments, Beverly Hills Open and a few other major tournaments during that era.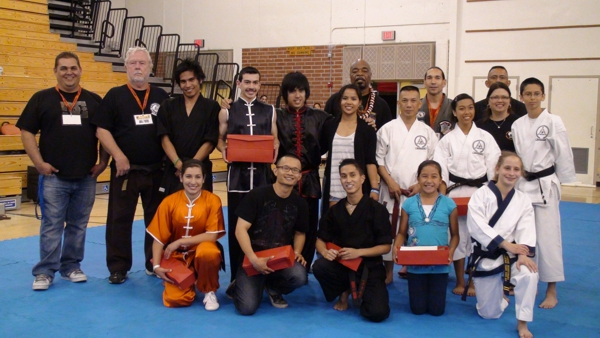 Later Mr. McGee was called to be a judge. He determined that judging could be a asset to the competitor and the tournament, and he focused on being one of the most fair and respected officials on the tournament circuit. Mr. McGee has since officiated over 500 tournaments including most of the big major tournaments, and had a brief cameo appearance in the Karate Kid movie. From California to New York City, as Head of Officials, Arbitrator, Tournament Coordinator, to singing the National Anthem, Mr. Clarence McGee has made his presence known. Mr. McGee is one of the most respected Martial Artist/Official of our time. Mr. McGee is currently the Executive Director of the Long Beach Internationals and Grand Master Clarence McGee is the announcer you hear at most martial arts tournaments.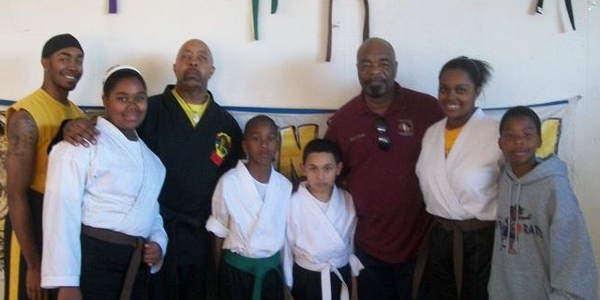 In 1983, Mr. McGee founded, owned and operated the Golden Dragon Martial Arts Academy (BKF) in Compton, California. His School was very competitive and known for their very respectful attitude. He has promoted over 35 Black Belts, and two Masters. Throughout the years he has promoted his own Golden Dragon Karate tournaments loved by competitors and fans alike.
Mentors of Mr. Clarence McGee were Sijo Steve Muhammad, Sr.Grandmaster Bishop Donnie Williams, Sr. Grandmaster Chuck Sullivan, Master Ron Chapel, and the Late Sr.Grandmaster Ed.Parker Sr.
Of all the careers Mr. Clarence McGee could have had, none could have been more enjoyable than the career he had with the City of Compton Parks & Recreation. Taking a position that allowed him to influence the lives of inner-city youth and serving them as a mentor, big brother, father and sometimes disciplinarian, allowed Mr. McGee to develop one of the best inner-City youth martial arts training programs in the area using his martial arts knowledge and discipline. In over 20 years of service, Mr. McGee touched the lives of thousands of youth, giving them the discipline, knowledge, and confidence that has changed their lives forever. After 20 years of leadership, Mr. Mc Gee retired from the City of Compton Department of Parks & Recreation. The City of Compton could never repay Mr. McGee for his valued service, but his former coworkers had called him the City's version of Robin Hood. In Compton, Mr. Clarence McGee had taken the valued, trusted and respected ideologies of the Martial Arts and the discipline of Karate and shared them with so many deserving youth, making a difference in the world . . .
Clarence McGee passed away from open heart surgery on Tuesday, March 1, 2016 leaving a huge hole in the martial arts community. RIP Clarence McGee.
Home Going Services for Clarence McGee were held at SkyRose Chapel, (3888 Workman Mill Rd, Whittier, CA 90601) on Monday, March 14, 2016 at 11:00 am. The Viewing was Sunday, March 13, 2016 at the Dollar Hide Community Center, 301 North Tamarind Avenue, Compton, CA 90221.