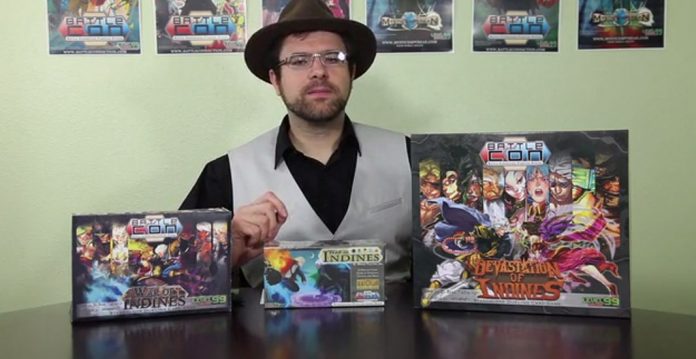 Bruce Lee joins BattleCon fighting card game as a playable fighter in their newest release BattleCON: War Remastered Edition.
This news came from Level 99 Games, who, in collaboration with Artistic Justice Games' new project, Dragon Tides, has announced that the martial arts master and movie star, Bruce Lee, will become a playable fighter in their release BattleCON: War Remastered Edition.
Bruce Lee, world renowned for his incredible speed, skill, and power, will join the arena in BattleCON to take on all challengers.
BattleCON is a board game based on the principles of intense action, direct confrontation, and tactical positioning present in fighting video games. Unlike its peers in console gaming, however, BattleCON provides strategic elements and a more thoughtful pace–allowing the player to carefully choose the next move and gauge his opponent's strengths and motives without breaking game flow.
War never changes, it's only REMASTERED. Designed as an introductory set, War Remastered is great for players new to BattleCon or coming over from our previous BattleCON game, Devastation. Players new to this set can enjoy 18 more characters to play with and returning players can enjoy new art and layout parallel with Devastation. Nine new promotional fighters, including Bruce, are free for backers! Experience even more intense match-ups with the balances made to the characters. Rejoin the fight for Indines with BattleCON: War Remastered!
About Level 99
Level 99 Games is a professional game design studio staffed by talented artists, designers, and authors, and led by career designer D. Brad Talton Jr. Level 99 Games has been producing high-quality digital and tabletop games for 4 years now. We are well known for BattleCON, the Minigame Library, Mystic Empyrean, and Pixel Tactics, just to name a few.
If you just can't get enough Bruce Lee, look out for Artistic Justice Games' Dragon Tides, a 1-7 Player Miniatures Dungeon Crawler game starring Bruce and Brandon Lee!
Artistic Justice Games
Bruce Lee is ® and © Bruce Lee Enterprises, LLC.  All Rights Reserved.