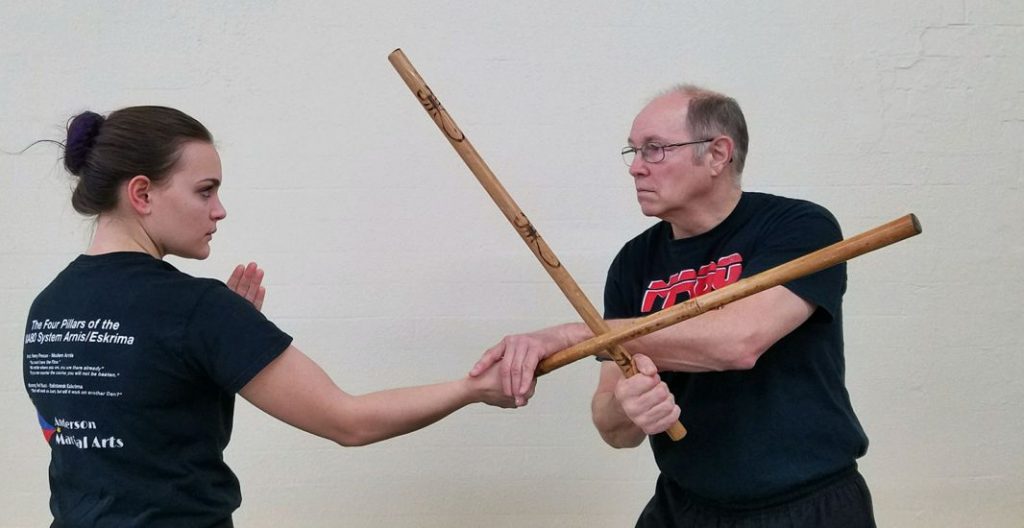 Dan Anderson is the director and chief instructor of Dan Anderson Karate and has a 7th Degree Black Belt in Karate, a 6th Degree Black Belt (Senior Master) in Filipino Modern Arnis, and an 8th Degree Black Belt in MA-80. He is a 4 time national karate champion, having won over 70 Grand Titles!
Dan Anderson is the founder of American Freestyle Karate, a uniquely American martial art as well as the author of the best selling book, American Freestyle Karate: A Guide To Sparring which has been in print for 20 years.
In 2018 Dan Anderson consolidated all the styles he's trained in under one heading, Anderson Martial Arts Systems. The system is composed of the following:
American Freestyle Karate
The Super Dan Method of Free-Fighting
Classical Kongsu Do (Korean variant of Shotokan karate, pre-Taekwondo) as taught to me by Loren Christensen, Mike Engeln and Bruce Terrill
Motion Application Bunkai kata application
MA80 System Arnis/Eskrima (my branch of Modern Arnis endorsed in 1998 by Remy Presas and 2006 by the International Modern Arnis Federation, Philippines)
Modern Arnis Remy Presas (Senior Master, 6th Dan)
Shintai Kyousei Jutsu (Body manipulation skills)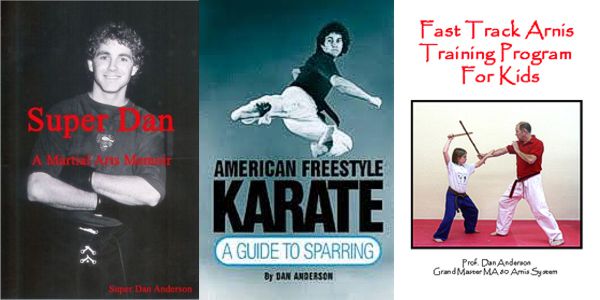 Dan Anderson has been honored by inclusion into the Karate Living Legends, a lifetime achievement honor, being one of the 50 most influential martial artists in the 40 year history of tournament karate. Prof. Anderson's school has been continually teaching martial arts to the residents of East County for 19 years, making it the oldest Karate school in this area.
Professor Dan Anderson's Statistics
Born: November 18, 1952
Began karate November 1966. Initial style was Kongsu, a Korean form of Shotokan karate.
Promoted to 1st Degree Black Belt January 1970
Promoted to 2nd Degree Black Belt January 1973
1977 – Dan names his style of Karate "American Freestyle Karate", becoming one of the first styles of American Karate ever.
1978 – Only competitor in America to be rated in both Black Belt magazine's and Karate Illustrated magazine's Top Ten fighters of the year.
First rated in Karate Illustrated's Top Ten ratings in 1973 after winning Grand Championships in the Western States Karate Championships and Seattle Open Karate Championships and 2nd in Ed Parker's Internationals.
Rated in Karate Illustrated's yearbook Top Ten 1977, 1978, 1979 and Sport Karate 1980 in sparring competition.
Rated in the Top Ten lightweight fighters in the world (Professional Karate Magazine)
Winner of over 70 Grand Championship titles.
Rated in the Top Five referees in the US (KKI article).
Rated in the Top Ten fighters of all time by 7-time national champion Steve Anderson and 3 time national champion Keith Vitali (KKI article).
Author of a book on Karate sparring, American Freestyle Karate: A Guide To Sparring, which has been in print and selling all over the world for 20 years.
In addition to open style competition, he has won in AAU/WUKO (Japanese organization) events including being one of the only two undefeated American Team members against the Japan National Team (1983 in Cleveland, Ohio), 1984 AAU Nationals Open weight Silver Medallist (sparring), 3 time Oregon State Champion in AAU/WUKO) competition, and double Gold Medallist in the 1990 Seattle Goodwill Games Karate competition (WUKO rules).
He is also the first heavyweight champion in the International All-Chinese Kung Fu Championships (Vancouver, BC) fighting competition.
Promoted to 6th Degree Black Belt in Modern Arnis on June 28, 1992 by Grand Master Remy A Presas. Awarded Senior Master status in 1995.
Promoted to 7th Degree Black Belt in by the American Teachers Association of the Martial Arts on April 16, 1996.
Current instructor is Manong Ted Buot in balintawak eskrima
Named Instructor of the Year by the World Martial Arts Hall of Fame.
He traveled all over North America teaching seminars in such diverse places as New York State, Ontario, Canada, Louisana, Georgia, California, Vancouver, BC, Oregon and Washington.
He currently has a school in Gresham, Oregon (Black Belt School of the Month, January 1992 issue).
He has been featured on the cover of Karate/Kung Fu Illustrated magazine twice and have been featured in every major martial arts magazine in the USA.
In 2002, he received Founder Of The Year award by the the World Head Of Family Sokeship Council for the formation of the MA-80 style of Modern Arnis
In 2002 he won the age 50-54 division of the Funakoshi Shotokan Karate Associan 4th World Champions.
In 2003, he received recognition for founding MA-80 Modern Arnis and an 8th Degree Black Belt from Prof. Wally Jay, Bong Jornales, Dr. Maung Gyi and Gat Puno Abon Baet.
To contact Dan Anderson and Anderson Martial Arts visit the Anderson Martial Arts listing on the Martial Arts Schools and Businesses Directory using the image
on the left.