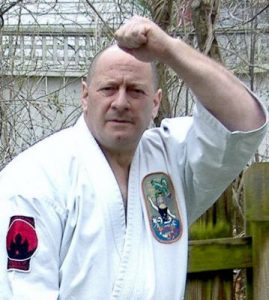 Daniel Vena was born Daniel James Vena on April 11, 1959. He began training in Isshinryu Karatedo in 1972 under the direction of Ed McGrath Sensei aka The Voice of Karate. Daniel has been training consistently for over 45 years.
He has been an active competitor winning several grand championships over the years in Jiyu Kumite, Empty Hand Kata and Kobudo Kata and he continues to compete at 58 years old. He has also developed a circuit of practitioners that compete in Team Kata.
Daniel Vena continues to teach several children's classes per week as well as work with young adults to teach them the Isshinryu curriculum. Daniel has promoted over 175 students from White Belt to Black Belt or Sho Dan. He also has several senior deshi working around the globe promoting Isshinryu and Ed McGrath's School of Isshinryu.
Daniel Vena also works with survivors of violent crime, helping them through the healing process, helping them build confidence, and helping them cope with fear. Daniel also works with Local Law Enforcement at RPD Raleigh Police Department to teach H2H Combat and Self Defense. He also teaches USMC active and retired service men and women.
Daniel inherited Ed McGrath's School of Isshinryu in December 2014 and he is currently ranked Ju Dan Hanshi Go. He was inducted into Don Nagle's AOKA Hall of Fame in September 2000.
Daniel Vena founded the Isshando International American Okinawan Karatedo Association. The IIAOKA has grown from its 10 original members to it current membership of over 10,000.
Daniel Vena is also the Host & Co-Host/Executive Producer of DocKarate, Isshinryu Today and MATS (Martial Arts Talk Show).
To contact Daniel Vena and Ed McGrath's School of Isshin Ryu Karatedo And Kobudo visit their listing on the Martial Arts Schools and Businesses Directory by clicking on the image on the left.